Exercise Headphones | Innovation Excellence
Posted by Canstar Blue February 10th 2015
Jabra Sport Pulse Wireless Headphones
Reviewed by the Canstar Blue Judging Panel on .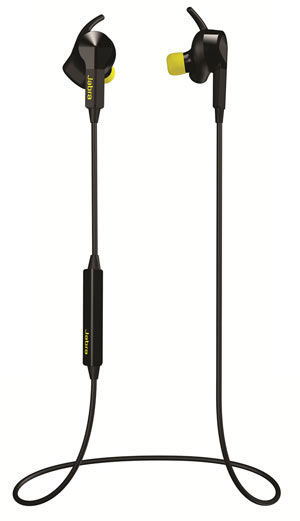 Headphones are essential for many of us who consider keeping fit of the utmost importance. For some, music is a welcome distraction, and for others it's a motivator, but one thing's for certain – you need to be able to listen to 'your workout jams' with comfort and convenience, and that means a quality pair of exercise headphones. Many manufacturers have recognised this requirement in recent years by bringing out products focused on comfort and versatility in addition to providing great sound.
So what's the next big step in exercise-focused earphones? Our Innovation Excellence Award judges think the Jabra Sport Pulse headphones fit the bill for this big leap – and it's all powered by the pulse in your inner ear.
What are they?
The Jabra Sports Pulse Wireless headphones are a pair of exercise-minded earphones designed to be an all-in-one device to assist your training.
Their big feature is a built-in optical heart rate sensor, which lets you track your heart rate during your workouts. The inner ear is one of the most accurate places to measure heart rate – hence why doctors use it – and Jabra claims a clinical-grade level of accuracy. The wireless design connects to your phone via Bluetooth or NFC to let you play and control your music, record heart rate data and even take phone calls – all controlled via buttons on the earphone cable.
The earbuds are compatible with several leading fitness apps as well as Jabra's own Sport Life app, the latter of which gives you in-depth data on the time, heart rate and energy use of your workouts. Furthermore, Jabra's Sport Pulse headphones are dust and waterproof to the IP55 standard, meaning you can wear them while training or competing in all sorts of harsh conditions.
Jabra also provides audio coaching tips that can be set to play through your earphones at key intervals to help you push through a workout.
What makes them innovative?
The Jabra Sports Pulse Wireless is one of the first earphone products on the market to have an inbuilt heart rate sensor. The heart-rate monitoring capabilities – combined with the extensive functionality of Jabra's proprietary app – combine the convenience and enjoyment of wireless earphones with the tracking capabilities of a separate fitness tracker, all wrapped up in one robust design.
How much do they cost?
The Jabra Sports Pulse Wireless earbuds retail for $249 (at time of print).
Canstar Blue Innovation Excellence Award, 2015: 5 stars
About our Innovation Awards
Our Innovation Excellence Awards have been determined through a panel of judges, who adhere to a strict awards methodology – outlined below. Brands or representatives of brands submitted products for consideration to us for judging.
We also accepted consumer submissions, where anyone in the public could submit products they thought were worthy of an Innovation Award. Each submission type was given equal weighting by our judges.
A single legitimate submission was all that was needed for a product to be considered by our panel, and only submitted products were assessed.
To be described as innovative, we assess both the degree of innovation and the overall impact the product could have. In terms of degree, we consider whether there are any other similar products available, whether it is a "first" in Australia or New Zealand and whether it opens up any new markets.
We also assess the potential significance of impacts to the existing market in terms of competition. And, of course, something that's truly innovative can't help but have that "wow" factor. In terms of overall impact, we consider the number of people who can benefit from the innovation, the ease and expense of application, and the potential to change people's lives.