Detachable Soundbar Speakers – Innovation Award Winner
Posted by Canstar Blue September 1st 2014
Philips Fidelio Surround Sound Speakers HTL9100
Reviewed by the Canstar Blue Judging Panel on .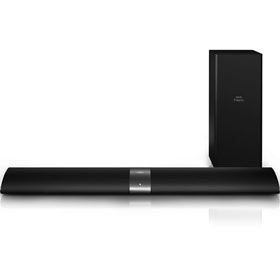 Buying a new TV is usually pretty exciting, as is the purchase of a new computer or phone. But bringing home a new set of speakers doesn't usually instil such reverence and wonder in the eyes of the consumer. After all, we sit down to watch TV, not listen to it.
Here at Canstar Blue we think a great speaker setup can make or break a home theatre and if you haven't ever been wowed with movie sounds at home, it might be time to consider upgrading your system… and here's a product that fits the bill for any modern living room.
What is it?
The Fidelio speaker system from Philips is effectively a soundbar – a long set of speakers that produce stereo sound for your TV, music-playing devices, computers, etc. Being able to wirelessly connect with all your devices is pretty common practice nowadays, so this by itself is not what makes the device interesting. What does make it stand out is that this soundbar can be separated into sections and moved wherever you'd like around your home.
Bluetooth technology means you won't get tangled with messy cords and the speakers' relatively small mans they're ideal for packing into certain nooks or crannies in your living room, kitchen or bedroom. The subwoofer (the speaker that provides rich bass notes) is also wireless.
Impressively, digital decoder technology means you can squeeze six channels of surround sound out of less than five speakers. In short, the technology to split these speakers up isn't a gimmick; the Fidelio offers everything a conventional surround sound setup does, with the added benefit of portability.
Even when all the speakers are sitting on their own, however, the soundbar comes with an orientation sensor to ensure it produces the best sound fidelity for the room it's in.
Finally, the Fidelio's matte black, minimalist finish isn't hard on the eyes either, suggesting it will fit in well in most living rooms.
Why is it innovative?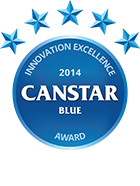 Not only does the Fidelio offer an engrossing surround sound experience for any cinephiles enjoying their home theatre setup, but the fact that it's detachable and can be placed anywhere in the house makes it great for parties and other get-togethers. Even when you're not entertaining, it's dead handy that you can simply  break off one of the speakers (like a Kit-Kat!) and bring it into the kitchen while you cook or do the dishes.
Innovation Excellence Award judge Hasreen Kaur noted: "Now there's no need to install permanent speakers around your house!
"Plus, they're easy to take with you when you move."
Judges also found the decoder technology to be quite impressive, namely that fewer speakers are needed to produce high quality surround sound.
We think the Fidelio combines all the portability of the boomboxes of "yore" with 2014 sound, and that's what makes them innovative.
How much does it cost?
The Philips Fidelio speaker system (product number HTL9100) retails at $1,049.95, and is available for purchase from Appliances Online.
Canstar Blue Innovation Excellence Award: 5 stars
–
About our Innovation Awards
Our Innovation Excellence Awards have been determined through a panel of judges, who adhere to a strict awards methodology – outlined below. Brands or representatives of brands submitted products for consideration to us for judging.
We also accepted consumer submissions, where anyone in the public could submit products they thought were worthy of an Innovation Award. Each submission type was given equal weighting by our judges.
A single legitimate submission was all that was needed for a product to be considered by our panel, and only submitted products were assessed.
To be described as innovative, we assess both the degree of innovation and the overall impact the product could have. In terms of degree, we consider whether there are any other similar products available, whether it is a "first" in Australia or New Zealand and whether it opens up any new markets.
We also assess the potential significance of impacts to the existing market in terms of competition. And, of course, something that's truly innovative can't help but have that "wow" factor. In terms of overall impact, we consider the number of people who can benefit from the innovation, the ease and expense of application, and the potential to change people's lives.