SLR-Quality Smartphone Camera – Innovation Awards
Posted by Canstar Blue September 1st 2014
Sony QX Series Smartphone Cameras
Reviewed by the Canstar Blue Judging Panel on .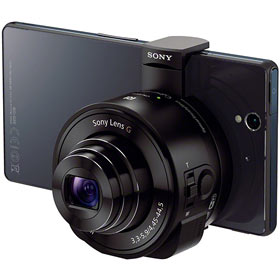 Cameras have been leaping from strength to strength for many decades – from the introduction of versatile digital SLR cameras, to the convenience and portability of smartphone cameras. In fact, one of the only shortcomings of modern cameras is that it's nearly impossible to cram the raw power of a DSLR into a smartphone.
…Well, at least it was nearly impossible. Sony has endeavoured to change that with their Cybershot QX series. This series is just one of the standouts in our inaugural Innovation Excellence awards, in which it was praised by judges as being a huge leap forward in the realm of photography.
What is it?
The QX Series of cameras look like a small, detached SLR lens – portable enough to fit in the palm of your hand, the bottom of your purse, or tucked away in a backpack. Attached to this device are clamps that fasten around any standard smartphone, and inside the device are WiFi and NFC (near field communication) sensors. Why are these sensors built in? So you can operate the camera through a smartphone app (available for both Android and iOS devices, which apparently accounts for more than 96% of the market).
But how does it stack up against a DSLR? Quite well, actually. Let's take a look at this camera against another of Sony's: one of its entry level DSLR models, the SLT-A58.
| | | | |
| --- | --- | --- | --- |
| | SLT-A58K (standard DSRL) | DSC-QX100 | DSC-QX10 |
| Megapixels | 20.1 | 20.2 | 18.2 |
| Sensor | Exmor™ APS HD CMOS sensor | Exmor R™ CMOS sensor | Exmor R™ CMOS sensor |
| Optical Zoom | Depends on lens | 3.6x | 10x |
| Battery Life | Approx. 690 shots (Viewfinder), Approx. 700 shots (LCD monitor) | Approx. 220 shots / Approx. 110min of video | Not specified |
We'll refer you to the Sony website to compare the products by specification, but you can see from a glance that each of the smartphone attachment cameras hold up well to their much heftier big cousin.
Why is it innovative?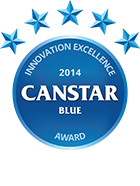 Stephen Mickenbecker – a judge in our Innovation Excellence Awards, and all-round well-travelled fellow – said, "Now everyone can take great quality photos, without lugging around an enormous camera bag."
That's the key selling point of this device. It packages a complete photography experience for the average Australian literally into the palm of your hand, without the need for bulky equipment or wunderkind know-how. Additionally, it means that those great shots you just took don't need to stay hidden on your camera until you get home, but can instead be shared instantly via email, social media, or text.
In essence, it's helping to bridge the gap between amateur and professional photography, and is more than worthy of receiving one of our awards for 2014.
How much does it cost?
The QX100 retails for $599.00, and the QX10 retails for $279.00.
Canstar Blue Innovation Excellence Award: 5 stars
–
About our Innovation Awards
Our Innovation Excellence Awards have been determined through a panel of judges, who adhere to a strict awards methodology – outlined below. Brands or representatives of brands submitted products for consideration to us for judging.
We also accepted consumer submissions, where anyone in the public could submit products they thought were worthy of an Innovation Award. Each submission type was given equal weighting by our judges.
A single legitimate submission was all that was needed for a product to be considered by our panel, and only submitted products were assessed.
To be described as innovative, we assess both the degree of innovation and the overall impact the product could have. In terms of degree, we consider whether there are any other similar products available, whether it is a "first" in Australia or New Zealand and whether it opens up any new markets.
We also assess the potential significance of impacts to the existing market in terms of competition. And, of course, something that's truly innovative can't help but have that "wow" factor. In terms of overall impact, we consider the number of people who can benefit from the innovation, the ease and expense of application, and the potential to change people's lives.