Boiled, Chilled, & Sparkling Water Tap – Innovation Awards
Posted by Canstar Blue September 1st 2014
Zip HydroTap G4 | Boiled, Chilled, and Sparkling Water
Reviewed by the Canstar Blue Judging Panel on .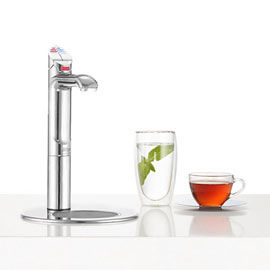 Gone are the days of having to take flasks of boiling water into work just so you can have that one cup of coffee in the morning. Offices have long provided drinking water solutions for employees, whether in the form of a kettle and cold tap, or a drinking water filter tap. But something that has always had to be brought in at extra expense to the company is sparkling water, for staff that prefer a little fizz in their refreshment. What has been missing is the ability to provide the three options – chilled water, boiling water AND sparkling water, all at the touch of a button.
Luckily, Australian business Zip realised the gap in the market and decided to fill it – which has led to it's Hydrotap G4 winning a Canstar Blue Innovation Excellence award for 2014.
What is it?
The Zip HydroTap G4 provides sparkling, boiling and chilled filtered drinking water on tap. G4 technology means the Zip HydroTap is now even more energy efficient. Unlike water-cooled systems, it doesn't waste water. The filtration system removes dirt and contaminants up to 25 times better, and even the taste and odour of chlorine is removed, while fluoride is retained.
Why is it innovative?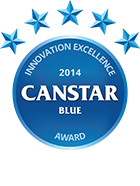 Described by Innovation Excellence judging panel member Megan Doyle as "amazing!", it's the addition of the sparkling water function that really makes this drinking water filtration system stand out. And of course, the HydroTap G4 isn't just for offices – it offers the convenience of boiling, chilled, and sparkling water on tap in the comfort of your own home as well.
How much?
The Zip HydroTap G4 currently retails from $1,995.00 to $6,350.00, and many of Zip's taps are available to purchase from Appliances Online.
Canstar Blue Innovation Excellence Award: 5 stars
Other innovation award winners
Bora Cooktop With Vapour Extractor
Breville 'The Boss' Blender & Food Processor
Dimplex Electric Fireplace
Our Innovation Excellence Awards have been determined through a panel of judges, who adhere to a strict awards methodology – outlined below. Brands or representatives of brands submitted products for consideration to us for judging.
We also accepted consumer submissions, where anyone in the public could submit products they thought were worthy of an Innovation Award. Each submission type was given equal weighting by our judges. A single legitimate submission was all that was needed for a product to be considered by our panel, and only submitted products were assessed.
To be described as innovative, we assess both the degree of innovation and the overall impact the product could have. In terms of degree, we consider whether there are any other similar products available, whether it is a "first" in Australia or New Zealand and whether it opens up any new markets.
We also assess the potential significance of impacts to the existing market in terms of competition. And, of course, something that's truly innovative can't help but have that "wow" factor. In terms of overall impact, we consider the number of people who can benefit from the innovation, the ease and expense of application, and the potential to change people's lives.