Vapour Extracting Cooktop – Innovation Award Winner
Posted by Canstar Blue September 1st 2014
BORA Basic Induction Cooktop
Reviewed by the Canstar Blue Judging Panel on .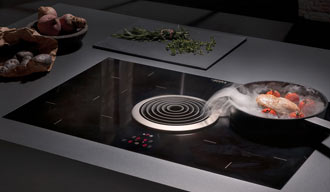 Here at Canstar Blue we applaud excellence in products and services on behalf of Australians, which is exactly why we are thrilled to announce the first ever Canstar Blue Innovation Excellence awards, recognising and celebrating the latest and greatest of revolutionary concepts, designs and products making their way into Aussies' homes right across the country.
Canstar Blue business leader Megan Doyle describes the awards as "a mission to find the most innovative appliances and electronic products on the market".
We carefully developed effective measures that clearly identify key elements of the products innovation and the impact it could have on the consumer market, and invited external industry and consumer specialists to join our judging panel. The submissions have been thoroughly reviewed and the award winners are in… and congratulations go to BORA for picking up a 2014 Canstar Blue Innovation Excellence award for its BORA Basic.
What is it?
The BORA Basic is an induction cooktop and vapour extractor combined in one. It effectively eliminates the need for space-taking overhead extractor fans, while also creating a nifty aesthetic effect as it sucks away any steam from pots and pans in the middle of the worktop.
This ground-breaking product combines a glass ceramic induction cooktop, touch-control heat panels with four separate cooking areas (hobs) and a centrally integrated cooktop extractor fan – all in one compact unit.
Why is it innovative?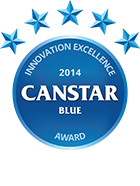 The judges were very impressed with the BORA Basic, citing the brilliance of anything that removes something from the kitchen space on which so many of us bang our heads, as well as eradicating that age-old problem of cook's steamed-up glasses.
Canstar Blue's Lynne Cawley pointed out that "entertaining guests could be centred around the island bench top while you cook" thanks to the clear field of vision possible with no overhead extractor, ensuring a much more sociable aspect to preparation for dinner parties, while it was also noted that the unit appeared impressively noiseless, simple to use and, perhaps most importantly, easy to clean.
With no other products on the market to match it, the BORA Basic is certainly bringing innovation into Australian kitchens.
How much?
The BORA Basic Induction Cooktop retails at $4,399.
Canstar Blue Innovation Excellence Award: 5 stars
Other innovation award winners
Breville 'The Boss' Blender & Food Processor
Dimplex Electric Fireplace
Zip Hydrotap (Boiled, Chilled, & Sparkling Water)
Our Innovation Excellence Awards have been determined through a panel of judges, who adhere to a strict awards methodology – outlined below. Brands or representatives of brands submitted products for consideration to us for judging.
We also accepted consumer submissions, where anyone in the public could submit products they thought were worthy of an Innovation Award. Each submission type was given equal weighting by our judges. A single legitimate submission was all that was needed for a product to be considered by our panel, and only submitted products were assessed.
To be described as innovative, we assess both the degree of innovation and the overall impact the product could have. In terms of degree, we consider whether there are any other similar products available, whether it is a "first" in Australia or New Zealand and whether it opens up any new markets.
We also assess the potential significance of impacts to the existing market in terms of competition. And, of course, something that's truly innovative can't help but have that "wow" factor. In terms of overall impact, we consider the number of people who can benefit from the innovation, the ease and expense of application, and the potential to change people's lives.