The Australian Competition and Consumer Commission (ACCC) has released its annual Communications Market Report, highlighting the trends and changes in the Australian broadband and mobile industry over the 2018-2019 period.
The big takeaway? While data use continues to rise in both broadband and mobile, prices are falling – but there's still work to be done to ensure affordability for all Australians.
Broadband trends: Netflix and (lower) bills
The ACCC confirmed that data downloads rose by a hefty 47% in the 12 months covered by the report. Of all data used by Australians, 88% was over fixed line internet services (such as fixed NBN, ADSL, or cable), with 12% downloaded through mobile internet.
Essentially, we're using more monthly data than ever, and mostly over our fixed home broadband connections – a trend spurred on by the increasing popularity of streaming video services, such as Netflix, Stan, and Kayo. The growing data needs of consumers is also reflected in plan changes made by providers, with unlimited gigabyte options now available on most mid and high-speed broadband plans.
While unlimited data accounted for just 6% of services in 2014-2015, this has increased to 57% in the 2018-2019 period. ACCC Chairman Rod Sims calls the change "a sign of the times."
"More Australians are getting fixed broadband services at home as their data needs increase," said Mr. Sims. "This trend is likely to be further boosted during 2019-20, with the entry of new competitors such as Disney+ and Apple TV+."
Despite the number of Australians now relying on fixed broadband for their downloading and streaming needs, average prices continue to decline. The ACCC reported an annual price decrease of 1.5% in 2018-2019, and a five year average annual decrease of 2.3%.
These price shifts can be attributed to factors such as increased competition from new providers entering the NBN and broadband market, plus the ACCC's continued pressure on NBN Co to lower wholesale pricing.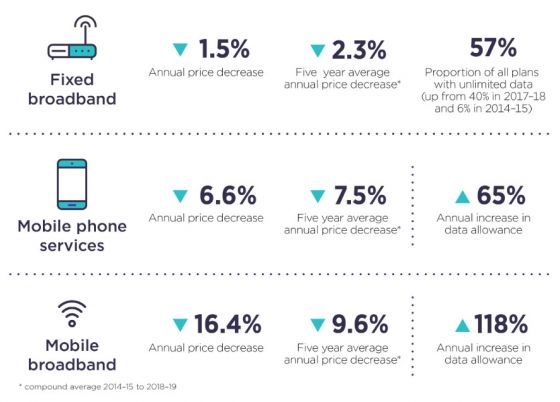 NBN winding up, but 5G is just getting started
According to the ACCC, 5.5 million NBN services were operating as of 30 June, 2019, with that number now significantly higher six months on. With the NBN rollout approaching completion – and the service now Australia's biggest fixed-line broadband network – the ACCC again stressed the need to offer transitioning customers affordable, entry-level NBN options. Not everyone wants or can afford high-speed NBN, so it's important that providers offer products that cater to customers with basic broadband needs.
On the other hand, the launch of 5G may eventually prove to be a viable alternative to the NBN, both in price and performance; although it's early days for the next-generation technology, coverage will expand across Australia throughout 2020. While fixed services still dominate the broadband market, under-performing plans may eventually cause unhappy customers to seek out high-speed mobile options instead.
Overall, the ACCC plans to monitor NBN plans and providers to ensure consumers are getting the most for their money – especially when making the switch from existing copper-line networks.
"As the NBN rollout concludes, we will continue to help ensure Australians benefit from this investment," said Mr Sims. "In particular, we are keen to ensure that NBN Co and retail service providers have incentives to upgrade and fix infrastructure where it is not meeting consumers' needs and expectations."
NBN plans compared
The following table shows a selection of published unlimited Standard Plus Evening Speed (NBN 50) plans on Canstar Blue's database, listed in order of standard monthly cost, from the lowest to highest, and then by alphabetical order of provider. Use our comparison tool above to see plans from a range of other providers. This is a selection of products with links to a referral partner.
Mobile calls drop, but data use rises
The Communications Market Report also looked at trends in mobile phone services in the 2018-2019 period. Telstra, Optus, and Vodafone continue to dominate the mobile phone market, with a combined market share of almost 90%.
With around 28 million mobile phone services operating in Australia as of 30 June, 2019, that's a lot of customers between the 'Big Three' telcos. In contrast, MVNO services – smaller providers using Telstra, Optus, or Vodafone's mobile networks – have held steady, accounting for around 13% of services in 2018-2019.
Not surprisingly, the year saw a major drop in traditional cellular voice calls made via smartphone. The ACCC reported that 64 billion minutes of mobile calls were made in the 2018-2019 period, down from 67 billion in the previous year. Apps and social services such as FaceTime, WhatsApp, and Messenger are now the go-to communication options for many Australians, despite unlimited standard call minutes remaining a staple inclusion in most mobile plans.
The increasing reliance on data has, however, led to an overall increase in gigabyte allowances for mobile customers. According to the ACCC, data allowances have jumped by 65% on average, while plan prices have dropped by 6.6%.
Truly unlimited high-speed mobile phone data may still be a pipe dream for Aussie customers, but overall we're now paying less for more monthly gigabytes.