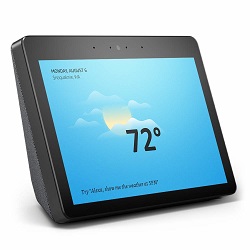 If you thought the streaming world was already too crowded and confusing, wait until you get a load of what Amazon released recently.
Called the 'Echo Show', Amazon's new $349 device can be pre-ordered through the Amazon website and will be available to buy on 11 October. It also comes with free shipping.
Echo Show features a 10" screen, with a built-in Zigbee smart home hub, all voice controllable through Amazon's virtual assistant Alexa.
Users are able to connect their devices and cast to the screen by saying "Alexa, discover my devices". This includes smartphones and smart TVs, while compatible plugs, switches and lightbulbs can also be controlled this way.
Amazon said it will change the way users stream and integrate with smart devices and smart homes.
"Customers tell us they love the convenience of being able to ask Alexa to show them things," said Tom Taylor, Alexa's Senior Vice President.
"Today we're making the voice-first, visual Echo Show experience better in every way by adding even more experiences to delight our customers."
Integrated apps in the US include Hulu and NBC, which can be used for live TV streaming and playback. It will also, naturally, provide access to Amazon Prime Video.
The 10" screen is high definition (1280×800 with 720p) and comes with dual 2" Neodymium drivers, a passive bass radiator and Dolby processing to deliver the best sound out of a small device possible.
The five-megapixel camera also supports high definition video calling to anyone with an Echo Spot, Echo Show or the Alexa app. Skype integration is in the pipeline.
Amazon's new device will also provide alerts for important dates such as when your energy bill is due, or if your fantasy football team is due for an update, as well as producing shopping lists, display recipes and more.
Echo Show was released as part of Amazon's latest 'event', where a multitude of other devices were announced, including Echo Link, which enables voice control on surround sound speakers.
Amazon Echo Show Compatible Apps
Echo Show is designed to be compatible with many apps allowing for an easier, voice-controllable smart home. With the device you can stream TV, look up recipes, order groceries online and more. Compatible apps include:
Streaming:
Hulu
NBC
Fox Sports News
Amazon Prime Video
YouTube
Google Play Music (accessed from your smartphone)
iTunes (accessed from your smartphone)
Food & Recipes:
Kitchen Stories
Allrecipes
Epicurious
Food52
TheKitchn
Sidechef
Banking & Utilities:
Family:
Kinderling
Amazon Storytime
This is not an exhaustive list, but does go to show the Show is a versatile device, able to be used in many rooms around the house. Subscriptions are also required for many of these apps.