This just in from the 99th precinct – your favourite cops are back from the dead! Last year we all held hands on the emotional rollercoaster that was the future of Brooklyn Nine-Nine – and boy did it get intense. After a whirlwind 30 hours, the show had gone from being axed from one network, to #SaveB99 trending worldwide, and finally to a heroic rescuing as NBC picked up the show for a sixth season – cool cool cool cool cool. Basically, all is right in the world again.
View this post on Instagram
What can we expect in season 6?
The cult comedy, which stars Andy Samburg as the cheeky joker Jake Peralta, and Andre Braugher as the inscrutable but increasingly loveable Raymond Holt, are like our very own family – and we're all ready to welcome them back with open arms (okay, and maybe with a few tears).
The first episode of season six will pick up directly from the season finale, where we saw the 'toit nups' (aka the low-budget wedding of the year) of Jake and Detective Amy Santiago (played by Melissa Fumeron) and the potential set up of a brand new lady power couple featuring Detective Rosa Diaz (Stephanie Beatriz) and Jane the Virgin's very own Gina Rodriguez (crossover, anyone?).
The finale's cliff-hanger however, revolves around the expressionless Holt as he waits to find out whether or not he's been given the job as police commissioner – and in the final few seconds we see him (in typical Holt style), stating: "Well, from the look on my face I'm sure you can guess what it says." Classic gag. But really, we need to know.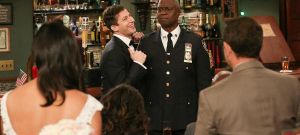 Andy Samburg has also given us a few teasers in an interview, where he said there will be an episode dedicated to fan-favourites and the greatest on-screen bromance, detectives Scully and Hitchcock (only rivalled by Jake and the Pontiac bandit) and we will see Jake and Gina (Chelsea Peretti) go to a high school reunion (the two actors actually grew up together in real life!) and the annual Halloween Heist.
There are also rumours circulating of a #MeToo episode, which comes in the wake of recent Hollywood controversies – especially with cast member Terry Crew being very vocal and public about his personal experience as a victim of sexual abuse.
So, where can we watch season 6 in Australia?
It may not be released on Netflix just yet, but we've got the 911 on where you can watch season six. Noice.
SBS Viceland
SBS has swooped in and (unlike the Vulture) quite literally saved the day with fast-track rights to the newest season. You can catch brand new episodes just a few hours after the premiere in the US, with the first episode appearing on SBS Viceland on January 11 at 8:30pm.
SBS on demand
If you're like us and prefer the ol' wait-and-stream method – never fear, because every episode will be uploaded on SBS On Demand straight after it is aired.
And if you need a little refresher before tomorrow, binge-watch all five seasons of Brooklyn Nine-Nine on Netflix Australia.
NINE-NINE!
Stream 50+ Sports with Kayo
Love streaming? Love sports? Kayo is a new streaming platform that provides access to a wealth of sports, from basketball to cricket, motorsports and soccer. Click 'go to site' for more details.
Brand
Subscription Type
No. of Screens

/same time viewing

Advertised Cost^^

/month

Stream over 50 sports, Live & On Demand
Watch on 2 screens at the same time
14 days FREE trial (New Customers Only)

min. cost $25 over 1 month

2

$25

Go To Site

Stream over 50 sports, Live & On Demand
Watch on 3 screens at the same time
14 days FREE trial (New Customers Only)

min. cost $35 over 1 month

3

$35

Go To Site
^^View important information