It's a Christmas miracle! One of Australia's most popular subscription streaming services has signed a new content deal with Disney and secured the rights to some of the biggest movie titles in the world.
As of December 14, 2018, Stan will be home to the massive selection of Disney, Pixar and Marvel blockbusters.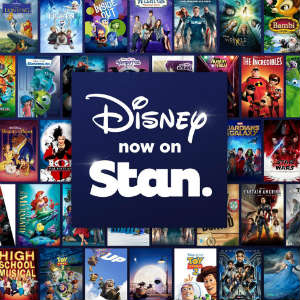 Stan's CEO, Mike Sneesby, said he was proud to sign a deal with "one of the most iconic entertainment brands globally".
"With hits from across all their biggest franchises, including Disney Pixar, Marvel, Lucasfilm as well as Disney Channels' TV series and movies, the deal further illustrates Stan's ongoing commitment to provide our customers with the world's very best premium entertainment," he said.
Disney packed up its bags and left its partnership with Netflix Australia earlier this year, removing its content from the world's biggest streaming platform to pursue its own video service, Disney+, set to launch in 2019. Although the studio still happily maintains its licenses with Seven and Foxtel.
The surprising move was made after Disney announced it will join forces with 21st Century Fox, creating a wider selection of family-friendly content to enjoy.
Stan viewers can binge on classics like Monsters Inc, Finding Nemo, The Incredibles, Frozen, Wall-E and Up.
Aussies will also be able to catch up on more recent Blockbusters such as The Avengers, Guardians of the Galaxy and Iron Man. Other animations include Tangled: The Series, Star Wars Rebels and Sofia the First.
What happens to all the Disney content on Netflix?
It looks like Disney's departure from its partnership with Netflix might be a little cursed. And it looks like fans will need more than a true lover's kiss to see some of their beloved characters again – even if they tune into Disney's own highly anticipated video platform.
Netflix stripped Marvel shows such as Luke Cage, Daredevil and Iron Fist from its subscription this year. But according to Variety, sources have apparently revealed that these Marvel shows won't be able to appear in any non-Netflix series or film for at least two years after its cancellation.
Popular series Jessica Jones is also expected to be absent from Disney+, with the third season said to continue on Netflix in 2019.
Although if the hit show is cancelled, it is said to suffer the same fate of the other series and will not be allowed to appear anywhere for a few years.
But there's no official word from Marvel or Netflix if this is the case.
So, what can you actually expect to watch on Disney+? Well, the family-friendly video service is expected to include a number of original shows, some of which revolve around Marvel Cinematic heroes like Loki, Winter Soldier, Scarlet Witch and Falcon.
Stars Wars fans can also get excited when Pedro Pascal appears in The Mandalorian, a live-action production of the epic franchise. Diego Luna will similarly revive his old role as the rebellious spy in Rogue One when he stars in a Cassian Andor series.