Someone could fly from Melbourne to Sydney return (and even grab some lunch in the middle) in the time that many Australians spend on the internet each day.
That's the statistic we found in our recent Broadband research: 50% of Aussies spend three or more hours online every day. This doesn't even factor in work related web browsing into the equation.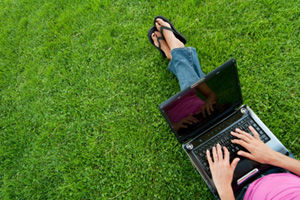 In the time the average Aussie spends internet use every day, they could:
Watch the final Lord of the Rings, or three episodes of Mad Men.
Bake and decorate an elaborate cheese cake.
Service their own car (assuming they knew how).
What do we do online?
That much time on the World Wide Web each day begs the question: what are we doing online? Some people need to spend time online for work, of course but barring that:
We pay bills
We shop
We watch movies and TV
We use social networking
Research by the Australian Communications and Media Authority (ACMA) in 2014 found that a significant 82% of Aussie teenagers aged 14 to 17 see the internet as at least very important in their lives. This is not surprising as the research also found that ask children get older, going online becomes a central activity for social interaction, education, knowledge gathering and exposure to new experiences.
Increasingly, teenagers are also mobile, with 56% of them using a smartphone to access the internet.
Older Australians aged 65-plus, on the other hand, are not as digitally-focussed, with only 1% actively involved in social networking – and in fact only 20% making a mobile phone call and 8% texting from a mobile phone.
Overall though, we're online, with ACMA reporting that Australians downloaded 1,034,959 terabytes of data in the June quarter 2014—a 53 per cent increase on the June quarter 2013.
The big thing to take away from this? If Australians – on average – sleep eight hours and thirty one minutes (according to the Australian Bureau of Statistics), that means that our respondents spent roughly one fifth of their waking hours online.
And when added up, a three hour per day session adds up to 45 or so days spent online each year.
Who knows, maybe you can free up some time for yourself by speeding up your router?
Other articles you might like
Broadband Buying Guide
Things that affect your internet speed