Australians are spending an average of almost $70 a month on their home broadband connection – and almost half of us think we're paying too much.
| Broadband bills ($) | Overall | QLD | NSW | VIC | SA | WA | TAS |
| --- | --- | --- | --- | --- | --- | --- | --- |
| Average monthly spend | $69.19 | $70.70 | $69.09 | $68.59 | $65.75 | $75.70 | $68.73 |
Source: Canstar Blue Broadband survey 2015.
That's just one of the findings of Canstar Blue's 2015 broadband study, which also found that around a third of bill-payers would like to switch broadband providers, but consider the process to be too daunting.
Lots of people complain when the bill comes through every month, but many will only have themselves to blame. Only two in five survey respondents have shopped around to find a better deal in the last 12 months, and if you don't put in the time and effort, there's always the chance you will end up paying too much.
Most of us simply couldn't do without internet access for just a couple of days, so we're desperate to get connected as quickly as possible. This could mean people get locked into one or two-year plans that don't necessarily offer them value for money. You could end up paying hundreds of dollars a year more than you need to.
Once the opportunity to switch – or at least negotiate a better deal – arrives, some consumers still won't grasp it. After a couple of years with the same provider, some people may become complacent and lack the motivation to switch.
In our broadband customer satisfaction ratings report, we also took a look at what $69 buys, in terms of the plans available from the major ISPs.
How to avoid paying more than you need to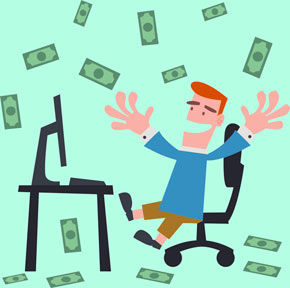 Joseph Hanlon, editor of comparison site WhistleOut, says those paying around $70 a month should consider looking around for a better deal.
"Depending on the amount of data needed in a household, some families could be paying as little as $40, including home phone line rental," he said.
"Savings on broadband costs comes from knowing exactly what you need and matching a plan to that. There are a lot of bundles available, combining a number of different services, some of which you may not need. For example, if everyone in your house has a mobile phone, do you need a fixed line phone plan? Do you make international calls? Do you need an entertainment package? None of these additional services are free of charge, so dodging a bundle could mean a cheaper monthly bill.
"Switching may seem like a daunting task, but the broadband providers should do most of the work. Most ISPs (internet service providers) participate in the 'DSL Transfer Process' which is designed to make switching as easy as possible. It still takes several days to complete the process, but customers should find they have little to do apart from deciding on which plan is best for them and making the application to switch."
As well as ongoing costs, savings could also be made from the moment you sign up. Some providers will charge for installation costs, while others won't. Check the provider's website or give them a call to check before you make your decision. You could also avoid paying extra for a router if you already have one.