As the number of Australians switching to the NBN approaches five million, it seems that more and more of us are ditching slower-speed plans in favour of the fastest options available – at least, according to the ACCC.
The Australian Competition and Consumer Commission has today released its latest quarterly Wholesale Market Indicators Report, and the key takeaway for consumers is that fast NBN plans are becoming the clear preference for residential connections. According to the report, there were 4.79 million NBN subscribers as of December 2018, with almost 2.7 million of those on plans of 50Mbps and up.
This means that 56% of NBN customers are opting for the two highest-speed plans available, namely NBN 50 and NBN 100. According to the ACCC, the number of services on plans of 50Mbps or more have exploded over the last 12 months, from just over 560,000 – or 16% of connections – in December of 2017.
NBN 50: the most popular speed for Australians
The overwhelming majority of speed-loving NBN customers are signing on for the 'just right' middle ground of NBN 50, with this speed tier accounting for almost 2.3 million connections in December of last year. The next most popular speed option is NBN 12 (with almost 1.2 million connections), followed closely by NBN 25 (945,476 subscribers) and NBN 100 (395,756).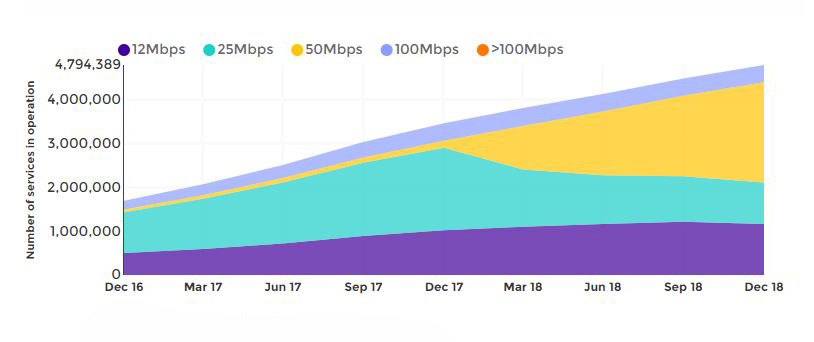 While NBN 12 is the cheapest available plan type, it's also the slowest, so it's a little surprising that more customers haven't upgraded to NBN 25 or higher. But with more Australians using their broadband for high-bandwidth activities, such a streaming and gaming, it's likely that mid-range plans will start to increase in popularity – especially as these plans have generally become more affordable over the last 12 months.
The ACCC also looked at other NBN statistics. According to the report, Telstra is still the market leader in wholesale access, claiming 49.6% of services, followed by TPG (and its subsidiaries) at 21.6%. Optus is in third place, with a 13.6% share, while Vocus – comprised of Dodo and iPrimus – accounts for 8.6%.
Breaking down technology types, the ACCC found that Fibre to the Node (FTTN) remains the most popular connection option. Almost 2.4 million Australians are on a FTTN plan, followed by Fibre to the Premises (FTTP) at 1.3 million, and HFC cable with over 516,300 users. Fibre to the Basement (FTTB) and Fibre to the Curb (FTTC) connections are less common, accounting for 118,410 and 76,360 services respectively, while just over 269,000 Australians use fixed wireless NBN.
Is a fast NBN plan right for me?
One of the biggest factors in picking the right NBN plan is choosing the correct speed tier for your needs. Recent research from Canstar Blue has shown that not every NBN user is aware of their current plan speed, which can cause issues if your connection isn't fast enough to handle your household usage.
A general guide to the four NBN speeds is below.
Basic Evening Speed (NBN 12)
Downloads of up to 12Mbps/uploads of up to 1Mbps
Good for small households and light users
Standard Evening Speed (NBN 25)
Downloads of up to 25Mbps/uploads of up to 5Mbps
Good for streaming and households of 2-3 people
Standard Plus Evening Speed (NBN 50)
Downloads of up to 50Mbps/uploads of up to 20Mbps
Good for HD streaming, heavier use and online gaming
Premium Evening Speed (NBN 100)
Downloads of up to 100Mbps/uploads of up to 40Mbps
Good for ultra-HD streaming and gaming, big households, and data-intensive use
When comparing NBN options, it's important to look not just at the potential download speeds above, but also each telco's listed Typical Evening Speed for plan tiers. This is the average speed users on a plan will experience during peak periods (between 7pm – 11pm), and is generally the most accurate indicator of how fast your plan will actually be.
If you're torn between two speed tiers, it may be safest to pick the faster option (assuming it fits within your budget). With price differences between speeds averaging at around $10 each month (depending on your telco), making the decision to upgrade is likely to pay off down the line – resulting in speedier downloads, smooth streaming, and an overall better performance from your NBN plan.