Established originally in Singapore to service gamers, MyRepublic has made a name for itself in Australia's broadband space by focusing on the main attraction of the NBN – the speed. Since coming to Australia in 2016, the company says it now services over 80,000 Australian customers across ADSL and NBN internet types, with the promise of super-fast downloads the main attraction.
But how fast is MyRepublic really? In this article, we'll be jumping right into how MyRepublic stacks up against Australia's other NBN providers in terms of the download speeds you can expect.
Jump to:
How fast is MyRepublic NBN?
The cheapest MyRepublic plan (NBN 25) reaches a typical evening speed of 15Mbps, with its mid-range plan (NBN 50) providing average evening speeds of 43Mbps, and its maximum speed plan (NBN 100) delivering average evening speeds of 83Mbps. While its lowest tier plan is miles off the pace, MyRepublic's high-speed plans are right on the money in terms of NBN speed performance in Australia.
When we talk about typical evening speeds, we mean the average speeds experienced by customers between the peak hour times of 7pm and 11pm. All providers list typical evening speeds for NBN plans, and these are a great way to gauge how a telco's plan will perform during busy periods.
What to expect from MyRepublic NBN speeds
The following table demonstrates how MyRepublic's typical evening speeds stack up against the maximum theoretical speeds offered on each speed tier.
| Speed Tier | Max Download Speed | MyRepublic's Typical Evening Speed* |
| --- | --- | --- |
| Unlimited NBN Standard (NBN 25) | 25Mbps | 15Mbps |
| Unlimited NBN Essential (NBN 50)  | 50Mbps | 43Mbps |
| Unlimited NBN 100/20 (NBN 100) | 100Mbps | 83Mbps |
*Speeds correct as of December 2020, Canstar Blue
The ACCC's quarterly performance report into major Australian NBN providers (December 2020) found that MyRepublic's NBN speeds typically function at 96.8% of the maximum speed available on each plan. No plans in Australia can reach 100% maximum speed, so 96.8% isn't a terrible threshold to reach. The telco's plans are listed below.
The below table shows a selection of published MyRepublic NBN plans on Canstar Blue's database, listed in order of standard monthly cost, from the lowest to highest. Use our comparison tool above to see plans from a range of other providers. This is a selection of products with links to a referral partner.
Is MyRepublic NBN good for Netflix?
MyRepublic plans are advertised as being optimised for gamers, so these plans should be equally capable of achieving a fast Netflix stream. On Netflix's official ISP Speed Index, which records streaming performance by the major telcos in Australia, MyRepublic clocks in at number nine on the list (as of December 2020) at an average speed of 4.25Mbps. This is a good, though not spectacular, speed for Netflix streaming.
How do MyRepublic NBN speeds compare?
The table below shows how MyRepublic's NBN speeds stack up to the national evening peak averages.
| Speed Tier | MyRepublic's Typical Evening Speed | Australian Average Evening Speed* |
| --- | --- | --- |
| Unlimited NBN Standard (NBN 25) | 15Mbps | 25.1Mbps |
| Unlimited NBN Essential (NBN 50)  | 43Mbps | 47.3Mbps |
| Unlimited NBN 100/20 (NBN 100) | 83Mbps | 94.1Mbps |
*Speeds correct as of December 2020, ACCC
MyRepublic falls well short of the national average NBN speed with its Standard NBN 25 plan, suggesting it puts more effort into its higher speed offerings. Its NBN 50 plan gets just above the average for that speed tier, while its NBN 100 plan hits a reasonable 83Mbps but also falls below the benchmark speed across the country. 
What do customers think of MyRepublic NBN speeds?
In Canstar Blue's latest review of NBN providers, MyRepublic customers gave the telco three stars out of five for NBN speed & reliability. This was behind leading brands such as Aussie Broadband, Belong and Internode. The results were based on a survey of more than 2,500 households.
What impacts MyRepublic NBN speeds?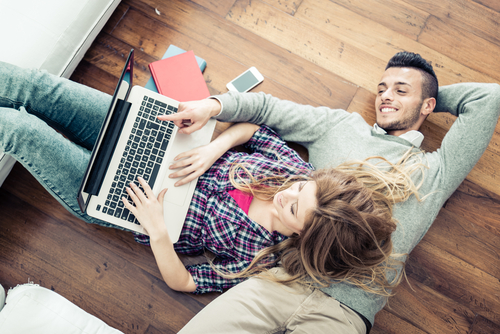 If you're noticing slow NBN speeds, it could be a range of things. It could be your distance from your local node, which applies to HFC, FTTN, FTTC and FTTB connections. It could also be because of internet congestion in your area, or because of the limitations of technology in your home, such as your modem or unused devices sucking up the bandwidth while being connected to the WiFi. It could even be because of line damage, or damage to your modem. We've done an explainer on slow internet speeds here.
How can I make my MyRepublic NBN speed faster?
You should consider trying these steps if you want to make your internet speed faster:
Consider upgrading to a faster speed. MyRepublic's Standard plan speed is well below the Australian average typical evening speed for NBN 25, so this is a decent first step.
Disconnect any devices you're not using from your internet. These could be performing background downloads and causing unnecessary lag.
Check if your line has any damage, and if it does, call a technician out to investigate.
Think about upgrading to the Technology Choice Program.
Is MyRepublic NBN a good deal?
MyRepublic's primary business is with heavy users, including gamers – hence why it markets with terms like "Gamer Pro" and "the first NBN plan optimised for gamers". Because of optimised gaming plans that include specialist perks and support, there's a lot to love with MyRepublic if you're big on gaming, or if you're doing lots of downloading that puts you in a similar high-use category.
As for speeds, MyRepublic offers some great typical evening speeds for its Standard Plus and Premium NBN plans, however its Standard plan seems to be lacking. If you're serious about getting a reliable and consistent connection, MyRepublic could be for you, but it's always worth shopping around for the NBN plan that's right for your needs. If you'd like to know more about MyRepublic, we've written about the provider in more detail here.