Ever since Telstra boss Andrew Penn decried the current state of the NBN, rallying against NBN Co's restrictive wholesale pricing model and exhorting the wholesaler to do more to protect the future of the NBN, there has been extra scrutiny on a network that has always proved contentious. However, putting aside this debate for a moment, the casual observer would be surprised to find reference in Mr Penn's blog post to some so-called 'super-fast' NBN tiers which are later revealed to operate at 250Mbps, 500Mbps and 1Gbps download speeds. Yes, you read that correctly.
You'd be forgiven for thinking that the NBN maxes out at the 'premium' speed tier (100/40) given that this is what the majority of retailers promote. Even outside of retailer offerings, there has been little to no publicity on these 'super-fast' speed tiers. And Mr Penn acknowledges this in his blog, imploring NBN Co to lower the wholesale cost of these tiers to make them more affordable for retailers and consequently, more accessible to consumers.
For a network that has been consistently plagued by consumer dissatisfaction with speed, you can imagine how prohibitively expensive these super-fast tiers must be to discourage retailers from even offering them to consumers in the first place.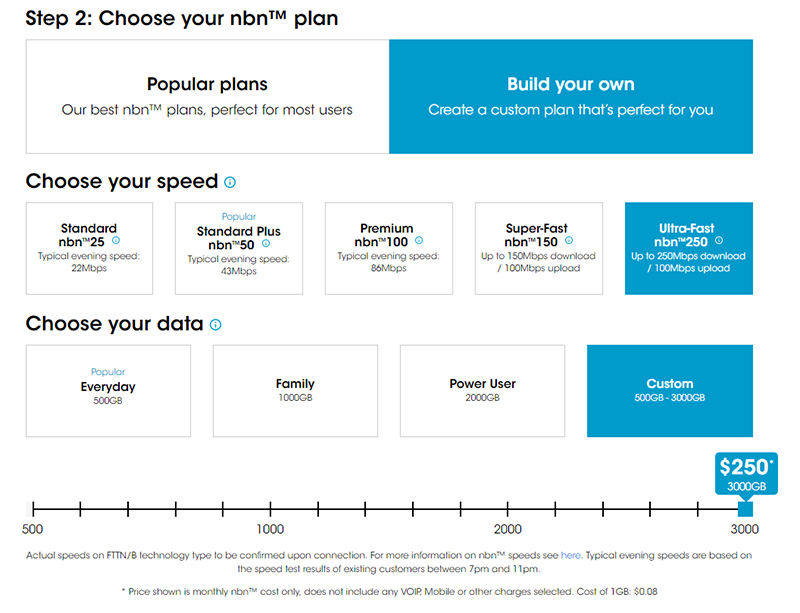 How can I get this truly super-fast NBN speed?
Aussie Broadband is the only retailer currently offering a selection of these 'super-fast' speeds to retail customers. But even then, you have to do a bit of extra digging as these don't form part of its standard 'popular' plan offerings. Rather, the consumer has to navigate to the 'Build Your Own' section of Aussie Broadband's NBN page where the 'Super-Fast' (150Mbps) and 'Ultra-Fast' (250Mbps) speeds are part of the custom offerings. In fact, the 150Mbps speed tier seems to be unique to Aussie Broadband users.
As you would expect, these plans aren't cheap. For 500GB of data on the 150Mbps tier, you would be forking out $150 a month, which goes up to $230 a month if you want the maximum 3000GB plan. It's even more expensive if you're after the Ultra-Fast variant (250Mbps) with $170 per month getting you 500GB of data, and $250 securing you 3000GB at that speed. To put these figures into perspective, the average price for the premium (100/40) NBN tier on Canstar Blue's comparison table is $93 per month.
Even if you're prepared to pay extras for these speed tiers, you would need to live in one of only 1.7 million Australian residences that are connected to the NBN by fibre to the premises (FTTP) – or be prepared to pay thousands out-of-pocket to upgrade to an FTTP connection. 
It's also important to acknowledge that consumer dissatisfaction with NBN speed has rarely been about the speeds advertised by retailers but rather the actual speeds they receive after they're connected, especially during peak periods. If NBN Co do heed Telstra's call for lower wholesale pricing on these 'super-fast' tiers, it will be interesting to see how many retailers adopt these into their offerings and how many consumers determine that the additional cost is worthwhile.
NBN 100 plans: providers compared
The following table shows a selection of published unlimited Premium Evening Speed (NBN 100) plans on Canstar Blue's database, listed in order of standard monthly cost, from the lowest to highest, and then by alphabetical order of provider. Use our comparison tool above to see plans from a range of other providers. This is a selection of products with links to a referral partner.

Image credits: Stringer Image/Shutterstock.com