TPG has made a big name for itself by providing high-speed NBN products for all kinds of households. While TPG might not have the perks and bonuses that competitors such as Telstra and Optus offer, the telco holds its own, with a phone bundled into every plan and a large Australian customer base.
While TPG does have a lot to offer when it comes to internet plans, you might be wondering how fast are TPG's NBN speeds? Every NBN provider has a different average speed, and there are many factors that can affect your NBN speeds. Let's take a look at what you can expect from TPG's range of plans.
Jump to:
How fast are TPG NBN speeds?
A good way to measure NBN performance is by the 'typical evening speed' — the speeds you can expect during the peak evening time of 7pm to 11pm. NBN providers, like TPG, will list this typical evening speed with its NBN plans to give you an indication of what speeds you can expect during this busy time.
TPG's minimum speed plan (NBN 12) has typical evening speeds of 12Mbps, its mid range plan (NBN 50) offers typical evening speeds of 48.0Mbps — which is above the average typical evening speed) — while TPG's maximum speed plan (NBN 100) boasts evening downloads averaging at 95Mbps, which is a little below the average for that speed tier. So if you're considering signing up to a TPG NBN plan, this indicates you can expect a fairly good performance from your NBN speeds.
What can you expect from TPG NBN speeds?
The following table shows how TPG's NBN speeds compare against the theoretical maximum speed for its plans.
| Speed Tier | Max Download Speed | TPG's Typical Evening Speed* |
| --- | --- | --- |
| NBN12 SL Bundle (NBN 12) | 12Mbps | 12Mbps |
| NBN50 SL Bundle (NBN 50) | 50Mbps | 48.0Mbps |
| NBN100 SL Bundle (NBN 100) | 100Mbps | 95Mbps |
*Speeds correct as of December 2020, provider's website
According to the ACCC's most recent NBN performance report, TPG's plans achieved an average speed of 98.4% of the maximum speed possible during busy periods (between the hours of 7pm and 11pm), which was measured throughout December 2020. If you'd like to see the plans in detail, we've included a list of TPG NBN plans below.
The following table shows a selection of published TPG NBN plans on Canstar Blue's database, listed in order of standard monthly cost, from the lowest to highest. Use our comparison tool to see plans from a range of other providers. This is a selection of products with links to a referral partner.
How do TPG NBN speeds compare?
The below table demonstrates TPG's average evening speeds compared to the recognised national average speeds, as reported by the ACCC's Measuring Broadband Australia report. These average evening speeds refer to download speeds that are typically reached on each speed tier during the peak evening traffic time between 7pm and 11pm.
| Speed Tier | TPG's Typical Evening Speed | Australian Average Evening Speed* |
| --- | --- | --- |
| NBN12 SL Bundle (NBN 12) | 12Mbps | N/A |
| NBN50 SL Bundle (NBN 50) | 48Mbps | 47.3Mbps |
| NBN100 SL Bundle (NBN 100) | 95Mbps | 94.1Mbps |
 *Speeds Correct As of February 2020, ACCC
For NBN 50, TPG punches well above its weight, offering average evening speeds of 47.3Mbps. While its NBN 100 plan comes in at 95Mbps, just above the Australian average for the Premium speed tier. While there is no average speed listed for NBN 12, the speed you can expect from TPG isn't too far off the maximum speed available on that tier. Overall, TPG seems to be a decent performer when it comes to its NBN speeds.
What do customers think of TPG NBN speeds?
In Canstar Blue's 2019 Most Satisfied Customers ratings for NBN providers, TPG customers gave the telco four stars out of five for NBN speed & reliability. This puts TPG towards the top of the table alongside major brands like Aussie Broadband, Vodafone and Belong. The results were based on a survey of more than 2,500 households.
What impacts TPG NBN speeds?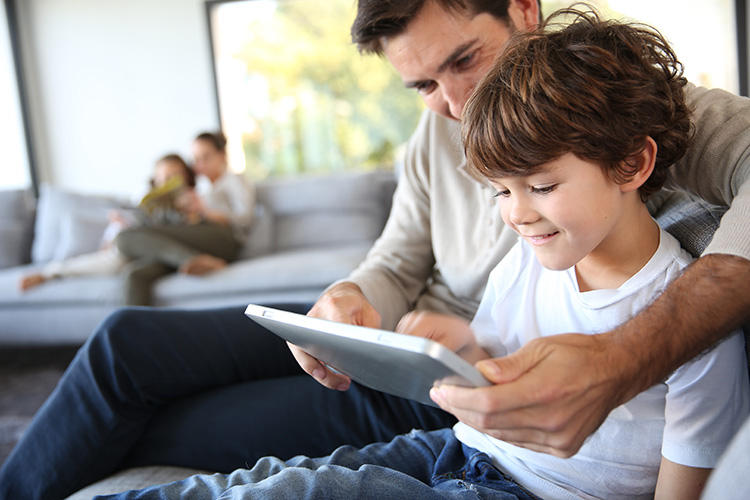 Anything from congested networks to faulty technology can affect your NBN speed. The distance between your home and the node is a also key factor. For both FTTN (Fibre to the Node) and HFC (Hybrid Fibre Coaxial) connections to get the NBN to your home, these connections must communicate with a node in the neighbourhood. The further your home is from the node, the slower your speed may be. Another factor that could affect your NBN speeds is if your modem or your fixed line connection is faulty.
Apart from connection problems and physical distance, there are factors in the home that can impact your NBN speed. If you have too many devices connected to WiFi at the same time, these devices are competing for bandwidth — the more devices connected, the slower the speeds. That's why it's recommended that large households with multiple internet users and devices connected at once, are better signing up to plans with faster NBN speeds in order to cope with the demand. How you use your internet can also impact your speeds as activities such as video streaming and online gaming will require faster speeds (such as NBN 50 or NBN 100) to work smoothly.
How can I make my TPG NBN speed faster?
While slow NBN speeds can sometimes be out of your control, there are some things you can do that may help improve your NBN speeds:
Disconnect unused devices from your home internet — this minimises congestion for your home internet.
Upgrade to a faster speed, such as NBN 50 or NBN 100.
An Ethernet cable might make your internet connection faster.
Investigate if your wired connection or modem is damaged, or if you could upgrade your modem.
If all else fails, consider upgrading your NBN connection with the Technology Choice Program.
Is TPG NBN good for Netflix?
TPG's NBN 50 and NBN 100 plans are both great for casual and high-definition Netflix streaming, with NBN 100 recommended for 4K streaming. TPG's Basic NBN plan (NBN 12) is perhaps not the best for Netflix, as TPG's NBN 12 plans come with data caps (with unlimited data as an option) and these speeds are considered too slow for high-definition, and even standard-definition video streaming.
Netflix ranks Aussie NBN providers for speeds, so you can compare TPG's average speeds with Netflix's ISP index. TPG is ranked number six on the list, clocking in an average speed of 4.49Mbps on the Netflix servers (as of December 2020).
Is TPG NBN a good deal?
There's a lot to love about TPG. On top of offering some good deals and phone inclusions with every plan, TPG offers plans for all kinds of Australians, with the $29.99 NBN 12 plan one of the cheapest NBN plans around, although it does come with lower speeds and modest data inclusions.
For more data and faster speeds, TPG's NBN 50 and NBN 100 speeds perform well on the ACCC's current averages, which is great if you want a fast connection. TPG is a pretty safe choice, but if you're looking for the cheapest plan available it could be worth your time to look around and compare NBN plans from a range of providers.