With the NBN nearing completion across Australia, there's a good chance that you're already connected, or preparing to make the switch. But with so many plans and providers on the market, narrowing down which brands offer the most for your money can be hard. Cue Vodafone, the massively successful telco that began solely in the mobile space, but now offers its own NBN plans to Australian customers.
Vodafone is relatively new to the NBN market, but offers a small range of options at competitive prices.  Plans start at $55 per month with Vodafone and are very low risk, with no lock-in contracts and frequent discounts for new customers. Let's jump right into it. 
What does Vodafone offer?
While Vodafone might be a big player in Australia's telco industry, it's NBN and internet offerings are fairly modest, mirroring a startup more than its natural rivals Telstra and Optus. Here's what you can expect:
Unlimited data: Every Vodafone NBN plan includes unlimited data.
Speeds: Vodafone offers Standard NBN 25 (typical evening speed: 22Mbps),

Standard Plus NBN 50

(typical evening speed: 44Mbps) and

Premium NBN 100

(typical evening speed: 84Mbps). Vodafone is also one of the few providers to offer

Superfast NBN 250

(typical evening speed: 200Mbps) and

Ultrafast NBN 1000

(typical evening speed: 250Mbps) to eligible customers.

Technology types: Vodafone offers NBN across most connections, including

Fibre to the Premises

,

Fibre to the Node

, Fibre to the Building, Fibre to the Curb,

HFC

and

fixed wireless connections

.

Modems: Vodafone plans include a Wi-Fi modem that is free if you stay connected over a 36-month period. Otherwise the modem is $180. The modem also has a

4G backup

, in the event your internet service goes down.

No contracts: Vodafone's plans are month-to-month and no-contract, although you'll need to stay connected for the full 36 month payment period to get your modem cost waived.
Vodafone NBN Speeds: at a glance
Below are the typical evening speeds reported for Vodafone speed tiers. 
| | | |
| --- | --- | --- |
| Speed Tier | Max Download Speed | Vodafone's Typical Evening Speed |
| Essential NBN plan (NBN 25) | 25Mbps | 22Mbps |
| Essential+ NBN plan (NBN 50) | 50Mbps | 44Mbps |
| Premium NBN plan (NBN 100) | 100Mbps | 84Mbps |
| NBN Home Superfast (NBN 250) | 250Mbps | 200Mbps |
| NBN Home Ultrafast (NBN 1000) | 1000Mbps | 250Mbps |
Source: Vodafone. Speeds correct as of July 2020
Vodafone NBN Plans
Vodafone keeps it simple by offering five hassle-free NBN plans, all of which are contract-free and include unlimited data. Plans are simply sold by speed tier value, ranging from Standard NBN 25 all the way up to Premium NBN 100, with Vodafone also recently adopting the two new superfast NBN speeds, Superfast NBN 250 and Ultrafast NBN 1000.
Customers can also add a Vodafone mobile home phone to their account, or enjoy bundled-in entertainment with optional Vodafone TV. 
The following table shows a selection of published Vodafone plans on Canstar Blue's database, listed in order of standard monthly cost, from the lowest to highest, and then by alphabetical order of provider. Use our comparison tool above to see plans from a range of other providers. This is a selection of products with links to a referral partner.
What do you get with Vodafone NBN plans?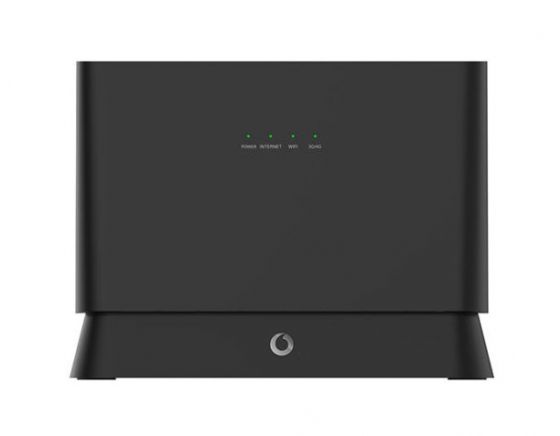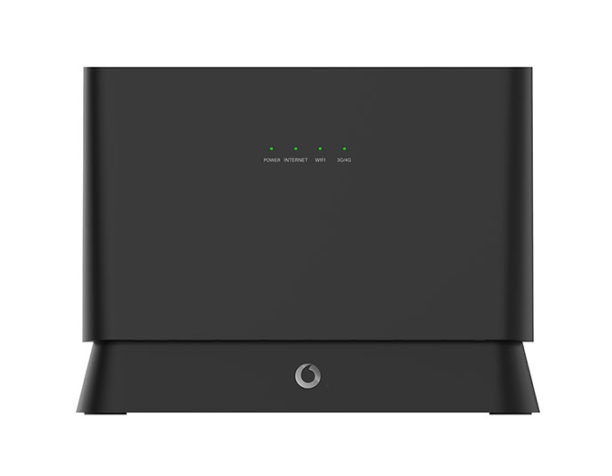 At minimum, you'll get your choice of NBN speeds, no lock-in contracts,a BYO or bundled-in modem and unlimited data each month. You're free to bring your own compatible modem to Vodafone NBN, or add-on the telco's $180 WiFi Hub with 4G backup ($0 if you stay connected for 36 months).
Depending on when you sign up, you may also be eligible for discounts or introductory pricing, such as $10 off per month for your first six months. This is a common promo among smaller providers, and sees Vodafone frequently offering the cheapest NBN plans available from Australia's 'big three' telcos (Telsra, Optus and Vodafone).
Vodafone also offers a 30-day Network Satisfaction Guarantee to all new NBN customers. If you're unhappy with your speed or performance, you're free to cancel within 30 days of activation for a full refund of your plan fee. You'll need to return your Vodafone WiFi Hub (if applicable) within 10 days of your claim to qualify. 
Although Vodafone doesn't offer traditional landline services, the company instead provides a 'mobile landline'. Customers get to keep their old home phone number, but when a call goes through it's redirected to your Vodafone postpaid mobile phone. To replicate the home phone experience, you can just pick up a cheap mobile phone and a cheap Vodafone SIM for an easy, low-cost alternative to landlines.  
With Vodafone's Bundle and Save deal, you can save between 5% and 20% off plan fees when you combine your NBN plan with other eligible Vodafone products, including SIM-only and phone-on-a-plan options. Bundle and Save discounts include:
Two eligible plans: 5% off each plan
Three eligible plans: 10% off each plans
Four eligible plans: 15% off each plan
Five eligible plans: 20% off each plan
Vodafone also offers some decently fast typical evening speeds, meaning you're less likely to suffer a slow performance during peak traffic hours of between 7pm and 11pm. Vodafone is also one of the few providers in Australia to offer NBN speeds above NBN 100, joining 'challenger' brands such as Aussie Broadband and MyRepublic.
How does Vodafone compare to other NBN providers?
Against other providers Vodafone stacks up reasonably well, falling among the cheaper providers especially when compared to the pricing offered by Telstra and Optus. If you're shopping around and prefer no-nonsense plans and great deals, here's some providers to check out:
As a big telco provider with smaller options, you might consider Vodafone's major competition to be Optus and Telstra. But on price alone, Vodafone more or less stacks up against Tangerine, Flip, Internode and Kogan for offering easy-going plans with regular discounts for new customers.
Is a Vodafone NBN plan worth the money?
As one of the largest telcos in the country, Vodafone is well positioned to be a strong NBN provider. At cheapest, a standard Vodafone plan is $65 per month, but this plan does include unlimited data at NBN 25 speeds. Even Vodafone's NBN 100 plan at $95 per month is a competitive deal, and with no contract commitments and a 30-day network guarantee you'll be able to test the waters risk-free.
Vodafone is also one of the few Aussie providers to offer NBN 250 and NBN 1000, which are great choices if you're looking for some extra kick with your home connection. These options are great if you're a hardcore streamer, gamer, or just need reliable fast internet at all times in the home, but be aware that they're only available to customers with a compatible NBN connection, and are priced from $135 per month. 
The next time you're shopping around, keep Vodafone in mind – the savings Vodafone provides through discounts and bundling are terrific, and as a full-service provider, it's easy to keep all your telco services in one place. However, don't be afraid to compare prices across providers before making a commitment.