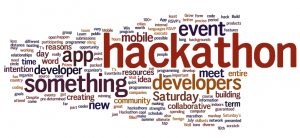 One was held at the University of Adelaide at the end of July, but what exactly is a hackathon?
Essentially, it is a huge organised gathering of computer people (programmers, developers, designers, project managers). The aim of the Hackathon is to spend time intensively collaborating to make usable software.
Alternative names can be used, such as hackfest, codefest, or hack day.
Generally the event will have a purpose, and those involved will make software to suit the purpose stated. For example, the July 27 hackathon in Adelaide was hosted by the Commonwealth Bank, and the aim was to find ways to help small local businesses.
The most important thing to know about a hackathon is that it is in no way associated with computer crime. Hackathons are designed to have a positive outcome and give back to local and global communities through innovation and technology.
At the University of Adelaide hackathon, eleven teams worked for three days to develop apps that could have potential to help small businesses and not-for-profit organisations in Australia.
Both professionals and students participated in the event, as is common in hackathons all over the world.
Hackathons are a great opportunity to ideate and create civic solutions to social issues, but also to weave community across cultural, political, gender and socioeconomic lines.
Some Notable Hackathons
Femhack: On May 23, 2015, hackers from 19 countries gathered online and in person for a grassroots international feminist hackathon, with the aim of breaking down gender barriers, as well as making a difference in the world. Many of the projects initiated at the event are still in development and look to address privacy; security; domestic violence; protection for activists; and access to technology for those who can't.
QA Hackathons: these hackathons are organised by the Birmingham Perl Mongers, who run the QA site. The BPMs assist those who have the funding to organise hackathons all over the world. Their most recent hackathon was held in Berlin, and was targeted to those working in Quality Assurance, testing, packaging, CPAN, and other projects related to quality assurance.
Mario Maker: The lucky employees at Facebook got to be a part of a hackathon making their own levels of the latest Nintendo Super Mario game. Teams within the company competed to decide whose level was the best.
Random Hacks of Kindness: this is a not-for-profit group that organises global hackathons with local groups all over the world – there is even a group in Canstar's home town of Brisbane. The events, which happen twice annually, are supported by huge companies such as Google, the World Bank, Microsoft, Yahoo!, and even NASA. RHoK has been bringing together thousands of people around the world to create open source solutions to save lives and alleviate suffering.