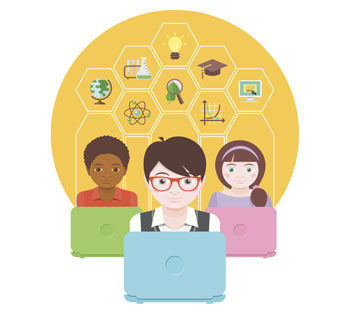 Only a small number of Aussie parents bother with online safety measures for when their children are browsing, according to Canstar Blue's latest research. Of those people we surveyed who had children under sixteen, 40% stated that they had no online safety features for their computer, trusting their children not to access inappropriate material.
Furthermore, 18% said it was because they didn't think it was necessary to restrict their children's access to online content. From the opposite point of view, 31% said that they sat with their children whilst they were on the internet; however, just 12% had an internet security package that restricts access to certain sites (e.g. Net Nanny).
There were significant generational differences when it came to internet security: 55% of parents from the baby boomer generation trusted their children not to browse inappropriate material, compared to just 31% of Gen X parents. Similarly, just 21% of baby boomers reported that they browsed the internet with their children, with Gen X parents doing this significantly more at 36%. This could be accounted for, of course, by the fact that children of Gen X are likely to be significantly younger than children of Boomers!
There's no doubt that the internet plays an increasingly important role in the lives of today's children, with recent Roy Morgan research finding that 82% of Australian teenagers aged 14 to 17 see the internet as at least very important in their lives.
What's the right age to give your kids a mobile phone?
What are our kids doing online?
A recent study of 400 children and their families – the  AU Kids Online survey of 9-16 year olds and their parents – found that 76% of Australian kids go online daily or almost daily with a further 22% using the internet once or twice a week.
The most common online activities in a given month are:
86% use the internet for school work
85% watch video clips
78% played internet games
67% sent/received email
63% visited a social networking profile
51% used instant messaging
45% posted photos, videos or music to share with others
44% played games with other people
43% downloaded music or films
41% posted a message on a website
Remember to keep your kids safe
Somewhat worryingly, a finding of the AU Kids Online survey was that 30% of Australian children said they had been bothered or upset by something online in the past year. This percentage is two and a half times the European average (12%) and more than any other of the 25 countries that conducted a parallel survey.
While parents may trust their children not to deliberately access  inappropriate material, kids can stumble upon it accidentally. The Australian Communications and Media Authority, via their cybersmart.gov.au website, provide some excellent online safety tips for both parents and kids – the site is well worth a read.
Some more articles you might like
How trackable are you?
4 things that affect your internet speed
Messaging apps of SMS: what to use