Australia's energy retailers will be under the microscope in the coming months, with the government directing the Australian Competition and Consumer Commission (ACCC) to investigate their pricing, contracts and competitive behaviour in light of continuously rising costs for consumers.
"Competition in retail electricity markets should mean lower prices for residential and business consumers. However, retail electricity markets don't appear to be operating as effectively as they could," said Prime Minister Malcolm Turnbull.
​"A better deal in electricity is vital to keeping the lights on, delivering cheaper prices to families and businesses and sustaining jobs, particularly the thousands of jobs in our energy intensive industries."
The investigation will focus on the profits and margins of electricity retailers, and assess their appropriateness with respect to the associated costs and risks. As the below chart from the Australian Energy Market Operator indicates, retailer margins and costs are usually accountable for a small portion of residential electricity costs.
With that said, the chart shows some states have higher margins than others, particularly South Australia. This will be one of the key focuses of the ACCC investigation.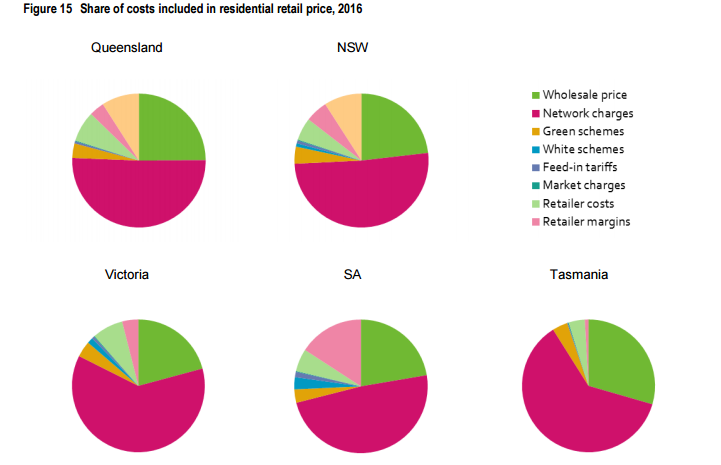 The ACCC will also review the cost drivers of electricity prices, the impact of vertical integration, the existence of anti-competitive behaviour, and the clarity of the contracts that electricity retailers offer their customers.
"The government will use the review to consider what further action should be taken to ensure markets are truly competitive and consumers can have confidence in the reliability, security and pricing of supply," Mr Turnbull said.
The ACCC is expected to issue its preliminary report within six months, with a final report due by June 2018.