They say there's no such thing as a free lunch – but for fans of McDonald's, it could be your lucky day (Monday, May 28).
To celebrate International Burger Day, the fast food chain is reportedly giving away free Big Macs right across Australia.
However, you won't be able to simply walk into your nearest restaurant and demand a Big Mac, because they are available exclusively through the recently refreshed mymacca's app that is available for download on iOS via the Apple App Store and Android via Google Play.
The app allows customers to place their orders in advance before heading into a McDonald's restaurant to collect.
From 11am, new and existing customers who log into the mymacca's app and check their MyRewards will be able to claim one of 300,000 Big Mac burgers.
The promotion is a part of McDonald's 50th anniversary celebration of the iconic Big Mac, which first went on sale in the US in 1968.
Only one free Big Mac is available per customer and the offer lasts for one day only!
McDonald's reveals bigger Big Mac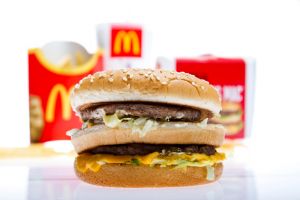 As well as giving away free burgers as part of the Big Mac's 50th anniversary celebrations, McDonald's has also revealed a limited-time only bigger Big Mac.
Called the 'Grand Big Mac', the new burger is essentially just a bigger version of the Big Mac, with even more special sauce and more of everything.
"We're excited to be celebrating 50 years of the Big Mac, one of Maccas' most popular burgers here and around the world. To celebrate this special occasion, we're introducing the limited edition Grand Big Mac – giving our customers more of what they know and love," said McDonald's Marketing Director, Jo Feeney.
This limited edition run comes after the 'new' burger was introduced in the UK earlier this year, where stock was reportedly sold out in three days.
The press release for the burger's limited run in Australia stated that: "The Grand Big Mac burger is packed full of all the classic Big Mac ingredients but with more special sauce over two larger 100 per cent Aussie beef patties, with more lettuce, cheese, and onions, all served on a larger sesame seed bun."