The iPhone XS may have been the star of the show, but Apple's 2018 keynote wasn't all smartphones: the company also unveiled its brand new smart watch, the Apple Watch Series 4. Redesigned and re-engineered, the Series 4 Watch is the perfect iPhone complement for anyone who's health-conscious, or just wants an easy hands-free way to stay connected.
Apple has increased the Watch's display by an impressive 30 percent, and improved the device's interface for more intuitive use. You'll get a new range of watch faces, a more responsive Digital Crown, and a sleek design featuring black ceramic and sapphire crystal.
Health and fitness
The new Series 4 now adds an electrocardiogram (ECG) app to its suite of health features, using the heart rate sensor and in-built electrodes to keep an ongoing record of the wearer's heart rhythms. The Watch can automatically monitor heart rate and rhythm and send user alerts if irregular, low or high heart output is detected.
Other health features include fall detection (through the Watch's accelerometer and gyroscope), which can also be used to alert emergency services in cases of severe impact with no wearer response. If you're more interested in everyday fitness tracking, the inclusion of the new WatchOS 5 operating system means you'll get automatic workout detection, plus new Yoga and Hiking modes.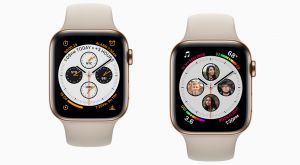 Other features
One of the cooler features is the new Walkie-Talkie mode, which allows Apple Watch wearers to connect to each other by a simple tap of the wrist. As long as you're connected to WiFi or a cellular network, you can talk quickly and easily to any other Watch user with the feature enabled, anywhere in the world.
You'll also now be able to stream podcasts through Siri, challenge other Watch wearers to activity and fitness competitions, and enjoy an extended battery life for longer wear. Overall, it's a nice update to the Series 3 range, and will also feature exclusive Nike + and Hermès versions for sport or fashion enthusiasts.
Pricing and availability
The Apple Watch Series 4 will be available to pre-order from Friday, 14 September, with in-store arrivals scheduled for 21 September. Outright prices are as follows:
Series 4 GPS: from $599 AUD
Series 4 GPS & cellular: from $749 AUD
Series 4 Nike+ GPS: from $599 AUD
Series 4 Nike+ GPS & cellular: from $749 AUD
Series 4 Hermès GPS & cellular: from $1,899 AUD