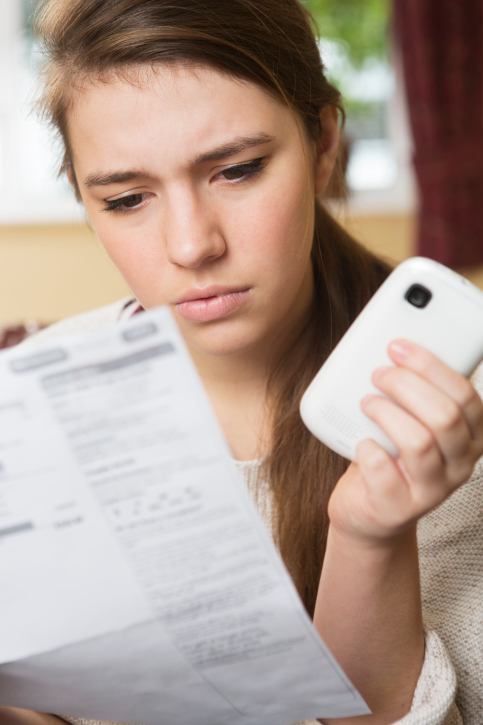 Four out of five Aussies are happy with their mobile phone service provider – but almost half think they are paying too much.
That's one of the findings from a new Canstar Blue survey, which found the average spend of postpaid users to be $62 per month, up from $58 in 2014. Meanwhile the average monthly spend of prepaid customers has risen by just $1 to $30 per month.
Survey findings:
1 in 3 young Aussies regularly exceed data limits
Average postpaid spend increases by $4 in 12 months
1 in 3 young prepaid customers switched from plans
Around two-thirds of postpaid users acquired their phone by signing up to a plan.
Tech-savvy young people appear to be benefiting from low-cost SIM-only deals, while older Aussies are left paying expensive contracts, said Head of Canstar Blue, Megan Doyle.
"Generally the older you get the more expensive your phone bill becomes," she said. "Those aged 18-29 are spending an average $10 less per month than those in their 50s, from $56 to $66. By contrast, the opposite is true when it comes to prepaid users, with those aged 18-29 spending an average $10 more per month than those in their 50s, from $27 to $37.
"It may be a case that the lure of smartphones is attracting older Aussies to more expensive contracts, while their kids are trying to get the ultimate bang for their buck."
Postpaid users
79% of adults on a plan said they are happy with their current deal, but 47% believe they could pay less with another service provider. This was especially true of the younger generation who, despite already paying less, were the least content with their current plan and the most convinced that even more savings could be made with another provider. Overall 22% said they would like to switch and once again those aged 18-29 were the most likely.
When it comes to the most important feature of phone plans, data allowance was crucial for young people, while those in their 50s were more drawn towards call time.
"Young peoples' frustration with their plans seems to be primarily driven by data usage, with 35% regularly exceeding their monthly allowance," said Mrs Doyle. "Older Aussies are much more likely to stay within the limitations of their contracts and generally remain happier customers, even if they are paying more."
Prepaid users
86% of adults who use a prepaid service said they are happy with their current arrangement, but 39% believe they could get a better deal by switching to another provider and 18% would like to do so, with young people again showing the most discontent.
Overall 22% of prepaid customers said they have switched from plans in the last two years, citing a frustration with being locked into contracts and paying for a service they don't use as the main reason. But many may regret the move.
"One in three young people are spending lengthy periods of time without credit because they quickly spend it all," said Mrs Doyle. "A similar number had switched to prepaid from plans, but are clearly struggling to find the perfect balance to suit their needs."
Which service providers are rated highest?
Survey respondents were asked to rate their mobile service provider across a range of criteria, including data management assistance, customer service and value for money, forming Canstar Blue's customer satisfaction ratings for prepaid and postpaid providers.
"In 2014 amaysim stood out from the crowd in both categories and has once again performed strongly," said Mrs Doyle. "But this year iiNet has struck a winning balance between great service and value for money, while ALDImobile continues to emerge and impress with a fantastic offering for prepaid users. Congratulations to both on their achievements this year."
Click here to see how your postpaid service provider rated.