In this ever-connected world of ours, smartphone ownership has skyrocketed. People of all ages – from five to 95 seem to have some sort of smartphone – or at least regular access to one. In fact, there are an estimated 2.1 billion smartphone subscriptions worldwide, and by 2020 it's predicted there will be more smartphones in use than landline phones! It's not all about the high end iPhone or Samsungs though. Many people just want a cheap smartphone they can occasionally browse the internet with, and one they don't want to spend over $1,000 for.
A popular market for cheaper smartphones is children, and parents buying for them. While the second-grader with the latest iPhone may be the coolest kid in the playground, the fact is many parents cannot justify such a phone for someone so young, and understandably so. Though, there is ever-growing pressure for kids as young as two to have access to some form of smartphone. It's a great moral dilemma about whether you should let your child have a smartphone or not. Read on to let Canstar Blue help you ponder this 21st century first world parenting dilemma.
Should I let my child have a smartphone?
Before we get into this, just note we're not in the business of providing parental advice or hard-and-fast rules. We as parents know that we hate some person on their high horse telling us how to raise our kids. No, we're merely laying out the mind-map you may need when considering buying your child a smartphone.
This particular author got their first phone – a 'dumbphone' (ones with no apps or internet connectivity) – when they were entering high school. They didn't get a smartphone until late-Year 11, and it was an extremely basic one. They didn't even get a high-end smartphone until university. Though, even in those short years since, times have changed. Like yo-yos in the 1950s, every kid seems to have a smartphone. So, there are some things you'll need to consider: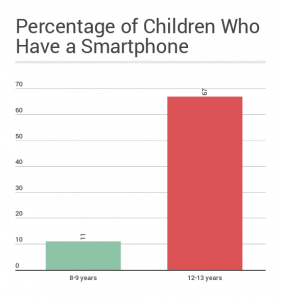 (Source: Kidsmatter.edu.au)
While there are relatively few Aussie statistics on kids under eight owning or using smartphones, we bet that this statistic is rising. Consider the jump from early-mid primary school, to early high school ages. Kids entering adolescence have a far higher smartphone ownership rate. Perhaps this is because there is growing peer pressure to have one, and they have gained more independence, doing more social activities separate from their parents. This mobility may necessitate the need for a smartphone, but there are some questions you need to ask yourself:
How old is my child, and are they mature enough for a smartphone?
Do they spend time away from me? For example, catching public transport, going out with friends on weekends, taking themselves to after-school activities, work commitments and so on.
If spending time with a separated parent, how can I contact them?
What will they be using the phone for?
Do they even need a smartphone – could a 'dumbphone' be enough?
At the end of the day, if you're footing the bill for the new phone, then you have the ultimate say as to whether you buy them a phone or not. Though we know kids can be nagging for the latest tech – especially if their friends have phones already! You'll need to consider your child's maturity levels and what they'll be using their phone for. Chances are if they're 10 or under, they'll likely be only playing games on it. It may be worth buying one for the house, and leaving it at home so they can play on it when they get home. If you and the co-parent are separated, then a phone so you can contact your child when they visit the other parent may be a viable option. Young kids and smartphones are a moral obstacle course!
If they're entering adolescence the pressure for buying a phone increases. They may want to start texting their friends; perhaps they have to get themselves to soccer practice or catch the train to school in the morning. In this case, it could be worthwhile buying a 'dumbphone' for them to use in case they need to contact you. If they are in late high school, then chances are they are starting to drive, may have a part time job, want to head out on weekends and have every social media account you could imagine. These may be viable reasons to introduce them to smartphones.
These are all factors you can consider; it's a minefield, we know. Though, the decision is yours; if you feel uncomfortable with them having a phone, then don't bow into pressure!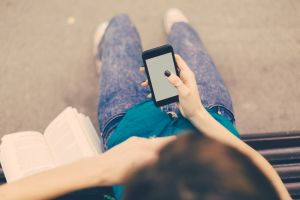 Top tips when buying your child a smartphone
There are a lot of things to consider if/when thinking about buying your child a smartphone. It may be easier to just refuse and put off the decision. Though if you've arrived at the decision to buy your child a smartphone, then following some handy tips may make your experience more pleasurable. They are:
The type of plan:
Prepaid vs Postpaid. It's the age-old question (well of the last 15 years or so anyway). Quite often, postpaid plans are bundled with a phone and are subject to contractual obligations. This may be unsuitable for your child, who is likely to 'outgrow' or become bored of their phone in a year or less. Moreover, we found that customers with handsets included in their plan spend an average of $72.79 per month on their mobile – considerably more than post-paid SIM only customers ($43.46). Postpaid plans are great for people that use their phone a lot, but may be not be ideal for a child with their first smartphone.
Prepaid options are often more 'kid-friendly', in that you have more control over how much you spend. This way you can bundle a cheap phone with a cheap plan, and away you go. Though, this requires more footwork on your behalf. A simple $10 recharge a month may be sufficient for your child to keep them in touch with you and text their friends. Cheap recharges often come with little to no data included, so if your child plays a lot of games or likes streaming, then unfortunately the phone bill is likely to increase. Though, a great perk of prepaid is that it allows children to more easily recharge themselves with cash, instead of your credit or debit card. You will need to assess your own child's habits to decide whether you go with prepaid or postpaid.
Long-expiry sims:
Did you know that there are phone plans with more than 30 days expiry periods? Using our plan comparison page you'll find that some providers offer SIM cards with a 90 day expiry or more. Some prepaid offerings can have a 365 day expiry! Often these are designed for people who don't use their phone all that often and don't want to recharge often. This may be a viable option if your child uses their phone for 'incidental use' – only the occasional text or call when necessary. Long-expiry SIMs are a great way to 'set and forget'. This can buy peace of mind if your child is catching public transport and only needs a phone in emergencies.
Basic smartphones:
Cracked glass, scuffed edges and a $200 repair bill. No one wants that, especially on a high-end smartphone that can cost over $1000. A protective case can only do so much. Kids are still active creatures – they'll likely survive falling out of a tree, but their mobile most likely will not. So, it's no use buying an expensive smartphone only to have it destroyed three months later. As such, it may be worth settling for a lower end smartphone. That way, kids can access all necessary features of a smartphone, without the worry of breaking the bank when they break a branch. Many entry-level smartphones are less than $200 these days, and can be a great way for your child to get the 'smartphone experience' they want without giving your wallet a heart attack.
An alternative is to make sure the high-end smartphone stays at home out of harm's way. Another benefit of this is, you can buy one end smartphone for all your young kids and have them learn to share it. That way, you are also saving on data costs, because the phone can be connected to the WiFi.
Dumbphones:
Another thing you need to consider is – does your child even need a smartphone in the first place?! Smartphones are great – they add another dimension to our lives and keep us connected online. Though, if your child isn't on social media yet, doesn't use much internet at home for personal use then chances are you can get away with buying a dumbphone.
As explained earlier, dumbphones are the 'old school' phones without a touchscreen, no apps and likely no 3D gaming. You may even still have one buried in a drawer somewhere! These can be a great entry into mobile phones for your child. If they only use the phone for incidental use, then a dumbphone is a smart choice when looking to save money. Many can be had for under $50 and some even contain basic cameras. Assess your child's needs; chances are a dumbphone is all they need, and in this case, this can save you some serious money.
Teaching your kids about internet safety:
Even before you buy your child their first mobile phone, it's important to teach them about internet safety. Many schools have some sort of 'online safety' program in place, but it's most important to teach it in the home where they are more likely to be accessing the internet. Mobiles are easy pocket internet browsers these days, and it's easy for kids to find themselves in hot water if they're not careful. Before buying them their first mobile phone, it's important to make sure you and your child are aware of:
Appropriate social media conduct. Many social networks are only for kids over 13 years.
Safe camera use, as well as Snapchat.
Appropriate texting
Mobile games, preventing huge credit card bills and maintaining a healthy smartphone vs 'real life' balance.
Keeping passwords to accounts and online banking safe, and the dangers of using public WiFi with these.
Knowing your child's habits and what they're generally up to when on their smartphone.
There's a lot to think about when buying your child's first mobile phone. When they come and ask if they can have a mobile phone, it's easy to put your head into a spin. Though, with a little guidance, research and patience it's possible to negotiate this complicated and sensitive field. Smartphones can be a valuable sidekick for your child, but they require input and research on your behalf before buying them one.