Not everyone is holding out for a new iPhone – so if you're a fan of Android (or just looking for an Apple alternative), the newest Google Pixel will hit Aussie shores in a matter of months. The premium Pixel 3 is expected to be announced on October 9, but if you can't wait that long, it looks like the device has already been leaked online.
Photos and a spec sheet have now shown up on Reddit, and while these only apply to the standard Pixel 3 (not the larger Pixel 3 XL), there's plenty here for fans of the Google phones to get excited about. Spoilers ahead!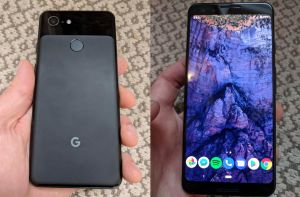 The photos confirm speculation that the 2018 Pixel will be notchless, with a respectable 5.5-inch display. Owners will get front-facing speakers, a glass body with a protective matte rear, and an overall design reminiscent of last year's Google Pixel 2 XL. Some of the listed specifications are:
2915mAh battery capacity
2160 x 1080 screen resolution, with 440dpi pixel density
Dual front-facing 8-megapixel cameras, with apertures of f/1.9 and f/2.2
Although the leak doesn't mention the device's rear camera, it's reported to be 12.2-megapixels with laser autofocus. The Pixel 3 will also run Android 9 Pie, feature a Qualcomm Snapdragon 845 processor, and come with all the standard inclusions you'd expect from a Google flagship, including wireless charging support and Pixel Imprint security.
The Pixel 3 joins the larger Pixel 3 XL in being exposed before Google's official launch. Photos of the 3 XL made their way online earlier in August, indicating that the device will feature a top-screen notch, a 2960 x 1440 display, and wireless charging. Like the now-leaked Pixel 3, the XL will also apparently include dual front-facing 'selfie' cameras, the Snapdragon 845 processor, and Android 9 Pie, although may pack a larger 3430mAh battery.
Both devices will most likely be officially launched on October 9 in New York City (October 10 in Australia). It's possible both phones will once again be Telstra exclusives, although you will be able to buy either device unlocked, and at full price, from Google or JB HiFi (and pair it with your favourite SIM-only smartphone plan).
Editorial credit: Framesira / Shutterstock.com