A study released this year by online security company AVG shows Australian grandparents are successfully turning to technology to keep in touch with their grandchildren. We take a look at what the study means for grandparents, and provide some helpful social media tips for tech-savvy baby boomers embracing the digital age.
The AVG Digital Diaries study among boomers and seniors, conducted by AVG Technologies, showed that half of the grandparents surveyed felt technology makes it easier for them to communicate with their grandchildren.
How do grandparents use social media?
As our families grow further apart in the distance separating our homes, 16% of grandparents said they now spend more time communicating with their loved ones online than face-to-face. But nearly half (46%) of Aussie baby boomers and seniors say that they actually communicate more with their grandchildren than their grandparents were able to communicate with them.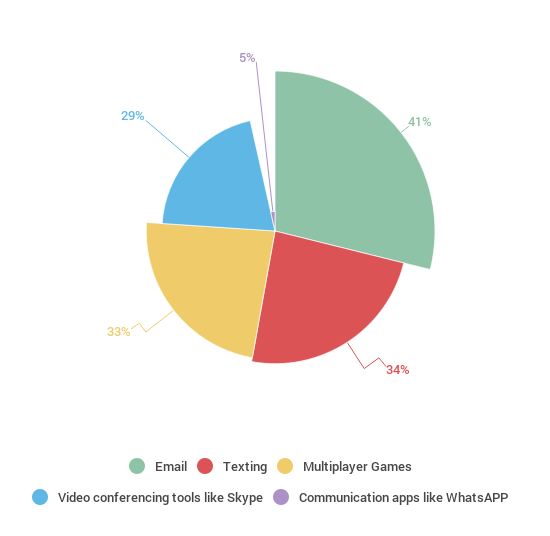 Grandparents are using the following technologies to keep in touch with their grandkids:
Email: 41%
Texting: 34%
Multi-player games: 33%
Video conferencing tools including Skype: 29%
Communication apps like WhatsApp: 5%
As smartphone cameras gradually replace the digital camera, AVG's Security Awareness Director Michael McKinnon says: "Gran's 'brag book' is being replaced by videos of every toddler milestone being held in their smartphones and iPads."
Grandparents can help their grandchildren safely navigate the vast world of the internet. Survey respondents said they give the following advice to their grandkids:
Don't share too much information online: 50%
Talk to an adult if anything upsetting happens online: 46%
Don't visit dangerous sites: 43%
Remember that everything you post online is visible online forever: 43%
Don't talk to strangers: 42%
Think about how much time you're spending online: 40%
A study by the University of Exeter shows that English grandparents who used social media benefited in many ways compared to the control group who didn't. Seniors who used social media had less feelings of loneliness, increased feelings of self-competence, a stronger sense of personal identity, and even improved cognitive capacity.
You can even celebrate International Grandparents' Day on social media. Post about it on Facebook, Twitter or Instagram about it using the tags @generationsunited, @GensUnited, #GrandparentsDay and #DoSomethingGrand.
Social media platforms grandparents need to know about
Facebook
Facebook is an app for sharing status updates (stories), photos and videos. More than half (56%) of seniors in a recent mass study in America said they use and like Facebook the most. On Facebook, you 'Friend' someone in order to see their status updates and send them messages. You can also 'Like' the pages for things you're a fan of, like your local lawn bowls club, a charity you support, or Popeye the Sailor Man.
To keep your grandchild happy with being your friend online:
Don't post any unflattering photos of them in the bathtub.
Don't send friend requests to their friends.
Don't jump in on conversations you're not a part of.
Don't post comments on other people's stuff unless you're talking about the same thing. The news that Uncle Geoff got through the colonoscopy does not belong in a comment on your grandkid's photo of their pet dog. It does belong in a private message.
Don't invite all your grandchildren to play with you on Facebook game apps like Farmville or Candy Crush Saga.
Don't use your grandchild's baby photo as your profile photo.
Don't post vague statuses that make it sound like you're in trouble when you're not (this is called 'vaguebooking'). When you just need a chat, call someone on the phone instead.
Twitter
Twitter is an app for sharing status updates, photos and videos. Twitter only lets you post short updates of 140 characters in length. There are some great beginner's guides to Twitter for Seniors online, like this one. You can 'follow' whoever you want on Twitter, from your grandchildren to Prime Minister Tony Abbott to ABC News to Popeye the Sailor Man. Unfortunately, that also means that anyone who wants to can follow your grandchildren – so you should urge them to be careful what they Tweet!
Instagram
Instagram is a photo sharing app where you take photos with your smartphone camera, edit them in the app, and post them online. While Facebook has long been popular with seniors, almost every teen you know is on Instagram. You can follow anyone you like on Instagram, from your grandchildren to Popeye the Sailor Man.
SnapChat
SnapChat is a photo and video sharing app. The picture you send disappears after 10 seconds or less, and can only be seen by the person you send it to. So you cannot SnapChat with Popeye the Sailor Man unless you know his mobile phone number. SnapChat appeals to kids who want a more spontaneous, "temporary" mode of self-expression. But just like other social media platforms, what you share is available in some form online forever.
Founder Evan Spiegel said the aim of SnapChat was to be more private than Facebook, where any of your friends can comment on anything you post. But increased privacy brings its own problems, including the trend in "sexting" – sending nude photos of yourself to other people.
What does this mean for me?
Before you start panicking about how much your grandkids are doing online that you might not know about, take a breather. Next time you have a chance, have a casual chat with your grandkids about which social media platforms they use and how they're using them.
You don't need to lecture them or to "Face-stalk" every post on their profile. Just asking them about their social media activities will help them to think more about what they post online. You can stay in touch and help them stay safe at once.
Other apps your grandchildren might be using include WhatsApp for texting, Tumblr and Flickr for sharing videos and photos, and Vine for sharing 6-second videos.