Apple's new batch of smartphones have reinvigorated interest in the brand in light of increased competition. The iPhone X, iPhone 8 and 8 Plus are certainly exciting new phones, but give serious thought to a range of plans before diving in for the next two years. In this article, Canstar Blue compares plans for the iPhone 8 and 8 Plus. So what are you options?
You can buy your preferred new iPhone 8, or 8 Plus, outright and find a good SIM-only plan. Prices for the iPhone 8 start at $1,079
You can sign up to a handset phone plan and gradually pay off your new phone in monthly installments, alongside your plan inclusions
Both can be good options, but in this review we'll focus on the handset plans offered with the iPhone 8 and 8 Plus. All of the plans featured below come with unlimited talk & text, plus varying amounts of data and other extra incentives. So, the big question is…
What are the best phone plans on the iPhone 8?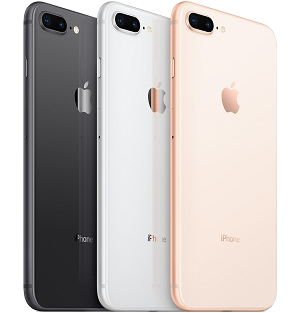 Vodafone provides the cheapest iPhone 8 plans in terms of ongoing monthly repayments. They start at around $60 a month, but for this you'll be on a 36 month contract. Plans quickly escalate to well over $100 a month for both plan and phone. Meanwhile Virgin Mobile, as one of the few MVNOs to offer iPhone 8 plans, start its bundles off at $69 a month over two years, with iPhone 8 Plus plans starting at just over $90 a month. Starting prices with Optus and Telstra are a little higher, but these two telco giants are likely the best pick if you want bags full of entertainment features included in your bundle. Optus plans start from $70 a month, while Telstra charges a minimum of $79 if you want to own the handset. Read on for more details from each carrier.
Read on for specific details of each carrier. But first, this is how their cheapest iPhone 8 plans line up:

Vodafone iPhone 8 Plans
Vodafone's iPhone 8 plans are pretty interesting. Vodafone arguably offers the best flexibility across the Big 4, as it has separated plan and phone repayments. By doing this, you just have to pay for the phone repayment and can chop and change your plan as you like. This also means you can switch plan providers, but must keep paying Vodafone for the phone repayment. Different contract lengths are available – 12, 24 or 36 months with not much total price difference between the three.
For example, the minimum you'll pay with the base iPhone 8 64GB over 12 months is a touch under $120, working out to be a bit over $1,100 over 12 months.
Contrast this with a 36 month contract and the base plan + phone combo comes in at under $60 a month, for a total cost of around $1,100!
The base plan comes with unlimited calls & texts plus 2GB data, and you can shop around as you see fit as the plan is not locked-in.
Generally the dearest phone plan also comes with the most data. The most data you can expect is 50GB, for which you'll be paying over $100 a month on a 24 month contract.
Overall, Vodafone benefits from having flexibility, with separation between plan and phone.
You can generally choose two paths: 'Global' plans with more international credit and Qantas Frequent Flyer points, or 'Data' plans with more data.
Here is how the cheapest plans look, with a base model iPhone 8 bundled in over a 24 month contract:

Vodafone iPhone 8 Plus Plans
If you like a phone that isn't made for ants, the iPhone 8 Plus boasts a bigger screen size plus some other goodies… and a bigger price tag. The base iPhone 8 Plus model comes with 64GB storage space:
The minimum you can expect to pay is just under $65 a month over a 36 month contract, which mean you'll get unlimited calls & texts plus 2GB data.
By contrast, the most you can expect to pay is with a 256GB iPhone 8 Plus over 12 months. On a $100 phone plan, your maximum repayment comes to around $223.
The $100 phone plan comes with 50GB data, but keep in mind that you can change your phone plan around – it's only the phone repayment you are locked-in for. This gives you the flexibility to shop around and also adjust your Vodafone phone plan if your usage changes over the two years.

Virgin Mobile iPhone 8 Plans
Virgin Mobile offers some extremely competitive iPhone 8 plans. As an MVNO, it operates on the Optus 4G Network and frequently offers cheaper plans than the competition.
For example, you can get a $40 plan with an iPhone 8 64GB bundled in for $69 a month.
Plans available are $40, $55, $70, $80 and $100, with phone repayments costing extra on top, but they do tend to be cheaper the higher up the ladder you go.
The tradeoff with cheaper prices usually means you get fewer bells and whistles like entertainment, data bonuses, international calls and the like. However, Virgin Mobile offers Velocity Points as well as data-free music streaming, plus data rollover.
While Virgin is somewhat light on extra 'stuff', it does provide some of the cheapest iPhone 8 plans out there.
Even with a cheaper price than others, however, you are still paying around $70 a month for your iPhone 8 deal.
Below is what you can expect to pay with an iPhone 8 64GB bundled in, keeping in mind that models with extra storage space are dearer.

Virgin Mobile iPhone 8 Plus Plans
For the iPhone 8 Plus, Virgin Mobile is again one of the cheaper providers in the grand scheme of things. Once again, you have the same plan prices available, starting at just $40 and working up to $100, but the phone repayments obviously differ.
The cheapest you can expect to pay here is $75, while for the 256GB the minimum is $89.
The $40 plan comes with unlimited calls & texts, 3GB data, and $50 international credit.
As it stands, all Virgin Mobile phone plans come on a 24 month contract, which is the industry standard. As with iPhone 8 plans, Virgin Mobile's 8 Plus plans come with extra perks like data-free music streaming with services such as Spotify, Google Play Music and iHeartRadio. Virgin Mobile tends to offer a fair bit of data for the price point, but tends to be lighter on extra features like video streaming and isn't as prolific as offering international calls as say, Vodafone is. Below you can see the minimum prices you can expect to pay with an iPhone 8 Plus bundled in.

Telstra iPhone 8 Plans
Telstra gives customers the option to lease or buy the iPhone 8, but for the sake of this comparison we'll look at plans that actually result in you owning the handset at the end of the contract. Telstra iPhone 8 plans start from $79 a month over 24 months, with prices gradually increasing as you add in more data or extra perks. Telstra's cheapest iPhone 8 plan comes with a very modest 2GB data. But there is plenty more on offer:
For 5GB data you can expect to pay $101 a month, but after that the extra perks start to kick in.
Spend $109 a month or more and you'll get a Foxtel Now Starter Pack subscription for 12 months.
At the business end of Telstra town, you can get 100GB data, the Foxtel Now subscription and free international calls for $199 a month.
Telstra clearly has the most costly iPhone 8 plans, but you can get an awful lot for your money. However, be prepared for a big financial commitment. These Foxtel Now packages ordinarily cost about $10 per month, and having extra perks like Apple Music memberships only adds to the intrigue of Telstra. By siding with the largest telco in Australia, customers stand to receive more than just a phone plan – think of these phone plans as all-round entertainment packages.

Telstra iPhone 8 Plus Plans
If you want the best the iPhone 8 has to offer, you might want to upgrade to the iPhone 8 Plus. If you do, Telstra has you well covered with the same plan options, but higher phone repayment costs. If you want to buy the phone rather than lease it (and why wouldn't you), the cheapest iPhone 8 Plus plan from Telstra comes in at $97 a month over 24 months. This includes just 2GB data.
From there prices rise to $109, $117, $139, $155 and $199 as you add in more data, Foxtel Now and international inclusions.
The plans may be expensive, but Telstra is arguably the king of bonus mobile features. All iPhone 8 and 8 Plus plans also include data-free streaming of AFL, NRL and netball… and don't forget the free Apple Music membership. If you're prepared to pay the big bucks, you'll have something to show for it with Telstra.

Optus iPhone 8 Plans
If Optus is your telco of choice, iPhone 8 plans start from $80 a month. That's if you want to own your phone at the end of the contract, rather than just lease it. That cheapest plan includes just 2GB data but comes jam-packed with lots of entertainment perks:
All Optus iPhone 8 plans include subscriptions to Optus Sport and National Geographic, plus data-free music streaming with Google Music, iHeartRadio and Spotify.
Prices jump from $90 to $100 to $110 and $127 a month as you add more data (up to 100GB) and beef up your entertainment and international calling inclusions. The top two plans also include data-free streaming with Netflix, Stan, Yes TV by Fetch and more.
Optus is a serious challenger to Telstra in the bonus features department, especially when it comes to live sports coverage. There is so much to choose from, it can actually get a little confusing! But Optus may shine through for English Premier League soccer fans. Optus plans also include some form of international credit as standard. Prices max out at $149 a month. Overall, Telstra and Optus are the big boppers of the telco world, with the two of them trading blows to see who can come out as iPhone 8 champion. It may pay to review your options carefully.

Optus iPhone 8 Plus Plans
Going for the iPhone 8 Plus with Optus will mean a minimum monthly cost of $80, for which you'll get 2GB data in addition to your standard unlimited calls and texts, plus subscriptions to Optus Sport and National Geographic, plus data-free music streaming with Google Music, iHeartRadio and Spotify.
Beyond the base plan, costs increase all the way up to $149 a month, bringing 200GB data, Optus Sport, National Geographic, data-free music streaming with the apps mentioned above, data-free streaming with Netflix, Stan, Yes TV and the like, plus unlimited international calls to selected countries.
There seems to be good value in upgrading from the iPhone 8 to the 8 Plus with Optus, but once again make sure you'll actually make use of all the additional features before diving into an expensive contract over two years. Again, it pays to think about Optus as more than just a phone plan provider – if you're serious about an iPhone 8 plan, you'll have to consider whether the extra entertainment perks are worth it, or whether you'll actually use them.

iPhone 8 Lease Plans
As mentioned above, Optus and Telstra both provide the opportunity to 'lease' the new iPhone 8 and 8 Plus, rather than buy it. In fact, they seem pretty determined to guide customers this way, with their respective websites showing leasing plans as the default option when you go to compare. This could lead to confusion if you're not familiar with the idea of leasing a new handset, so be sure to read the small print before signing up.
Leasing a mobile phone basically means you have to hand your phone back to the provider at the end of your term. Like renting a home, you have to keep it in spick and span condition, otherwise you face penalties.
You'll likely be subject to fees up to $400 if you break your phone or crack its screen.
Fair wear and tear is allowed, but this is largely an ambiguous area.
So why on earth would anyone go with a leasing plan? Simply put, both Optus and Telstra offer some strong incentives to lease the new iPhone 8. Expect cheaper phone plans, extra data or extra perks. Optus calls them 'Flex' plans, while Telstra calls them 'Swap' plans.
When you lease the iPhone 8 or 8 Plus, you generally pay $10-odd less each month or get a few gigabytes extra data, but the catch is that you don't get to keep the phone at the end of the contract.
With Optus & Telstra you have the ability to upgrade your phone a year into your contract for a nominal fee, and keep your current contract running.
This means you could upgrade your phone every year, such as when new iPhones are released.
Lease plans could work for those who want to upgrade smartphones every 12 or 24 months, but if not, it's hard to see the benefit.
Considering a lot of people would upgrade their phone after a year or two anyway, this could be a convenient option and an easy way to get access to bonus data and other perks. However, the fact remains that you have to hand your phone back. You'll also be subject to fees if you damage your phone, so investing in a case and screen protector may be wise. If you like the idea, here are the cheapest lease plans from Optus and Telstra.

iPhone 8 Plans: The Final Word
Vodafone, Virgin Mobile, Optus and Telstra give you plenty of exciting options to choose from:
The minimum you can expect to pay to get your hands on the iPhone 8 on a 24 month contract is $69 with Virgin Mobile.
Vodafone's base plans pack in good amounts of data, while the telco also breaks from the norm to offer 36 month contract options.
Telstra and Optus are the big boys when it comes to entertainment features, with Telstra boasting Foxtel Now subscriptions across all plans, while Optus tries to entice you with data-free Netflix, Stan and Yes TV streaming.
Overall, there are two difference races going on – a race of cheaper prices and big data between Virgin Mobile and Vodafone, while Telstra and Optus do battle over big entertainment packages and extra perks.
There are lots of plans to pick from, but try not to rush in without giving it serious thought. Phone contracts are serious financial commitments and should not be taken lightly, no matter how exciting the prospect of getting your hands on the best new phones.