The biggest event in mobile is finally locked in: Apple has announced that it will unveil its much-anticipated 2018 iPhones on September 12 (Thursday, September 13 Australian time). The event, which is scheduled to take place at the Steve Jobs Theatre in Cupertino, California, is set to showcase not only three brand new iPhones, but also potential updates to the Apple Watch, the iPad Pro, and possibly the Mac series.
Of course, Apple's flagship smartphones will be the event headliner. The company is expected to announce three new iPhones, which will most likely fall under the 'iPhone XS' branding: a smaller 5.8-inch iPhone XS, a super-sized 6.5-inch iPhone XS 'Plus', and an 'entry level' 6.1-inch device.
Both the 5.8-inch iPhone XS and the iPhone XS Plus will feature an OLED screen, while the 6.1-inch design will include a cheaper LCD display. Rumours have suggested that the new iPhone X series will be available in gold, and Apple's media invite seems to support that claim.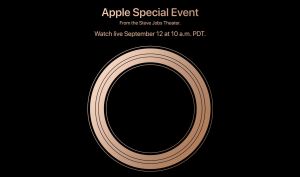 Apple fan news site 9to5Mac first broke that the new, premium iPhones will apparently be called the iPhone XS, and has backed up that prediction with an exclusive, apparently-leaked image of the high-end devices. Unlike previous fan-made images, the below picture is not a mock-up and is, at least supposedly, legit – although the combination of the phone's on-screen image and dark background make it a little hard to scope out any major details, such as notch size.

As for information such as pricing and availability, we won't know for sure until September 13. Canstar Blue has used previous iPhone data to estimate what you'll pay for the new iPhones, and buyers can expect prices to start from $1,079 for the smaller devices, and $1,579 for the plus-sized iPhone XS.
As with previous iPhone releases, it's likely that the new handsets will be available on plans from Vodafone, Telstra and Optus. If history repeats, it's possible that pre-orders will begin as soon as Friday, September 14, both from Apple and from telcos and retailers.
What we do know is that Apple's iPhone launch will commence at 3.00am on Thursday, September 13, AEST. You'll be able to watch a live stream of the event directly from Apple.com; and the company advises that, for optimal streaming, you should view via the Safari browser on your Apple device.
Editorial credit: mariakraynova / Shutterstock.com