Note: The LG V50 ThinQ is no longer available from Telstra (September 2020).
Following on from the launch of the Samsung Galaxy S10 5G and OPPO Reno 5G, Telstra continues to lock down 5G devices. This week, manufacturer LG has confirmed that the telco will have exclusive phone-on-a-plan rights to another new 5G handset, the LG V50 ThinQ.
The 5G smartphone, now available from June 11 — and in addition to offering 5G connectivity, will include an add-on second display, ideal for dual screen multitasking. It's a novel alternative to 'foldable' mobile phones, providing the option for a second display without the technical issues that have plagued competitors such as Samsung.
LG V50 ThinQ: features and specs
LG's V50 ThinQ features a main 6.4-inch QHD+OLED display, with the second clip-on screen measuring 6.2-inches. The handset is powered by a Qualcomm Snapdragon 855 processor, and includes 6GB RAM, 128GB of internal storage, and a microSD card slot for an additional 1TB.
Camera-wise, you'll get five in total – three in the rear (including 12-megapixel standard and telephoto lenses, and a 16-megapixel ultra-wide camera), and dual 8-megapixel and 5-megapixel lenses in front. All the usual camera features are included, such as panorama and HDR modes, plus HDR video recording.
The device also packs a 4,000mAh battery with Qualcomm Quick Charge support, plus fingerprint and facial scanners. If you're an audiophile, you'll also appreciate LG's inclusion of the Boombox speaker – place your V50 ThinQ on a solid surface, and enjoy amplified bass and an all-round improved sound.
Of course, the big hook for the V50 – besides being 5G-compatible – is the optional dual screen. The second display will be boxed in with the V50 ThinQ, so you won't need to purchase it separately – and as it runs off the device's battery, you also won't need to charge it before clipping it to your phone.
LG's focus is on the benefits of dual screen for mobile gaming, but the second display is also suitable for day-to-day multi-tasking, making it a convenient add-on for both work and play.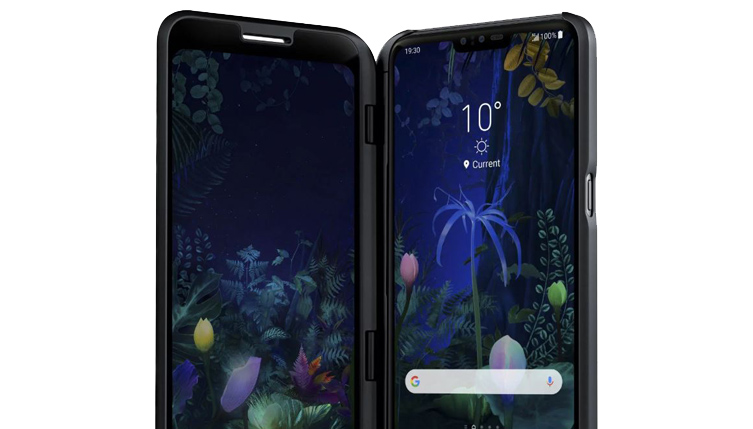 LG V50 ThinQ: plans and prices
Telstra no longer has stock of the LG V50 ThinQ, however there are a range of other 5G devices available from the telco, including 5G-compatible Samsung devices.
The following table shows all published Telstra postpaid plans available to bundle with a new smartphone from Canstar Blue's database, listed in order of advertised standard cost, lowest to highest. Use our comparison tool to see a wider range of plans from other providers. These are products with links to referral partners.
When can I get Telstra 5G?
The LG V50 ThinQ is the third 5G smartphone to be released in Australia, joining the Samsung Galaxy S10 5G and OPPO Reno 5G. All three devices are Telstra exclusives at launch, and will utilise Telstra's 4GX and 5G networks where available.
Unfortunately, Telstra's fledgling 5G network is only live in limited locations. So although recent tests have seen the Galaxy S10 5G and Reno 5G achieve 5G speeds of over 1,000 megabits per second (and more than 1,900Mbps in the case of Reno 5G), only a small amount of customers will have access to 5G coverage during the initial rollout.
If you do fall under Telstra's 5G umbrella, expect a serious boost in speeds and reduction in lag when using your 5G device. If you're still waiting on 5G — as most of us are — you can still use any of the above devices on Telstra's fast and efficient 4G and 4GX network, which is available across Australia.