Who doesn't love a good emoji? They can do so much with so few words, like communicate dinner plans or add a friendly touch at the end of a message to change the tone. For emoji lovers, it's the time of year to get excited as the newest batch of emojis — 230 to be exact — have been announced.
There are lots more new emojis than in the 2018 release, which saw 70 new icons added to mobiles around the world. Part of the reason why this latest release has so many more emojis than in previous years is the vast range of inclusive designs.
There is now a wide selection of emojis dedicated to people with disabilities, a wider range of skin tones applied to the existing 'couple holding hands' emoji, and even a gender-neutral couple holding hands.
2019 emojis
Among the range of inclusive emojis are mechanical limbs, manual and automatic wheelchairs, and ears with hearing aids in a range of skin tones, as well as a man/woman with probing stick (again, across various skin tones). There is even a guide dog and service dog!
Animal lovers get a few new additions with the otter, sloth, flamingo, skunk and orangutan — the jury is still out as to whether the oyster emoji counts as an animal or food. And speaking of food, it's been a long wait, but we'll finally have a waffle emoji to add to discussions about brunch. Plus, the humble onion, a clove of garlic, butter, a beverage box and falafel have all been added.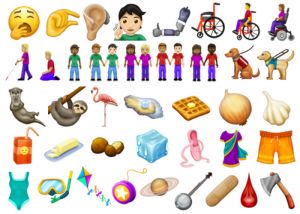 Other emojis of note include a drop of blood, ballet shoes, ice cube, swimsuit, snorkel, axe, banjo, band aid, stethoscope, white and brown hearts, a pinching hand, and a much-needed yawning face.
Unfortunately, we have a little wait ahead of us before we can start sending tasty waffles to our friends when messaging brekkie plans, with the release set for March 2019. Just how long we'll have to wait until they start rolling out on our phones is currently not confirmed, but we're still 'otterly' excited for the update.