Smartphones have, for the first time, hit the $1,500 barrier, with Samsung's Galaxy Note 8 and Apple's iPhone X leading the charge. Even for smartphone customers used to paying $1,000 for a phone, the $1,500 mark may seem a bridge too far. After all, you could easily get a nice laptop for that price. Enter unheralded Chinese handset maker OnePlus which has just launched a potential game-changer with its latest flagship model – the 5T – delivering most of what you would expect from a $1,500 smartphone, but at less than half the price, writes Krishan Sharma.
For $US499 ($660), you get a smartphone that holds its own against phone titans like Apple and Samsung with a gorgeous 18:9 edge-to-edge screen, excellent build quality, high-powered internals, a surprisingly good camera and even facial recognition. The 5T also boasts other useful features that you won't find in today's big name flagships, such as a headphone jack (no dongles needed here), dual sim card tray and a lightning fast dash charge system that can top up the phone's battery by 50 per cent in just 20 minutes.
That said, there are some compromises. The most notable is the lack of stereo speakers and wireless charging and, disappointingly, the 5T doesn't come with any kind of IP-rated water or dust resistance either. OnePlus has also decided to halt all sales to this part of the world, at least for now, which means Australians will need to resort to third party e-tailers that sell the OnePlus 5T at a slightly higher price.
However, the OnePlus 5T still seems to offer incredible value for money. Read on to find out why.
A discount smartphone that doesn't feel like one in the hand
The OnePlus 5T essentially shares the same exterior as the R11s from Oppo – a company that shares a corporate parent with OnePlus. It's sleek, slim and all metal which those who don't like glass phones will appreciate. It feels well made with a gently-curvy rear helping it nestle nicely into the palm, but it is on the slippery side so a case is a must.
To OnePlus' credit, the 5T comes with a screen protector pre-installed and a plastic protective shell in the box. OnePlus also offers a wide array of cases (sold separately) if you want to add a bit more personality and protection to the mix.
The OnePlus 5T is available in just one colour, Midnight Black, with no word on whether more hues will be on offer in the future.
Face ID meets Face Unlock
With its Face ID on the iPhone X, Apple set a new benchmark for biometric authentication on smartphones and while OnePlus' face recognition tech isn't anywhere near as advanced, it is at least fast and gets the job done on most occasions.
Whereas the iPhone X uses a sophisticated set of specialised sensors and cameras to create a detailed 3D map of your face for verification, the 5T solely relies on the standard front-facing camera which OnePlus claims can recognise over "100 facial identifiers" to unlock the phone in 0.4 seconds.
Unlocking the phone is as fast and easy as pressing the power button and looking at the screen. I wasn't able to fool it with a picture of myself and it was able to recognise me even when I wore glasses and a hat. It's worth noting that wearing really dark sunglasses or tilting the brim of the hat low enough to the point where the eyes weren't visible caused face authentication to fail. Also unlike the iPhone X, the 5T lacks an infrared camera so you won't be able to use your face to unlock the phone in the dark. I still found it to be fairly reliable in low-light scenarios such as in a dimly lit room or street.
I also found that face unlock worked at some impressive angles, which means you don't have to hold the 5T directly in front of your face for it to work. What impressed me most about face unlock on the 5T is the speed at which it authenticates and brings you to your home screen. It's so fast that there's no way to see your notifications unless you have the phone placed on a table and look at it from a slight distance.
While Face Unlock on the 5T isn't secure enough for mobile payments and isn't as reliable as iPhone X's Face ID, it performs much better than the face detection seen in other Android handsets such as the one found on the Galaxy S8. It's a useful, time-saving method to unlock your phone and you always have the option of falling back on the fingerprint sensor in the off chance it doesn't work.
Camera: a step closer to the flagship elite
The OnePlus 5T boasts dual cameras on the rear with 16MP and 20MP Sony sensors compared with the 12MP dual lens arrangement on the iPhone X and Galaxy Note 8. While most of the popular flagships use the second camera for optical zoom so you can get a closer shot of your subject without losing picture quality, the 5T ditches the telephoto option in favour of improving the quality of low light shots instead.
The results are a noticeable improvement over its predecessor, the OnePlus 5, while comfortably blowing away the mid-range smartphone cameras typically found at this price point. The million dollar question is: how does it perform against ultra-premium smartphones like the iPhone X or Galaxy Note 8?
Daytime photos come out every bit as good as what you would get from the iPhone X or Galaxy Note 8, but comparing low light shots side-by-side on a large monitor shows the 5T can't quite match the clarity and detail of its more expensive rivals. While the 5T's camera is capable of producing some stunning looking shots, they don't quite dazzle in the way the iPhone X, Google Pixel 2 or Galaxy Note 8 do. The 5T has the hardware do it so we're hopeful that OnePlus can improve the performance of low light shots in a future firmware update.
The fastest smartphone on the market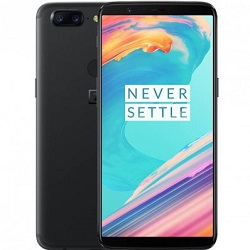 The OnePlus 5 was one of the fastest performing Android smartphones around and the same remains true with its sequel. OnePlus' custom Android skin, Oxygen OS, is fast, stutter free and devoid of any real manufacturer bloatware.
It helps that the lean software is paired with powerful hardware under the hood. A whopping 8GB of RAM (or 6GB on the base model) ensures apps launch and switch with ease while the chip that powers the experience is the very same Snapdragon 835 processor you'll find in other high-end Android handsets such as the Galaxy Note 8.
OnePlus' Oxygen OS has long been a fan favourite of diehard Android users not only for its snappy performance but for its deep customisation options that allow you to personalise almost every aspect of the software experience to your liking. The more useful ones include the ability to assign the physical volume buttons and capacitive home button to launch any apps of your choosing.
Another OnePlus mainstay is the three-position physical switch, located on the left side of the phone, which easily allows you to switch between notification ­profiles – including a mode where alerts are restricted to messages and calls from your priority contacts only – all without needing to take the smartphone out of your pocket. Using it day-in-day-out made me wish more Android phones had this feature.
A new software addition is Parallel Apps, which allows you to create secondary versions of apps like LinkedIn, Instagram and Facebook, allowing you to be signed into multiple accounts at once which is a handy feature for anyone who likes to maintain both a personal and work account on social media. There's also the fantastic 'reading mode' which changes the display to become completely black and white, making it more comfortable to read a long article or an ebook. The ability to use the fingerprint sensor on the back as a scroll wheel is also a nice touch.
With the 5T, OnePlus has finally delivered a handset that matches the near bezel-less look of other flagships thanks to a bright 6-inch 18:9 OLED panel supplied by Samsung that flanks the front of the phone. It's 1080p resolution and lack of HDR support means it doesn't pop as much as its more expensive rivals, but it's still a quality panel with good uniformity and brightness. For the price, you won't find a better display.
The OnePlus 5 also gains a tick for supporting more LTE/4G network bands from across the globe than any other flagship. This, coupled with the support for dual SIM cards so you can connect to two networks simultaneously, makes the OnePlus 5 an excellent choice for regular travellers.
The perfect antithesis to the growing trend of $1,500 smartphones
Since 2013, OnePlus has made impressive phones and sold them at impressively low prices. The 5T is easily the company's best effort yet. If you're looking for a great phone but can't quite stomach the prices being asked for the iPhone X, Google Pixel 2 or Samsung Galaxy Note 8, then you really won't be disappointed with the OnePlus 5T.