Disclaimer: The OPPO Reno 5G is no longer available through Telstra or Optus. If you'd like to buy this phone you'll need to purchase it through a retailer and bundle it with a SIM-only plan. 
It has been a big year for 5G in Australia. Telstra launched it's first 5G device, the HTC 5G Hub, then the Samsung Galaxy S10 5G phone became available; now, we can add the new OPPO Reno 5G phone to the list.
While most of the buzz is undoubtedly around the Reno 5G, there's still good news if you're not on the 5G bandwagon quite yet — OPPO is also releasing the Reno 10x Zoom as its 4G offering. These two devices, while on the pricier end of the spectrum, offer some exciting features, with both handsets virtually identical except for the Reno's 5G capability. So whether you want a 5G-ready device or not, you'll still have access to a quality smartphone from OPPO.
OPPO Reno 5G & 10x Zoom: new rising camera
One of the standout features for both of these phones is the 16MP pop-up camera. Many smartphone manufacturers have struggled with how to deliver an edge-to-edge screen with a front-facing camera built in — Apple's notch system isn't the most popular solution, and Samsung's Galaxy S10 notch could be equally irritating to some users.
This 'rising' camera looks pretty sleek, with its angled design resembling a shark fin. It has been tested to withstand over 200,000 uses, which is the equivalent of 20 uses per day for 27 years, or 100 uses per day over 5 years. It's also pretty quick and silent when it rises, taking just 0.8 seconds to extend. If you happen to drop your phone mid-selfie, there is built-in drop-protection, which senses when the phone is falling and will retract the camera. Overall, OPPO seems to have put some serious thought into making this rising camera a great alternative to the in-screen notch.
OPPO Reno 5G & 10x Zoom: features & specs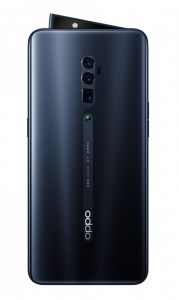 The Reno 5G has a x50 5G modem, while both devices are built with the Qualcomm Snapdragon 855 processor. You'll get 8GB RAM and 256GB built-in storage, with access to an additional 256GB expandable storage via microSD card (not included). The battery is built to deal with 5G connectivity at 4065mAh, which is equal to about 26 hours of talk time and 340 hours on stand by. The Reno also uses VOOC 3.0 fast charging to ensure you have an optimal experience.
Many of these features are included to give you a more optimised gaming performance, and OPPO has included Game Boost 2.0 on both devices. This is a frame-by-frame optimisation to help make your gaming experience as smooth as possible. As for its operating system, it comes with ColorOS V6.0, which is based on Android 9. These devices come in two colour options — Jet Black and Ocean Green.
With both devices, you'll enjoy a 6.6-inch vibrant AMOLED display with Corning Gorilla Glass 6, and fingerprint unlocking built into the screen. As for the camera, it's not called the 10x Zoom for nothing. The 48MP, 8MP and 13MP lenses combine to give you 10x zoom, so you can capture those special moments up close. You can also record 4K videos at 60FPS.
Where can I buy the OPPO Reno 5G?
The OPPO Reno 5G is now available through Telstra. If you're looking at buy it outright, currently you can also purchase through JB Hi Fi, with the Reno 5G retailing for just $1,499.
As for the Reno 10X Zoom, you can buy this outright for $1,199. It's available to purchase it outright from a range of retail outlets as well as on plans through TeleChoice, but it's worth noting that the device is no longer available through Woolworths Mobile.
Should I upgrade to the OPPO Reno 5G?
If you're one of the many Aussies who love OPPO phones, this is undoubtedly an exciting launch. While its clear that 5G is the way forward for mobile data in Australia, these networks are in very early stages. Telstra is continually rolling out new 5G sites, however it will still be a while until most Aussies have access to this super-fast mobile technology. You can check the Telstra site for more information on where these 5G sites are active.
As the Reno 5G and 10x Zoom are virtually identical devices, you'll need to consider whether you really need 5G connectivity at this point. If you're nowhere near a 5G site, and it doesn't look likely that you'll be near any new sites in the near future, you might want to hold off on the 5G device. Although plans for the Reno 10x Zoom have not been released yet, you might be able to save a bit if you choose this smartphone over the pricier Reno 5G.
If you're looking at the OPPO Reno, there is a lot to consider. You'll need to decide if owning a 5G device will really be worth it if without immediate 5G access, particularly if you live outside a major city. Whether you're looking to purchase a new OPPO Reno 5G (or 10x Zoom) phone outright or on a plan, there are plenty of options out there, so it's worth comparing phone plans to see which deal might be the best option for you.