Optus has expanded on the details of its partnership with tech giant Cisco to deliver networking and internet solutions ahead of the Commonwealth Games on the Gold Coast.
Optus said the infrastructure due to be rolled out in conjunction with Cisco will span 37 locations. These networking locations will be used for operational, sporting and command venues across the Gold Coast.
One of the key features of the infrastructure project will be to give the 6,600-odd athletes Wi-Fi connectivity. The project is reported to be supported by 426km of Optus fibre with Cisco assisting in delivery.
Speaking at a conference in Melbourne this week, Cisco's Vice President for Australia and New Zealand, Ken Boal, revealed that the Games networking rollout will consist of 280 switches, 680 wireless access points, 950 VoIP phones and 40 routers.
"Cisco provides the infrastructure that supports the network, which is integral to the role technology plays in our personal and professional lives. We are delighted to be partnering with Optus to deliver digital capabilities for the largest sporting event Australia will hold this decade," he said.
Optus Business managing director, John Paitaridis, said the Optus and Cisco partnership goes much further back than the Commonwealth Games.
"Our longstanding strategic partnership has allowed us to work as one, leverage each other's strengths and provide the 2018 Commonwealth Games with a smart network that will set a global standard and showcase Australia's innovation," Mr Paitaridis said.
The Commonwealth Games will run from 4 April to 15 April with the hope that the Games' projects, such as Optus' fibre network rollout, will provide the Gold Coast with adequate infrastructure for the decades to come.
What is Optus coverage like on the Gold Coast?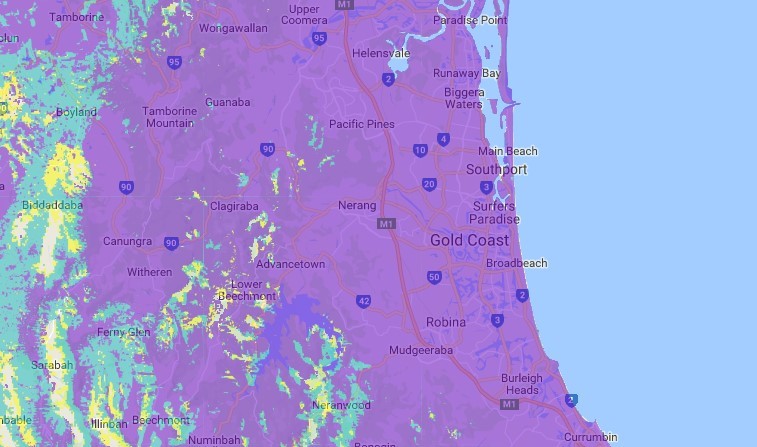 Optus experiences expansive coverage on the Gold Coast, with 4G spanning most of the coastal areas from Coomera down to Tweed Heads and beyond. 4G coverage also expands west out to Canungra, Currumbin Valley and Numinbah Valley.
The Commonwealth Games will primarily be held on the northern end of the Gold Coast near Southport, which likely experiences decent 4G coverage.
Canstar Blue research indicates that Telstra customers Australia-wide were most satisfied with their network coverage, with five stars for network satisfaction for postpaid and phone plan users. Optus and Vodafone achieved three stars each in these categories.