Note: Since this article's publication some devices mentioned in this article may no longer be available from Optus.
New Google Pixel phones are here! If you're looking to buy the Pixel 4 or Pixel 4 XL on a phone plan, you have some options, including phone plans from Optus.
Australia's second largest telco, Optus, offers both the Pixel 4 and the 4XL on 24 and 36-month plan periods. Device delivery and in-store availability starts from 24 October, 2019. Optus is the only one of the big three telcos to offer the new Pixels on a more traditional phone plan, where your new device is bundled with a plan over 24 or 36 months. Device prices are adjusted according to the plan you choose — the more expensive the plan, the less you'll pay for your handset.
Optus is also offering some bonuses to entice you over. Currently, you'll get the first three months of plan fees for free (offer expires 17 November, 2019). You'll also be able to pick up a free Harman/Kardon Citation ONE Speaker (RRP $299), but this offer is only available until 31 December, 2019, while stocks last.
So, let's take a look at how much you'll be paying if you choose your Pixel 4 or 4 XL on a phone plan from Optus.
With a great camera, the new Google Assistant built in, and Motion Sense, #pixel4 is designed to be helpful throughout your day. Bonus: it gets better with every update → https://t.co/G7OBj2MRla #madebygoogle pic.twitter.com/b2pRzczOza

— Google (@Google) October 15, 2019
Optus Google Pixel 4 Plans
Although the Optus Google Pixel 4 XL is still on offer from Optus, the Google Pixel 4 is no longer avaiable. 
Optus Google Pixel 4 XL Plans
If you'd prefer the larger-screen Pixel 4 XL, below are the plans currently available to pair with your Google Pixel 4 XL from Optus. This table lists what you'll pay for a standard 64GB Google Pixel 4 XL on a 24-month payment plan, plus your Optus postpaid phone plan. Prices will vary if you choose a different Pixel model or size, or a 36-month payment period.
Below are the monthly costs for the Pixel 4 XL, over 12, 24 and 36-month payment periods, excluding plan fees.
Phone payment prices for the 64GB model (excludes plan costs):
12 months: $106.56 per month (total cost $1,278.72)
24 months: $53.28 per month (total cost $1,278.72)
36 months: $35.52 per month (total cost $1,278.72)
Phone payment prices for the 128GB model (excludes plan costs):
12 months: $119.04 per month (total cost $1,428.48)
24 months: $59.52 per month (total cost $1,428.48)
36 months: $39.68 per month (total cost $1,428.48)
Why Optus?
If you prefer the traditional phone plan where handset and plan costs are bundled, Optus is currently your only telco of choice for this type of plan for Pixel 4 and 4 XL. Both Telstra and Vodafone separate plan prices and handset repayments, which does allow for more customisation, but plan costs can be more complicated to work out.
Optus has some fairly generous data inclusions for your plan, not to mention the monthly global roaming allowances on the top two plans when bundled with a new phone. You'll also find that Optus includes some enticing bonuses from time to time, such as data-free streaming and a subscription to Optus Sport. Keep an eye out to see what other offers are currently available from Optus.
Google Pixel 4 and 4 XL comparison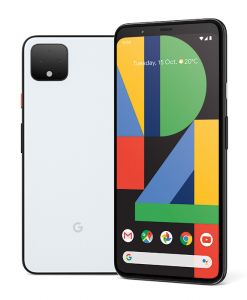 Still unsure about which device is right for you? Here are some of the basic specs for the Pixel 4 and 4 XL:
| | Pixel 4 | Pixel 4 XL |
| --- | --- | --- |
| Price | From $1,049 | From $1,249 |
| Screen size | 5.7-inch FHD+ OLED display | 6.3-inch QHD+ OLED display |
| Battery | 2,800mAh | 3,700mAh |
| Processor | Qualcomm Snapdragon 855 with Pixel Neural Core | Qualcomm Snapdragon 855 with Pixel Neural Core |
| Storage | 64GB, 128GB | 64GB, 128GB |
| Rear camera | 12.2-megapixel dual-pixel with auto-focus, dual-pixel phase detection, optical and electronic image stabilisation, plus 16-megapixel telephoto lens | 12.2-megapixel dual-pixel with auto-focus, dual-pixel phase detection, optical and electronic image stabilisation, plus 16-megapixel telephoto lens |
| Front camera | 8-megapixel wide angle camera | 8-megapixel wide-angle camera |
| Operating system | Android 10 | Android 10 |
| Colours | Just Black, Clearly White, Oh So Orange | Just Black, Clearly White, Oh So Orange |
Compare Google Pixel 4 plans
Looking for more information on the Google Pixel 4 and 4 XL? You'll find more details on the new devices, along with plans from Telstra and Vodafone via the following links:
Optus Plans – in summary
| Plan | Price | Inclusions |
| --- | --- | --- |
| Small Choice Plan | $39 | Unlimited standard national calls and texts, 10GB data |
| Medium Choice Plan | $49 | Unlimited standard national calls and texts, 60GB data |
| Large Choice Plan | $59 | Unlimited standard national calls and texts, 100GB data |
| Extra Large Choice Plan | $79 | Unlimited standard national calls and texts, 120GB data |