Note: Since this article was published, Optus has updated postpaid phone plans.
New year, new plans: we're not quite at the end of 2019, but Optus is welcoming 2020 with a mobile plan makeover. The telco has has revamped its range of postpaid plans, ditching lock-in contracts and launching an all-new build-your-own plan option.
Previously offering half-a-dozen postpaid phone-on-a-plan choices, all on 24-month or 36-month contracts, Optus has now streamlined its postpaid products and ditched any long-term service contracts completely. Customers will now be able to select from five pre-built month-to-month plans, or design their own mix-and-match plan with customised data and international features.
In a move that's well overdue, Optus will also separate its mobile service from smartphone payment plans, and offer customers device repayment terms of 12, 24, or 36 months. Once you've picked a handset and your preferred repayment period, you'll then be free to switch between Optus SIM-only plans on a monthly basis, rather be stuck with the same monthly data and plan inclusions until your new phone is fully paid off.
New Optus Choice plans: SIM-only and contract-free
Optus will now offer new and upgrading customers four SIM-only postpaid plans, which are outlined in the below table. All plans are contract-free, and can be combined with any eligible Optus phone on a 12, 24, or 36-month device payment plan – similar to the flexible approach taken by Telstra and Vodafone, both of which also offer a range of phone payment terms.
The new Optus Choice plans are listed in the following table, in order of monthly cost, from the lowest to highest, and then by data allowance, largest to smallest. Use our comparison tool to see plans from a range of other providers.

All four plans include unlimited talk and text to standard Australian numbers, as well as the option to pool and share your data across multiple eligible plans on a single account – a great idea if you're looking to bundle your family's mobile service on to one bill. Medium, Large, and Extra Large plans also include unlimited international talk and text to 25 countries, as well as a six or 12-month Apple Music trial and a free subscription to Optus Sport.
Large and Extra Large plans also include overseas data roaming in eligible locations: 2GB each month on Large plans, and up to 4GB monthly for Extra Large customers. However, if you're looking for a huge data allowance but don't require overseas use, you may prefer to build your own plan and save.
Build your own Optus plan
Optus now allows customers to mix and match features to create their own, personalised month-to-month plan, called Optus Choice Build. All plans include unlimited standard Australian talk and text, data pooling, plus Optus Sport and an Apple music trial on plans of 30GB per month or more.
You'll be able to pick from the below monthly data allowances:
10GB
30GB
60GB
100GB
120GB
150GB
International calls and roaming are also available to add to your plan. Customers can add either 500 minutes or unlimited calls to included destinations, as well as 1GB, 2GB, or 4GB of roaming data per month.
If you don't require international, you can cut your monthly bill down by skipping these features altogether. Opt for a build-your-own plan with no roaming or international call extras, and you can save up to $12 per month compared to an Optus Choice pre-built plan with the same monthly data allowance: for example, the Extra Large Choice plan with 120GB of data, international calls and 4GB of roaming is $79 per month, but a 120GB Optus Build plan with no overseas extras is just $67.
Choice Build plans are SIM-only, so can be combined with a new Optus device on a payment plan, or used with your current unlocked smartphone. If you hate paying more for extras you won't use, this may be a ideal way to get the features you need without overspending. It's also an easy plan to customise, as shown by the below image of Optus' Choice Build tool.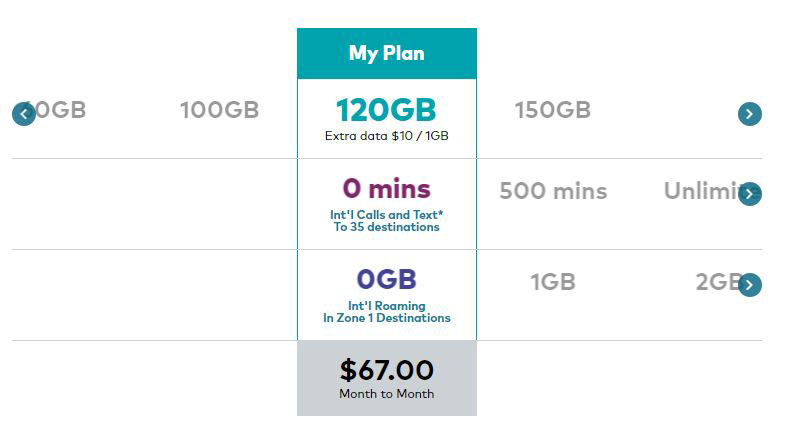 Optus One: the plan for premium customers
If you're a massive data user wanting a 5G-ready plan, exclusive features, and priority service, Optus One is for you. Launched today, the premium-tier plan includes unlimited standard talk and text in Australia, unlimited standard international talk and text to 35 countries, and a generous 10GB of overseas roaming data to selected countries each month.
You'll also get 500GB of monthly high-speed data to use in Australia, with no contracts and the option to pair your plan with a 12, 24, or 36-month device payment for your phone of choice. In addition to plan inclusions, you'll also get next-level customer service and extras, including:
One-to-one customer care with your own Optus One expert
A unique customer service number to call or SMS 24/7
Network priority 
Exclusive Optus Sport content
Optus One perks, such as exclusive experiences and rewards
Optus MD Marketing & Revenue, Matt Williams, calls the new plan "the ultimate Optus experience", adding that Optus One is "a plan for a multitude of consumers in the Australian market that travel extensively, are time poor and want a one-to-one customer service experience."
One of the key benefits is 'network priority' during congested periods. This means that during busy periods, your 4G network speeds will be prioritised over those of other Optus users in the same location – i.e. you're far less likely to suffer a slow data performance. Network priority is only available for Optus 4G, with the company advising it is 'not currently configured' on the 5G network.
Essentially, if you want the best-of-the-best in terms of features, network speeds, and customer service, you're a potential Optus One customer. But the top-tier plan doesn't come cheap – Optus One is priced at a hefty $119 per month.
5G-ready double data offer
If you're picking up a new 5G-capable handset on Optus Choice or One plans (or building your own personalised month-to-month plan deal), you'll be able to score double data for your first 12 months. This offer is available to all new and re-contracting customers buying any 5G-ready smartphone on a 12, 24, or 36-month 5G device payment plan – this includes the Samsung Galaxy S10 5G, the Samsung Galaxy Note 10+ 5G, and the OPPO Reno 5G.
You'll get twice the data each month for your first 12 months, provided you don't switch to an ineligible plan over your first year. After 12 months, you can opt-in to continue double data for an extra $10 per month, or simply revert back to your plan's standard monthly data allowance.
If you are considering a 5G phone from Optus, be aware that the telco's 5G network is only available in limited areas, and coverage is not guaranteed. Optus' 5G rollout is ongoing and will continue throughout 2020, but for now coverage is generally restricted to selected areas of major cities (and even then, potentially unavailable indoors). However, if you're keen on a 5G phone but worried about network access, you'll still be able to use Optus 4G Plus and 3G, which cover 98.5% of the Australian population. You can also pick up the above three 5G phones from Telstra, for use on the telco's own 5G network.