Older Australians are encouraged to review their mobile phone plans, with Canstar Blue research showing a strong correlation between your age and the size of your bill.
Our survey of adults on a phone contract found that those aged in their 50s are paying an average $10 per month more than those aged 18-29.
However, the opposite is true when it comes to prepaid users, with older Australians spending an average $10 less the younger age group.
Head of Canstar Blue, Megan Doyle, is encouraging older Australians to review their plans and make sure their phone bill realistically reflects their usage.
"You would generally think younger people use their phones more and would therefore accrue higher bills, so it's surprising that older consumers are paying more on contracts," she said.
"It could be that the lure of smartphones has attracted older consumers to more expensive plans, while more tech-savvy young people are seeking out the best value deals.
"It's easy to sign up to a plan without giving serious thought to your personal requirements and you might end up paying for a level of service you simply don't need. Not everyone needs unlimited calls, texts and 6GB of data per month so it's important to be realistic about what you need."
Canstar Blue surveyed more than 2,600 adults on a phone contract or with a prepaid account. Of those on a contract, adults aged 18-29 reported the lowest average monthly costs at $56, while those in their 50s were found to spend $66.
When it comes to prepaid users, adults aged 18-29 said they spend an average of $37 per month, while those in their 50s reported an average of $27.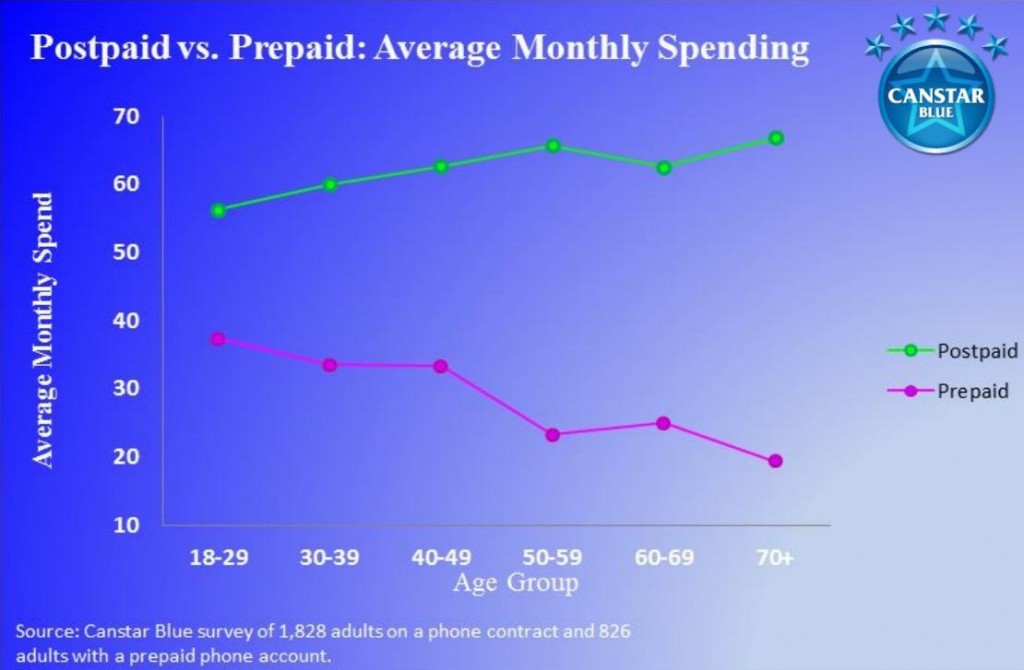 Despite paying the most, the survey found that older Australians are generally more content with their current plans. The number of adults in their 50s who believe they could get a better deal with another provider was 45%, compared to 55% of those aged 18-29. And the number of respondents in their 50s who would like to switch providers was just 18%, compared to 29% of 18-29 year-old.
Mrs Doyle said older Australians could be lacking the confidence or know-how to find a better deal, while younger consumers are being attracted to new providers with plans aimed at their data-intensive generation.
"There is good value to be had, particularly with low-cost SIM-only plans, but it seems many older people are missing out," she said. "The new, trendy service providers tend to market their plans at the younger generation because they are the most likely to challenge their providers to give them better value.
"But for some people, the prospect of saving $10-20 per month just isn't enough of an incentive for them to make the effort to shop around for a better deal. That could be a costly mistake in the long term."