Aussies are a travelling bunch and are also in one of the most competitive mobile phone plan markets in the world. So why not combine the two services and gain Qantas Points while you use your phone? Yeah, that's right, Vodafone has teamed up with the Flying Kangaroo to deliver Qantas Frequent Flyer Points with some of its phone plans. Read on to find out what phone plans are on the deal, how many points you can get and what you can get with said points.
Vodafone Phone Plans with Qantas Points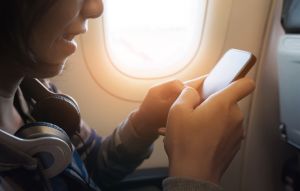 Vodafone has a large range of phone plans available with Qantas points. All plans come with unlimited calls and texts in Australia as standard – and the more you spend, the more data and the more Qantas Points you generally receive. Plans are as follows:
$50: 8,000 Qantas Points and 16GB data
$60: 10,000 Qantas Points and 30GB data

$60: 10,000 Qantas Points and Unlimited data (40GB full speed)

$80: 15,000 Qantas Points and 60GB data

$80: 15,000 Qantas Points and Unlimited data (70GB full speed)

$100: 20,000 Qantas Points and 100GB data

$100: 20,000 Qantas Points and Unlimited data (120GB full speed)
These plans are available either as a 12 month, SIM only deal, or as part of a handset phone plan. Vodafone has separated the phone repayment from the plan, meaning if you bundle in a phone your plan becomes month-to-month. You then can elect to pay off your phone over 12, 24 or 36 months.
Vodafone was one of the first to offer unlimited data, so if you're willing to spend $60 a month or more, it may make sense to hop into an unlimited data deal and do away with any excess data charges forever. If you can use 40GB+ plus in a month, more power to you.
What can I get with Vodafone Qantas Points?
Qantas Points are about more than just Frequent Flyer points and can be used to purchase nearly anything you can think of. From headphones to FitBits to flights to giftcards and clothes, Qantas Points can be used to deck out your wardrobe for that new #inspo holiday. Now, if it's as painless as simply holding onto a Vodafone phone plan for a year, why not?
8,000 points gets you about $50 worth of Country Road or BCF gift cards.
10,000 points gets you a 'Solid State' men's cologne
20,000 points gets you Pierre Cardin leather cross-body bag
As you can see, Qantas Points grant you access to a broad spectrum of products. Nevertheless, if you're underwhelmed by what's on offer here, stacking points over the course over 12 months (how long your Vodafone plan usually lasts) can yield some great benefits:
96,000 points is enough for a Breville Creatista coffee machine
120,000 points is enough for an Apple iPad 32GB Wi-Fi + Cellular
240,000 points is enough for a Nikon D5600 camera with an 18-55mm lens, PLUS some points leftover to go towards another lens or camera bag.
As you can see, if you save up your points over the course of a year-long phone plan, you stand to receive some great gifts either for yourself or a loved one.
How do Vodafone Qantas Points compare to Virgin Mobile Velocity Points?
The main competitor that comes to mind with Vodafone's Qantas Points program is Virgin Mobile. As you probably could have guessed, Virgin Mobile has partnered with the Virgin Velocity Frequent Flyer program, which is part of the Virgin Australia airline group.
Virgin Mobile offers a much simpler approach – you get two points for every dollar spent on your postpaid account.
Any postpaid plan is eligible, so the more you spend, the more you receive.
However, more flexible Virgin may be, that still only equates to 100 points for a $50 plan. This means that over the course of a year you'll only receive 1200 points. What you can shop for may also differ:
A GHD Gold hair straightener costs 49,900 Velocity points, for example, meaning you'd need to hold a $50 plan for over 41 years.
The 41 years deal is an extreme example, but it goes to show how many more points Vodafone offers, although you will have to spend a fair amount on your phone plan before you can gain access to them.
Is a Vodafone plan with Qantas Points worth the hassle?
Vodafone offers one of the most noteworthy suites of phone plans in the country. It has separated the plan from the phone repayment, meaning you can go SIM-only, or bundle in a phone with no loss in value and extras. Customers willing to spend $50+ a month get access to one of the biggest rewards programs in the country in the Qantas Frequent Flyer program.
While you do need to spend a fair bit on your phone plan, customers do receive a generous amount of points in return, and after a year this could really add up.
Vodafone's seemingly sole competitor here is Virgin Mobile, which does not offer as many points in comparison.
Vodafone has crammed a lot in its phone plans, and now it's about more than just calls, texts and data. With the addition of Qantas Points on many plans, it means you are effectively rewarded for your commitment to a phone plan, and that 12, 24 or 36 month contract may not be so bad after all.