If you're put off by the price of premium 5G phones, Telstra is now offering a slightly-more-affordable 5G-capable option. The Samsung Galaxy A90 5G is now available on Telstra plans, rounding out the telco's expanding range of 5G-ready smartphones.
With a RRP of $1,049, the Galaxy A90 5G is now available to buy on 24 and 36-month payment plans, which can be combined with Telstra's SIM-only postpaid mobile service. Telstra is offering the 128GB Galaxy A90 5G at the following monthly prices (not including your plan costs):
24 months: $43.70 per month (total cost $1,048.80 over 24 months)
36 months: $29.13 per month (total $1,048.68 over 36 months)
Once you've decided on your preferred payment term, you can add your A90 to any of the four Telstra plans below. Each plan is SIM-only and month-to-month, so you're free to switch between plans as needed without impacting your device payments. If you do decide to cancel your Telstra service completely, you'll need to pay out the remaining balance on your Galaxy A90 5G, but won't incur any additional termination fees.
Below are all published Telstra postpaid plans on Canstar Blue's database, listed in order of monthly cost, from the lowest to highest, and then by data allowance, largest to smallest. Use our comparison tool to see plans from a range of other providers. This is a selection of products with links to a referral partner.
Samsung Galaxy A90 5G: features and specs
Aside from its 5G capabilities, the Galaxy A90 also offers a range of high-end features. The device includes a 6.7-inch Full HD+ Super AMOLED screen with Infinity-U Display, runs Android Pie 9.0, and is powered by a Qualcomm Snapdragon 855 Processor. You'll also get an in-display fingerprint sensor, facial recognition, and Samsung's Knox multi-layered security, plus 128GB of storage.
The A90 5G includes a triple rear camera setup, with a main 48-megapixel lens, as well as 5-megapixel depth and 8-megapixel ultra-wide sensors. In front, you'll get a 32-megapixel selfie camera with a range of portrait-enhancing features.
If you're looking for all-day use, the A90 features a 4,500 mAh battery with up to 54 hours of 4G talk time. The A90 is compatible with 25W Super-fast Charging, and will be packaged with a 25W-capable charger.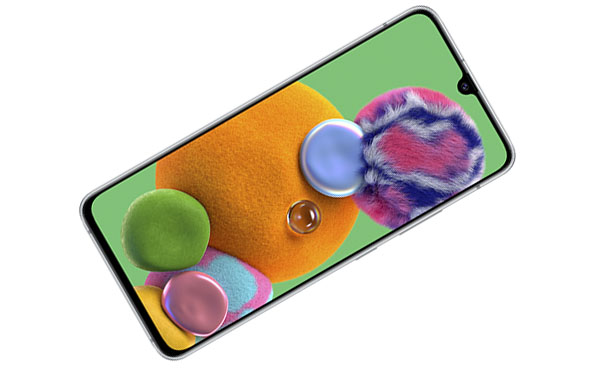 The Galaxy A90 5G will have access to Telstra's new 5G network, but keep in mind that coverage is still limited. We've talked about Telstra 5G in more detail elsewhere, but it's still early days for the network; unless you live or work in a major city CBD, you're unlikely to be covered by 5G just yet.
The good news is that all 5G-capable Telstra devices will still have access to the telco's 4GX and 3G networks, which are available across Australia. If you're interested in comparing 5G phones from Telstra, you can also pick up the Samsung Galaxy S10 5G, the Samsung Galaxy Note 10+ 5G, the OPPO Reno 5G, and the LG V50 ThinQ on Telstra plans.