More 5G news from Telstra: in addition to launching the first-ever 5G mobile device available in Australia, the telco has confirmed it will offer the 5G-capable Samsung Galaxy S10 from next week.
The much-anticipated Galaxy S10 5G will arrive at Telstra on Tuesday, 28 May, in an exclusive partnership with Samsung. This means that if you're looking to pick up the S10 5G as soon as possible, you'll only be able to buy it on-contract directly from Telstra.
Of course, you're still free to buy the S10 5G outright from Samsung, and pair it with your choice of SIM-only plan from any provider. But if your preference is buying on a two-year phone plan – and spreading the cost of the device over 24 months of payments – Telstra will be your only option at launch.
Samsung Galaxy S10 5G on Telstra
Note: The Samsung Galaxy S10 5G is no longer available from Telstra as of May 2020. Telstra has also updated its plans and 5G plan inclusions as of July 1, 2020. 
New plans from Telstra
Telstra launched a new suite of plan options at the end of June 2019, and will eventually charge extra for 5G connectivity on selected plans. The telco will offer 5G access free on all new plans for the first 12 months, allowing all 5G device owners to try out Telstra's 5G network at no extra cost.
After the one-year free trial period, customers on Telstra's top two plans will receive 5G access included in their existing monthly service fee. If you're on a lower plan, you can either switch back to 4G-only, or add 5G connectivity for an additional $15 per month.
If you're one of the savvy customers who signed on for Telstra's Galaxy S10+ upgrade offer, you'll be able to swap your current S10+ for the all-new S10 5G free of charge. Provided you hand back your S10+ in good working order, you'll be free to upgrade to the 5G-capable S10 with no change to your existing plan price or device payment.
This offer only applies to Telstra customers who picked up the Galaxy S10+ on eligible lease or buy plans earlier this year. If you're unsure if this applies to you, get in touch with Telstra directly to confirm if you're able to upgrade.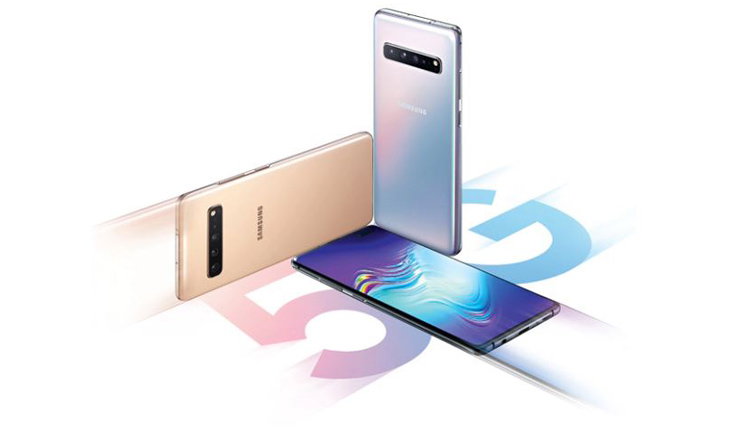 What to expect from the Samsung Galaxy S10 5G
The Samsung Galaxy S10 5G includes all the cutting-edge features you'll find in the S10+, but with an even bigger quadruple-camera rear setup, and an extra-large 6.7-inch display. If you're looking for a device that offers premium performance, acclaimed front and back cameras, and long-lasting battery life – plus the bonus of 5G connectivity – the Galaxy S10 5G may be the smartphone for you.
Samsung Galaxy S10 5G: quick specs
6.7-inch screen
New Infinity O display, with no front screen notch
'Hole-punch' dual front cameras with 3D Depth
Quadruple camera setup in rear with 3D Depth
In-screen ultra-sonic fingerprint sensor
OneUI interface & Android 9.0 Pie
4,500mAh battery, Super Fast wireless charging, Power Share
IP68 water and dust resistance
Access to Telstra's 5G network (where available) also means an enhanced smartphone experience for S10 5G owners. An upgrade to 5G leads to faster downloads, buffer-free high-resolution and lag-free gaming, and reliable video calling.
The downside to 5G? An increase in data and download speeds means you're likely to burn through gigabytes faster than ever. So if you do plan to take advantage of Telstra's new 5G coverage, make sure your mobile plan includes an adequate monthly data allowance.
The Samsung Galaxy S10 5G will be available in 256GB and 512GB storage sizes, and in Majestic Black and Crown Silver (256GB only). Telstra has yet to disclose which variants it will offer, but we'll announce plans, prices, and further details as soon as they become available.
When can I access Telstra 5G?
Although Telstra's 5G network has now been switched on, it's still very much in its infancy – and very much in the early stages of roll out. So far, Telstra's 'anticipated coverage areas' – scheduled to be live by 30 June, 2019 – include selected suburbs and regions of the following cities and towns.
Adelaide
Brisbane
Canberra
Gold Coast
Hobart
Launceston
Melbourne
Perth
Sydney
Toowoomba
Currently, all of the above locations enjoy robust 4G coverage, but  5G is only available in limited areas. If your city is listed above, you'll still need to check Telstra's 5G coverage maps before assuming you'll have 5G access by the end of June.