If you've thought that you're paying too much for your mobile phone plan, you may be right. Canstar Blue research has found that some groups surveyed are paying more for their mobile phone plan than others, and the results are pretty revealing. If there was anything to add fuel to the age debate roaring in Australia, this may be it. So, maybe don't worry so much about smashed avocado and rather worry about how much you're paying for your mobile phone plan each month.
Our research reveals that younger consumers pay more for their mobile phone plans – be it a bundled handset plan, prepaid SIM-only plan or a postpaid, SIM-only plan. Nationwide, the average spend was:
$77.12 a month for a mobile phone plan bundle
$36.25 a month for a postpaid SIM-only plan
$27.30 a month for a prepaid plan
However, there were a few groups spending a fair bit more than this. Read on to find out how much people are paying, and if you're paying too much for your phone plan.
How much are people spending on mobile phone plans?
Canstar Blue research indicates that Western Australians are quite often paying more on their monthly phone plan than their eastern compatriots. However, phone plans usually cost the same amount across the country, so what gives? It should be noted that Tasmania, the ACT and Northern Territory did not garner the minimum survey responses to be included in this report, so comparing these three would be unfair against the other states.
What state spends the most on mobile phone plans?
While it's probably no surprise that phones on a plan cost more per month than SIM-only deals, what might be a surprise is that people from WA pay more in general:
Western Australians spend $82.96 a month on their handset phone plan
They also spend the most on postpaid SIM-only plans, at $44.47 a month
Victorians spend the most on prepaid phone plans at $33.26 a month
On the other hand, New South Welshmen tend to get away with paying the least. They spend less than $70 a month on their bundled phone plans, the survey found. Queenslanders, while they didn't have any outrageous outliers, did spend a fair bit across the board. No matter what state you're from, however, if you're on a prepaid plan then you're probably paying the least. With a difference of over $50 a month between the cheapest and the most expensive average spending, it goes to show how much you can save per month by shopping around.
What state uses the most mobile data?
Western Australians tend to spend more, but are they also using more data? Data is the main driver of a phone plan's cost these days, with unlimited calls & texts coming standard on most plans over $20 or so.
Western Australians had the highest proportion of users consuming over 10GB of data per month, at 14%. South Australians had the least (11%)
The biggest proportion of respondents had a phone plan with 3-5GB of data (26%)
This may be a good indicator that people from WA are paying more, but are also using a fair bit more data. 4% of Western Australians had a phone plan with less than 1GB data, preferring phone plans with more data.
What age group spends the most on mobile phone plans?
It's established that Western Australians tend to pay more per month for their mobile phone plans, but let's break this down further and find what age groups are spending the most, and what age groups get away with the cheapest phone plans.
Seniors (55+) tend to pay the least out of all generations, but WA seniors tend to spend more than their east-coast counterparts, spending on average of $74.82 for all postpaid plans (this includes bundled plans and SIM only plans)
Queensland seniors seem to spend the most on prepaid plans, with a $21.77 average spend, while for bundled plans only, Queensland seniors also spent the most at $73.54
For South Australians and Western Australians, there weren't enough seniors to provide an adequate sample size, however Victorians and New South Welshmen tend to spend a lot less. In fact, on average they spent about $5-$10 less per month than seniors in western states.
If you add up price differences over the course of a year, that's potentially another week's worth of groceries or a doctor's appointment spent on phone plans.
With that said, those figures generally paled in comparison to what the younger crowd is spending.
In all states, under 40s spend more than older generations on their bundled plan
Victorian under 40s spend $45.43 on prepaid plans – a price difference of over $6 from the closest state
NSW under 40s spent $88.38 on bundled plans
This isn't just a case of Gen Y vs Baby Boomers, however, as those in that middle age bracket (40-54) tended to spend quite a lot as well. However, what dictates monthly expenditure, and why are Gen Yers spending the most? Data use may be a revealing stat.
What age group uses the most data?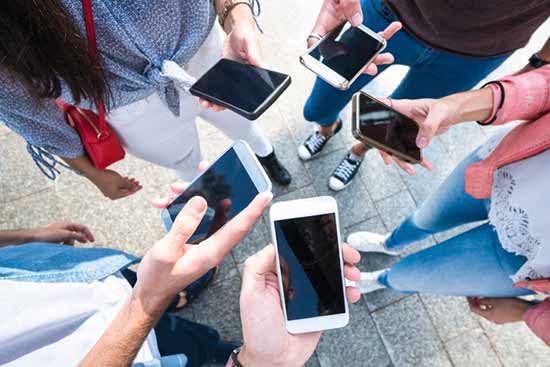 Australia-wide, a higher proportion of young people used more data than their older compatriots.
In the postpaid sphere, 32% of those aged 18-29 use 5-10GB, while 18% use 10GB or more
Just over 8% of those aged 50+ use 5-10GB data, while just over 7% use over 10GB
Similar results were found in both the bundled and prepaid segments
This indicates that while younger people spend more, they also used more data. One age group isn't necessarily being 'ripped off', but are older people spending that much less to justify the decrease in data use? Discrepancies in expenditure between young and older people may not match up with how much less data those aged over 55 are using. The main message is anyone looking to save a buck may find it useful to shop around.
Could I save on my mobile phone plan?
Our research indicates that to save the most amount of money on your phone plan, you'd probably need to be a prepaid user from NSW aged over 55. Moving interstate certainly isn't a feasible option for most, and doesn't magically guarantee you spend less – neither does being a grey nomad or a Baby Boomer. In fact, those aged over 55 from WA tend to spend comparable amounts to young generations. Exactly why this is remains a mystery, but those in WA did tend to chew through more data. In any case, prepaid users spent significantly less per month.
Baby Boomers & Seniors, pat yourselves on the back – you often spend a lot less than younger generations
Millenials, put down that smashed avo on toast – it's probably not blowing out your budget like you thought
You may not be able to control your age or where you live, but you can control what type of phone plan to buy. Shop around, and you may be surprised at the deals you can find.