It's not unusual to go out to a café or restaurant now days and see a group of people entirely focused on their smartphones, rather than making conversation and enjoying each other's company. Whether it's a dinner out or a family meal at home, many of us spend more time on our phones than we do on our friends and family. Are we seeing the start of an anti-social epidemic? And if so, what can we do about it?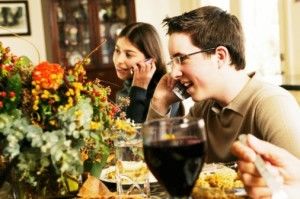 According to Canstar Blue's recent survey, 61% of the almost 1800 Aussies we surveyed admitted that they would feel lost without their smartphone; Thirty-eight percent of people also said that they used their smartphone in the company of others, including at the dinner table, suggesting it's a pretty common occurrence.
It seems that many of us are using our phones rather than actually socialising with others, even at mealtimes. Fortunately, a recent initiative has set out to reclaim our dinners – a fundraiser by the name of Fone Free Feb.
What is Fone Free Feb?
Started by a group of friends in 2013, Fone Free Feb is a charity initiative that aims to raise funds for Aussie charities through highlighting how our use of mobile devices impacts upon our lives. Their 2015 focus is 'taking back dinnertime', whereby you're invited to host a meal for your friends or family without a connected device in sight; every guest makes a donation for each seat at the table, which goes towards the host's favourite charity.
It's a great fun way to raise some money for whatever cause you're passionate about, whilst encouraging you and your friends to enjoy each other's company even more. And even if you don't want to make it a charity cause, it's the perfect excuse for a catch up with those you care about.
Whilst smartphones and the connectivity they offer are now and integral part of our lives, it never hurts to remind ourselves that they shouldn't get in the way of our relationships. So whether you're a smartphone junkie or a technological Luddite, initiatives like Fone Free Feb have a message for you – it's time to take back dinnertime!