You might have heard of it, but what does the Telstra 'New Phone Feeling' actually feel like? Canstar Blue explores how it works, what you have to do, and what it costs. The New Phone Feeling basically refers to upgrading your phone every year – instead of two – with Telstra. There are a few hoops to jump through, however, so read on to find out whether or not it's really a good deal.
What is the Telstra New Phone Feeling?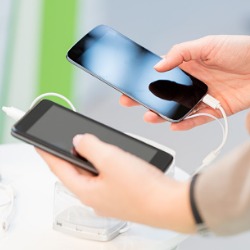 The Telstra New Phone Feeling refers to Telstra's deal where customers on eligible 24 month handset plans are able to upgrade their phone after 12 months for just $149. This then waives the remaining payments on your existing handset. This easily enables customers to upgrade their phone every year, instead of waiting two years for the latest tech.
Only eligible phones on eligible plans are accepted and must not be damaged beyond fair wear and tear.
Customers are recommended to back up their current phone's files, and remove all device locks and passcodes.
Beyond that, redemption is available 24/7 via online account settings, the Telstra app and the online shop, if not in person at Telstra stores.
Telstra New Phone Feeling Plans
The good news is many popular smartphone plans are eligible for the New Phone Feeling from Telstra including the iPhone 8, iPhone X and the Samsung Galaxy S8 and Note 8 series. Below is an example of available plans bundled in with the 64GB iPhone X. The New Phone Feeling ensures you can stay on top of any hot Apple or Samsung releases and upgrade year upon year at a price many would not blink twice about.
Telstra New Phone Feeling Lease Plans
If you're gawking at the plan prices above, there is a way you can save some money, and that is through leasing – Telstra calls these plans 'Go Mobile Swap'. By leasing through Telstra customers generally save about $10 or so per month off their phone plan and receive extra data in some cases.
Lease plans 'New Phone Feeling' fee is $99 as opposed to $149.
The catch is that you have to return the phone at the end of your contract – the phone is never actually yours as you are merely 'renting' it. This means you are subject to hefty fees if you break your phone or crack the screen. Nevertheless, if you're the type to regular upgrade your phone and keep it safe in a case, leasing could present itself as a viable alternative to keeping a phone from yesteryear after your contract.
Is the Telstra New Phone Feeling worth it?
It may not be like one of your grandma's hugs, but Telstra's New Phone Feeling can be a convenient way to upgrade your mobile phone each year without ever having to pay upfront for a smartphone. And with most premium smartphones costing more than $1,200 these days, forever being on a contract may not be such a daunting prospect.
Users can upgrade after a year for between $99 and $149, depending on plan type.
However, you will have to ask yourself if it's truly worth it. To upgrade you have to return your phone in good working order – accident prone people may find themselves hard done by! Also consider the fact that buying outright and finding your own plan can work out cheaper over 24 months. You'll also be free from the shackles of a phone contract.
Below are some cheap SIM only deals with at least 5GB data, to give you an idea of the value on offer if you ditch the lock-in contract.
Then after a year you can sell your phone and upgrade to the next one. While this presents more of an issue with upfront costs, users could stand to benefit financially and enjoy flexibility without being tied into a contract with all sorts of clauses and rules. In any case, once you've found the phone you desire, it's worth comparing a range of options to find out if the New Phone Feeling is one worth fighting for.