Telstra customers are the most loyal to their phone provider – but also the most likely to be struggling to pay their bills, new research shows.
A Canstar Blue survey has found that out of the three big telcos – Telstra, Optus and Vodafone – Telstra customers have stuck around for longest and are paying the most.
Almost two-thirds of Telstra customers (64%) have always stuck with the same provider, as opposed to 57 per cent of Vodafone users and half of Optus customers (50%).
Average expenditure indicates Telstra customers spend about $99 per month on their handset phone plans, as opposed to just $77 with Optus and $72 for Vodafone.
Telstra customers are also more likely to struggle with paying for their phone plan every month. Three-quarters of Telstra customers (77%) can 'comfortably' afford their monthly payments, as opposed to 84 per cent with Optus and 83 per cent with Vodafone.
The findings come from a Canstar Blue survey of 2,427 adults with a handset phone plan, conducted in June 2018.
Asked what they plan to do when their current handset phone contract ends, just 36 per cent of Telstra customers said they intend to get the latest phone on a new contract with their existing telco, compared to 46 per cent of Optus users and 44 per cent of Vodafone customers.
The survey also discovered that across the three providers, not many are willing to get the latest phone under contract with a different provider – 7 per cent, 8 per cent and 11 per cent for Telstra, Optus and Vodafone respectively.
Almost one in five customers of each provider plan to switch to a SIM-only deal with their existing telco, but just 6-7% are planning to go for a SIM-only deal with a different provider.
Telstra customers were found to be most likely to say they're not sure what to do once their contract ends (29%), followed by Optus (21%) and Vodafone (17%).
Phone plans about more than just data, calls & texts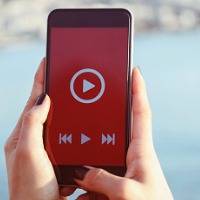 It's probably no surprise that the most popular features consumers look for in a phone plan are the type of phone in question and how much data is included. But with the big telcos offering different perks, the research identified what really attracts Aussies to one particular brand over another.
Optus customers were most likely to report data inclusions as a significant factor at 71 per cent, followed by Vodafone (70%) and Telstra (59%).
Optus customers were also most likely to report the phone itself as an important reason for signing up (62%), ahead of Vodafone (59%) and Telstra (53%).
However, phone plans also offer so much more. 14 per cent of Optus customers said entertainment features were important to them in their purchase decision, compared with just 9 per cent of Vodafone and Telstra customers.
Optus provides data-free Optus Sport streaming on many plans, as well as data-free music streaming. Telstra has partnered with Foxtel, but to get free channel subscriptions customers usually need to pay well over $80 a month on their phone plan. Vodafone does not provide data-free music or TV streaming but has included free Netflix on plans in the past.
Vodafone customers were most likely to cite international inclusions as a major reason for choosing the telco – 24 per cent compared to just 11 per cent and 8 per cent with Optus and Telstra.