If you're living in a rural area of Australia, your Telstra coverage could be about to improve.
That's because Telstra has launched what is called the 4GX-lite Satellite Small Cell, which aims to help people receive extended coverage of the Telstra network in rural or regional areas.
A small cell is a smaller, lower-cost version of a standard mobile base station, which delivers most of the same type of service as its bigger brother.
Telstra has said that small cells – like the one pictured below – have a simpler setup process and are more flexible in design.
"We want all Australians to have the opportunity to connect to our mobile network so they can embrace the benefits mobile coverage brings," said Mike Wright, Telstra's Group Managing Director of Networks.
"We know this is a particular frustration for many businesses and communities in regional areas who want to use the innovative technology on offer to grow their businesses or connect their people."
It is said that small cells can assist residents, mining sites and others in very remote locations get access to a 4G mobile network.
"The Satellite Small Cell reduces the cost of gaining access to new coverage from hundreds of thousands of dollars for a new base station to tens of thousands, making it a realistic proposition in these circumstances," Mr Wright said.
"A local council may want to bring mobile coverage to a particular remote tourist attraction to help boost visitor numbers through social media posts, whilst an agricultural business may want to enhance worker safety by giving people the ability to connect with each other if issues arise."
The small cell technology's first customer is reported to be Winton Shire Council, in Central Western Queensland.
"We'll be using the Satellite Small Cell to bring coverage to some parts of the Winton shire for the first time and to help grow tourism in the area," Councillor Gavin Baskett said.
"We're a remote area, driven by rural industry and tourism – all industries where mobile coverage can provide so much in terms of innovation, connectivity and safety."
Winton has a population of about 900 people, is 441km from Mount Isa and more than 1,100km from Brisbane. Winton was the first home of national airline Qantas.
What mobile network is the best?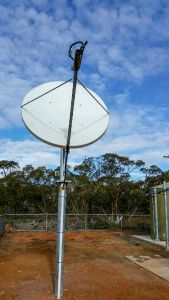 In capital cities and major hubs, mobile network rivalry is fierce among the three big carriers – Telstra, Optus and Vodafone. However, out in the bush, Telstra has historically been champion.
The gap is quickly closing, however, with Optus and Vodafone consistently building and expanding on mobile base stations and network infrastructure.
Canstar Blue research into postpaid mobile customers indicates that Telstra customers are the most satisfied with their network, being the only carrier to achieve five stars for network coverage.
In the prepaid world, it was ALDI Mobile that garnered five stars for network coverage – a Telstra network MVNO.
To tackle regional coverage, Telstra also has a 'Tick' program, which tests the reception quality of mobile phones for use in rural and regional areas. The telco is also now addressing blackspots as part of a $220m Government-funded program.