These days, a phone plan is more than just a phone plan. Aside from the usual calls, texts and data, providers such as Virgin Mobile like to throw in some extra goodies to help seal the deal. One of the emerging markets is phone plans that offer frequent flyer points. Virgin Mobile – in an unsurprising partnership with Virgin Australia Airlines – has its own deal to compete alongside the Vodafone and Qantas alliance. Read on to find out what you can get, how you can get it, and if it's worth the effort.
Virgin Mobile Plans with Velocity Points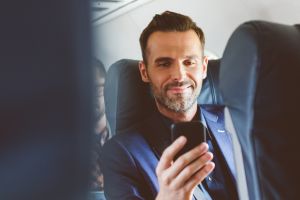 Virgin Mobile offers a very simple approach to its Velocity Points program. Any postpaid mobile plan accrues 2 Velocity points for every dollar spent. This means that if your plan is $50 a month, you'll get 100 points. Sounds simple, right?
You can add your existing Velocity Frequent Flyer number at checkout to sync it with your account.
Virgin also offers other bonuses like data-free music streaming, rollover, data gifting, discounts and more.
As an Optus network MVNO, Virgin also has iPhone plans as well as SIM only deals. Base iPhone 8 plans start at about $70-$80 a month, while postpaid SIM only plans start at about $30, before any discounts. Users get the option of either a month-to-month or 12-month contract, with incentive to sign on for a year.
What can you get with Velocity points?
Aside from flights, of course, customers can also purchase clothes, tech, experiences, appliances and beauty products. The Velocity shop is as varied as any big-box department store. An indication of things customers can purchase are:
Lonely Planet 101 Ways to Live Well – 2,900 points
Village Gold Ticket Double Pass – 11,900 points
Roberto Cavalli Eau de Perfume 50mL – 17,000 points
Cuisinart Precision Master Stand Mixer – 76,000 points
Apple iPad Wi-Fi + Cellular 128GB – 129,900 points
As you can see, there is a huge variety of products on offer, and if you already have a Velocity account, can work out to be a handy little supplement to your spending habits. That said, if you're relying on your phone plan alone to accrue Velocity points, you'll be waiting about 108 years to get that Apple iPad on a $50 phone plan, for example.
How does this compare to Vodafone's Qantas Points deal?
Two points per dollar spent sounds like a good deal, but is it actually? Vodafone also offers Qantas Frequent Flyer points on many of its plans, including:
$50: 8,000 Qantas Points and 16GB data
$60: 10,000 Qantas Points and 30GB data
$80: 15,000 Qantas Points and 60GB data
$100: 20,000 Qantas Points and 100GB data
As you can see, to accrue points you will have to hop onto a $50 or dearer phone plan, but the amount of points you receive in turn is greater than what Virgin can offer.
Virgin's deal is available on a wider spread of plans, while Vodafone offers more points.
With Qantas' Frequent Flyer program, customers can purchase much of the same type of product as with Velocity points, but you may not need to wait 108 years before purchasing that iPad. However, arguably more importantly is how the rest of what's included in the phones plans compare, as well as prices and what Frequent Flyer program you are currently with.
Is a Virgin Mobile phone plan worth it for Velocity points?
Virgin Mobile's Velocity points deal certainly looks compelling, but when you break it down, will actually take years to buy almost anything on the site. That is, if you're relying solely on the phone plan to accrue points. Chances are if looking at this deal you have a Velocity membership already with points on it, and the Virgin Mobile deal can exist as a nice supplement. But is this enough to switch providers?
Vodafone has a competing deal, where users can earn 8,000+ Qantas Frequent Flyer points.
Vodafone's deal pigeonholes users into spending over $50 a month, but if in the market for this type of plan already, the extra points can present a compelling argument into switching.
Overall, while it's hardly advisable to switch mobile phone providers JUST for the Velocity FF points, if you're in the market and if you have a Velocity membership already, a new Virgin Mobile plan can be a fairly fuss-free way to accrue some extra points. Who knows, maybe you won't have to wait 100 years to earn an iPad.