Vodafone customers may have access to 5G sooner than expected, with the telco today confirming plans to switch on 5G sites in the coming weeks.
The announcement was made as part of Vodafone's 2019 results briefing, with Chief Executive Officer Iñaki Berroeta stating that the company is on-track to finally begin competing with Telstra and Optus in the 5G arena.
Mr Berroeta said the first of Vodafone's 5G sites will be delivered 'within weeks', and that the rollout will continue throughout 2020. According to Mr Berroeta, Vodafone now has over 650 5G sites in progress, with several thousand more scheduled to roll out over the coming years.
The recent Federal Court decision to allow a proposed Vodafone-TPG merger is also expected to push 5G plans forward, thanks to a combination of assets and spectrum. However, Vodafone has stated it will continue to prioritise network quality and the customer experience, and won't rush to play 5G catch-up at the expense of subscribers.
"In 2020, we look forward to implementing the merger, subject to any ACCC appeal and further approvals, and delivering benefits to both VHA and TPG/iiNet customers." said Mr Berroeta.
What do we know about Vodafone 5G?
While today's briefing confirms that Vodafone 5G is almost here, further details and switch-on dates are still scarce. Vodafone has released a snapshot of 5G sites in the Sydney area, with initial coverage focused on the inner-city and dotted across outer suburbs.
This backs up previous reports that Vodafone plans to launch 5G in or around the Sydney Parramatta region, which was used as an initial 5G testing area for partnering manufacturer Nokia.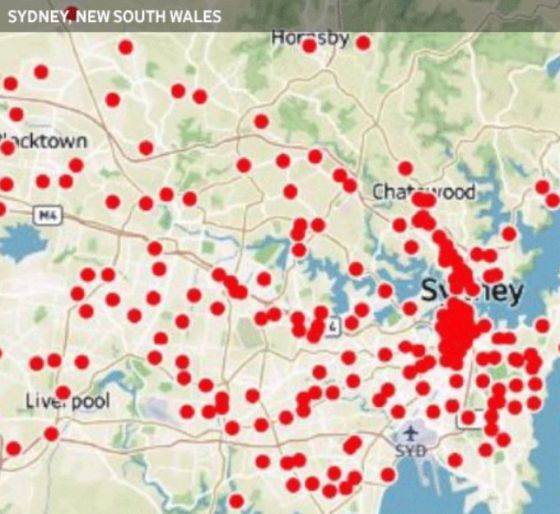 We do know that the first 5G-ready phones available on Vodafone plans are the Samsung Galaxy S20 5G, Samsung Galaxy S20+ 5G, and Samsung Galaxy S20 Ultra 5G. All three devices are currently open to pre-order from Vodafone and other retailers, and will arrive in stores early March.
Vodafone has stated that it has no plans to charge customers extra for 5G access. Currently, the telco's 4G phone plans begin at $40 per month for 10GB of full-speed data, plus unlimited data capped at 2Mbps. Plans go up to $85 for unlimited data with limitless data speeds.
The following table shows a selection of published Vodafone phone plans for the 128GB Samsung Galaxy S20+  5G on Canstar Blue's database, listed in order of cost, from the lowest to highest and then by data allowance, largest to smallest. Use our comparison tool to see plans from a range of other providers. This is a selection of products with links to a referral partner.
Telstra and Optus 5G
In comparison, both Telstra and Optus switched on their respective 5G mobile networks last year, and each telco offers a small selection of 5G-capable devices. However, coverage from both providers is still extremely limited, restricted mainly to city CBDs and areas such as airports.
While Optus hasn't announced plans to change mobile pricing for 5G customers, Telstra will implement a $15 per month 5G surcharge for users on lower-tier plans from June 2020 onwards. Currently, 5G access is free for Telstra customers with compatible smartphones.
Update: As of July 2022, Telstra's 5G access is included on all of Telstra's postpaid phone plans.
Alongside the Samsung Galaxy S20 5G series, Telstra and Optus also offer the Samsung S10 5G, the Samsung Galaxy Note 10+ 5G, the Samsung Galaxy A90 5G, and the OPPO Reno 5G. Both providers have also launched 5G broadband plans, with Optus offering unlimited 5G home broadband to selected customers for $70 per month.
More information on 5G in Australia

Image credit: Look Studio/Shutterstock