Review of Intuit QuickBooks accounting software
America's biggest accounting software company, Intuit, has been going strong since 1983. But what can it offer to the modern small business in Australia today? Find out as Canstar Blue reviews Intuit QuickBooks products and prices.
QuickBooks, Intuit's cloud-based accounting software for businesses, was first developed in 2000. Since then it's been further developed to add more specialised functions for different kinds of businesses. The latest versions are cloud based, while alternative on-premises software packages are still available. What can Intuit offer to help you quickly and easily manage your business's accounting requirements?
Intuit QuickBooks
QuickBooks offers two different small business accounting products – QuickBooks Online and QuickBooks Self Employed. QuickBooks Online is a cloud-based accounting software suite targeted towards small businesses, while QuickBooks Self Employed is a cloud-based accounting app for self-employed individuals.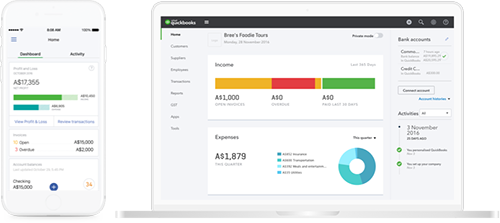 What features does QuickBooks offer?
Both QuickBooks products offer a 30 day free trial, 24/7 support, and automatic backups (so there's no risk of losing your business's data). As the two products are a little bit different, it makes most sense to explore them separately.
QuickBooks Online is accessible on any device – computers (PC or Mac) and phones or tablets (via browser or Android and iOS apps). Not all features are available on the mobile apps. As a cloud based software, you don't need to have installed anything on a particular device to access your full account; all you need to do is remember your login credentials. While there are multiple QuickBooks Online plans to choose from, all include the following functions:
Create customised quotes and invoices, with your choice of logo, colours and fields
Download transactions from your bank and credit card accounts (depending on your bank)
Accept PayPal and credit card payments
Scan or photograph receipts to keep with your digital transactions record
Syncs with other business apps (including PayPal and Receipt Bank)
Create accounting reports, which you can invite your accountant/bookkeeper to access to help you prepare for tax time (e.g. Profit & Loss, Balance Sheet)
Complete BAS (Business Activity Statement)
Invite your accountant to access your data, provided they are subscribers to QuickBooks Online Accountant or are a designated user (under the Essentials or Plus plan)
Compatible with Excel
Charge GST to your clients
QuickBooks Self-Employed is contained entirely within the app – it can't be accessed in-browser, and your data can't be transferred into a QuickBooks Online account, which also means that Self-Employed Accounts can't be upgraded to an online plan. QuickBooks Self Employed features include:
Track kilometres automatically using your phone's GPS
Sort transactions into tax categories, so you can easily make the most of your income tax deductions
Track income and expenses
Digitally store receipts, attached to transaction history log
Create and send invoices, with the app tracking when your customer has viewed their invoice
QuickBooks customer support (via email)
Connects to your bank so you can track income and expenditure as well as make payments through the app
Online accounting software for small businesses with up to 4 employees

Track GST & E-Lodge BAS
Send quotes & invoices
Track income & expenses
30-day free trial available
30% off for first 3 months. New customers only. T&Cs Apply.

from $15.40/month
min. cost $22.00 $15.40 over 1 month
Go to site
Accounting Software for Small Businesses to manage suppliers and multiple users

Track GST & E-Lodge BAS
Send quotes & invoices
Track income & expenses
Manage suppliers & bills
Manager users (up to 3)
30-day free trial available
30% off for first 3 months. New customers only. T&Cs Apply.

from $25.90/month
min. cost $37.00 $25.90 over 1 month
Go to site
Accounting Software with project and inventory tracking for Small Businesses

Track GST & E-Lodge BAS
Send quotes & invoices
Track income & expenses
Manage suppliers & bills
Manager users (up to 3)
Track inventory, projects & budgets
30-day free trial available
30% off for first 3 months. New customers only. T&Cs Apply.

from $36.40/month
min. cost $52.00 $36.40 over 1 month
Go to site
What plans does QuickBooks Self-Employed offer?
If you're living the dream of a self-employed career, keeping the books balanced is key to keeping that dream lifestyle on track. The QuickBooks Self Employed product is suitable for freelancers, contractors, sole traders, and other self-employed types provided that you have no GST requirements. The service is available exclusively through a mobile app for Android and iOS.
There is just one plan for the QuickBooks Self-Employed software, priced at $15 per month, although there is an introductory offer where you can pick up the first three months for $10.50 per month.
What plans does QuickBooks Online offer?
For the small business customer, Intuit has three different tiers of QuickBooks Online access. You can upgrade your plan at any time, but unfortunately can't downgrade or return to a lower plan. This means it may be best to err on the side of choosing a lower plan to start off with, if you want to avoid spending more of your business's dollars than necessary.
Simple Start ($22/month)
For the smallest or newest of businesses, this plan covers the basics without taking a massive chunk out of your budget.
Track income, expenses, and profits
Send customer invoices and quotes
Snap and store receipts
Track kilometres with your phone's GPS
Connect your bank
Track GST and e-lodge BAS
Access a cash-flow planner
Access insights and reports
Manage the payroll of up to four staff members (with more to be added for an additional monthly fee)
One user at a time
Essentials ($37/month)
As your business grows, so too will your accounting needs. QuickBooks Essentials includes all of the functions from the Simple Start plan, plus:
Manage and schedule bill payments
Handle and convert multiple currencies
Create remittance advices and expense receipts
Control what your users can access
Set up a recurring invoicing schedule
Compare your sales and profitability with industry trends
Access a cash-flow planner
Manage the payroll of up to seven staff members (with more to be added for an additional monthly fee)
Up to three users at a time
Plus ($52/month)
For well-established small businesses with more complex accounting needs, the QuickBooks Plus plan adds more specialised features such as billable hours tracking and more detailed records tracking and categorisation. Plus includes all of the features from the Simple Start and Essentials plans, as well as:
Create and send purchase orders
Track inventory
Categorise your income and expenses using class tracking
Create budgets to estimate future income and expenses
Give employees and subcontractors limited access, to enter time worked
Track billable hours by customer
Track sales and profitability for each of your locations
Manage the payroll of up to 10 staff members (with more to be added for an additional monthly fee)
Up to five users at a time
Should I use Intuit QuickBooks accounting software?
QuickBooks offers among the cheapest accounting software cloud based subscriptions on the market – while the low tier plans are quite stripped back, it's a unique offer for those who don't need much so don't want to pay for a level they don't need. Small businesses with simple needs and not a lot of budget may find a good choice here.
Self-employed individuals should take care when choosing between QuickBooks Self-Employed and QuickBooks Online – consider the likelihood of your small business growing to involve more than one employee or more complex record-keeping needs. If you're self-employed and don't have a lot of complicated accounting needs (such as freelance creatives), then you may like the app-exclusive QuickBooks Self-Employed. The one big drawback is that you can't simply click a button to turn your Self-Employed plan into an Online plan if you do end up expanding your needs beyond that which the Self-Employed software can provide.
About the author of this page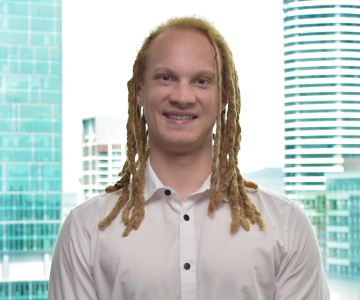 This report was written by Canstar Blue's Content Projects Lead, Dean Heckscher. He's our resident expert on all things automotive, health & fitness, streaming and more. Dean is also one of Canstar Blue's customer research report producers, helping to turn complicated subjects into easily-digestible information for our readers. He's passionate about helping consumers make better-informed purchase decisions on all manner of consumer goods and services.