Ampetus Energy describes itself as "a company whose entire purpose is to reduce energy bills for the average Australian". If that sounds like something you'd be interested in, you can start with this Canstar Blue review of the Ampetus 'Energy Pod' solar storage system.
Ampetus states that its plug-and-play Energy Pod solar battery storage system, introduced in 2016, is "an Australian-designed system that is the most affordable, sensible solution on the market".
"It comes in a budget-conscious 3 kW version, in a more powerful 5 kW version and in a 10 kW 3-phase version," Ampetus states. "All three systems are exceptionally well costed, and are scalable, so you can start with a smaller storage capacity and build up to a larger capacity as required."
The Energy Pod includes both batteries and an inverter, and standing out in the growing battery storage market, has an interface that allows users to interact verbally with the system.
"The biggest difficulty that has historically faced the renewable energy industry is the challenge of storing solar and wind power at the time of generation in order to use when required," Ampetus stated upon introducing the system. "Energy storage has traditionally been too expensive to be economically feasible. This is about to change with the introduction of the game-changing Energy Pod energy storage system."
Compare Electricity Plans
What battery technology does the Energy Pod use?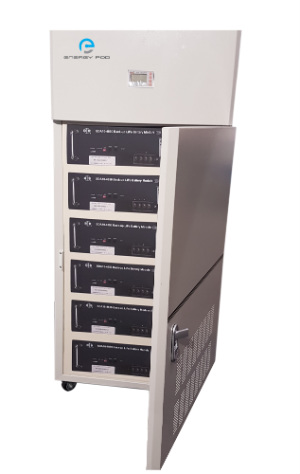 When it comes to usable storage, Ampetus states that the "Energy Pod packs in significantly more storage than its competitors".
The Energy Pod employs a lithium iron phosphate (LiFePO4) battery, and has a nominal capacity of 2.4 kWh per stack, with it having a capacity for up to six stacks (14.4 kWh) per system.
At 20 per cent depth of discharge the Energy Pod delivers 16,600 expected cycles, at 40 per cent 11,500, 60 per cent 7,100, 80 per cent 4,400 and 98 per cent 2,000.
Talk to your energy storage system?
Voice interaction is certainly one feature that sets the Energy Pod apart from other similar systems, with Ampetus describing it as "the world's first talking energy storage system".
"Energy Pod comes with unparalleled intelligence, including an industry-first – a voice user interface," Ampetus states. "Now you can literally have a chat with your home! This is a great educational tool which will inspire your family and friends and build environmental awareness in a fun way.
"The system monitors energy production, usage, and prioritises solar, batteries and the grid in order to optimise your power savings."
You may also be interested in:
Installation
Ampetus states that the Energy Pod, which sports a cream iron shell casing, is easy to install. It weighs in at 112 kg, including the casing and electronics, with the batteries comprising an additional weight of 32 kg per cartridge.
"The unit installs easily, and takes up a small amount of space," Ampetus states. "It is the equivalent of placing a small fridge in your garage."
The Energy Pod comes with a five-year standard warranty for electronics and a five-year standard battery warranty.
Interested in purchasing an Energy Pod?
Consumers interested in buying the Energy Pod can find further information via Ampetus' website, with Ampetus stating that it has an Australia-wide network of installers. You can get in touch with Ampetus by phone, email or via a contact form at its website.