LG Chem has been an early entrant and is a major presence in the growing Australian residential battery energy storage market, with its RESU (residential energy storage unit) portfolio offering a range of options catering to different household needs.
Having entered the Australian residential energy storage market in 2015 with its RESU6.4EX system, LG Chem has since expanded its line-up and sees great potential for future growth, this year stating that it "believes it can play a key role in Australia's solar renaissance".
Upon announcing its intention to expand its footprint in the local market, LG Chem had stated that in less than a year since its entry it was "already making significant strides".
Supported by its two main distributors, Solar Juice and Supply Partners, the company has supplied 600 units since it launched in Australia, and expects to see a fivefold increase in growth, supplying more than 3,000 units in 2016. Certainly, LG Chem is positioning itself to play a major role in the anticipated evolution of the energy market, with Changhwan Choi, LG Chem Manager for Australian Business Development, stating that it "could be a critical decade for Australia".
"There is a massive sustainability potential that is yet to be fully tapped," Choi commented. "We see a quiet solar revolution brewing and we strongly believe that LG Chem will be at the forefront of this transformation to help unlock the true value of solar storage and better enable the ecosystem."
In line with this proactive approach, LG Chem unveiled a number of new RESU models in July 2016, launching its next-generation systems, providing an increasing range of choice for home-owners looking to add to their existing solar system or to install a new system.
LG states that the new RESU line-up "has been completely redesigned both internally and externally, leaving a newly developed battery cell as the centrepiece".
How do LG Chem RESU systems work?
LG Chem's RESU systems utilise lithium-ion battery technology, which is a technology also commonly found in consumer electronics products such as smartphones, tablets and laptops.
In describing the process employed in its energy storage systems, LG Chem states: "Higher density can be realised through LG Chem's 'lamination and stacking' process, which minimises dead space and enables higher energy capacity than the typical 'winding' process. Therefore, LG Chem's lamination and stacking process provides a high degree of freedom to manufacture thick and highly dense electrodes."
LG Chem stated upon release of its next-generation RESU models that it had increased their compactness, highlighting that its RESU6.5 system measures in at four centimetres flatter than the RESU6.4EX, with it also weighing in at eight kilograms less.
"The new design is made possible by a newly developed battery cell that is being produced with lamination and stacking process," LG Chem stated. "Currently, only LG Chem is able to apply this method of manufacturing in mass production. With this production method, the new battery cell can be produced with lower costs compared to the previous one, which affects the end-price for the customers."
LG Chem additionally states that the lamination and stacking structure provides for "the cell to maintain its structure for a longer period of time than a typical winding structure", with the sustainability of cell structures allowing for longer lifespans.
List Of Solar Battery Retailers
The LG Chem RESU systems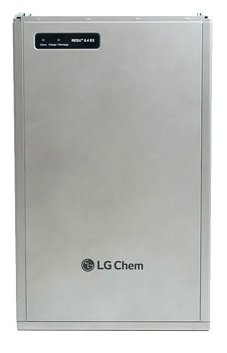 LG Chem's residential battery systems comprise a selection of low-voltage and high-voltage options, with LG Chem introducing high-voltage variants to the Australian market this year.
"The move into high-voltage systems is driven by the trend of developing new inverters in high-voltage area across LG Chem's partners," LG Chem advised. "Customers now have the advantage of being offered new high-voltage battery systems, which enables numerous additional combinations of home storage and inverter, with which they can leverage the full potential of their photovoltaic system."
LG Chem's RESU line-up comprises its:
Low-voltage (48 V):
3 – total energy capacity 3.3 kWh – usable energy capacity 2.9 kWh
5 – total energy capacity 6.5 kWh – usable energy capacity 5.9 kWh
RESU10 – total energy capacity 9.8 kWh – usable energy capacity 8.8 kWh
High-voltage (400 V)
RESU7H – total energy capacity 7.0 kWh – usable energy capacity 6.6 kWh
RESU10H – total energy capacity 9.8 kWh – usable energy capacity 9.3 kWh
Compare Electricity Plans
How is the LG Chem RESU system installed?
LG Chem states that its compact and lightweight RESU models provide for wall-mounted or floor-standing installation. The new generation models, available in silver and champagne gold, are IP55-certified, with a waterproof casing, making them suitable for either indoor or outdoor installation.
The measurements of LG Chem's RESU models are as follows:
RESU3.3 – 452 x 120 x 401 mm, weight 31 kg
RESU6.5 – 452 x 120 x 654 mm, weight 52 kg
RESU10 – 452 x 227 x 483 mm, weight 75 kg
RESU7H – 744 x 692 x 206, weight 76 kg
RESU10H – 744 x 907 x 206, weight 97 kg/99.8 kg
Choi noted upon launch of the new systems that their modular design "brings heightened flexibility", with the capacity of the system capable of being adjusted in line with the potential expansion of a photovoltaic system.
"For the first time, the new RESU series covers a complete range of inverter concepts in the market," he commented. "Whether high or low-voltage, single or three phase, the new product line-up opens up the possibilities to create an optimised system for each users' individual energy consumption needs."
The RESU Plus expansion kit allows for combining two low-voltage-class RESUs together, providing for the range of capacity to move in the low-voltage range from 3.3 to 19.6 kWh.
The RESU3.3, RESU6.5 and RESU10 systems come with a 10-year performance warranty, under which it is warranted that the product will retain at least 60 per cent of nominal energy for either 10 years or for a minimum energy throughput, subject to terms and conditions.
Interested in purchasing an LG Chem RESU system?
Consumers interested in purchasing an LG Chem RESU system should shop around, research their options online, and talk to experts in the field, taking into account any particular individual requirements they may have.
You should keep in mind that a residential battery storage system is a long-term investment. It is worthwhile considering all options, including short and long-term economic benefits, and the potential expansion of a system at a future point.