Western Australian-based Magellan Power traces its origins back to 1992, evolving over time to offer a number of renewable energy-focused products, including its HESS (Hybrid Energy Storage System) residential unit which Canstar Blue will review in this article.
Magellan was founded by Masoud Abshar, who saw "the potential in Australian engineers to design and manufacture power equipment which would be customised to suit Australian customer needs and the harsh, rugged climate".
Around 2009, Magellan expanded into industrial AC design and energy storage, and now has a range of cutting-edge renewable products.
"Since inception, Magellan has grown from a one-person, one-product company to the team it is today, employing research and development engineers, technicians, accountants, project managers, business development managers and more," the company states.
In 2016, Magellan released its HESS unit, which it claims "has been specifically designed for Australian conditions".
"It contains everything in one unit and there is no need for additional equipment," Magellan states of the HESS. "The fast and easy installation makes it one of the most cost-effective residential energy storage products available."
What battery technology does the HESS use?
The HESS units use lithium-ion battery technology, with each unit capable of supporting 3.2 kWh up to 19.2 kWh (with a nominal battery capacity per module of 3.2 kWh). Users are also able to add more modules at a later date, increasing storage capacity, with up to six modules fitting inside one unit, equalling 19.2 kWh of storage.
The design allows for the batteries to slide into their rack, connecting with a DC plug, a communication cable and secured with two screws. The HESS battery specifications include:
Battery brand –  LG
Nominal voltage – 51.8 V
Voltage range – 42-58.8 V
Battery nominal charge/discharge current – 47.8A/47.8A continuous
Chemistry – LiNiMnCo
Nominal battery capacity (per module) – 3.2 kWh
Battery cycle life – >4000 times @ 90 per cent DOD @ 25 ̊C
Performance warranty – 10 years @ 25 ̊C
Battery operating temperature range – 0 ̊C – 45 ̊C
Dimension (WxDxH): 482 x 600 x 122 mm
Compare Electricity Plans
What makes up the HESS and how does it operate?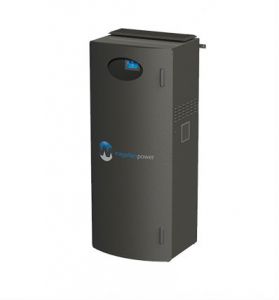 The HESS units comprise both an inverter and storage system, taking DC power from solar panels and converting it into AC power.
"The HESS converts solar energy into useable power and stores it, allowing you to benefit from solar power at night," Magellan states of its operation. "This is combined with bi-directional energy management that recharges the battery at off-peak hours and saves substantially on electricity bills."
Magellan advises that the unit will charge the batteries first from solar, giving priority to the house load and exporting any excess power to the grid, while the batteries can also be charged from the grid, if necessary, with the system programmable to charge at off-peak times.
The standard option for the system is load following, with no power consumed from the grid unless there is no solar and the batteries are fully discharged.
In addition to the inverter and storage, the enclosure houses AC, DC and PV circuit breakers, UPS (uninterruptible power supply), Wi-Fi and a colour 4.3" touchscreen.
The UPS function provides access to the battery power in the event of a power failure, for instance keeping a household's lights and freezer going.
A mobile app, available for both Android and iOS, meanwhile, provides for a quick check, while in-depth data is recorded on Magellan's server, which is viewable once a user registers their system.
Magellan states that the HESS comprises:
All-in-one inverter and storage system
Bi-directional design facilitates energy storage from solar and the grid
Integrated switchboard
Back-up power in the event of power failure
Energy flow diagram on touchscreen
Rugged design for Australian environment
Monitoring app for mobile devices
Internet of Things Ready
Installation
When it comes to installation of the HESS, Magellan advises that four hours is typically needed, with the unit ground-mounted with a wall bracket to secure it to a wall.
Magellan states that the unit can be installed in a garage, or under the eaves by the side of a house, with it capable of being retrofitted for homeowners with existing solar panel systems. Magellan recommends no direct sunlight and natural ventilation.
The HESS unit's dimensions are:
(WxDxH): 700 x 650 x 1,800 mm
Base model weight – 215 kg (two module configuration)
Maximum weight – 350 kg (six module configuration)
Interested in purchasing a HESS unit?
For consumers interested in purchasing a HESS unit, further information can be found via the Magellan website. Consumers can contact Magellan by phone and email, with the option also available to submit an enquiry form via the Magellan website.