While the solar boom of the early 2000s is now well and truly behind us, some Australians are finding their solar panels' performance slowing down, and the question of where to recycle these systems are now a reality. So, what should you do with your solar panels when they no longer suit your needs? This Canstar Blue article outlines all you need to know about disposing and recycling solar panels in Australia.
Can solar panels be recycled?
Like most electrical appliances, there are certain parts of old and broken solar panels that can be recycled. This process is often undertaken by a licensed solar panel recycling plant though, as some of the materials require careful extraction.
Why do people recycle old solar panels?
According to the Macquarie University, Australia is estimated to accumulate one million tonnes of solar panel waste by 2047, with this number likely to increase as more people prematurely upgrade their systems. Solar panels contain toxic chemicals, such as lead, to help assist the photovoltaic (PV) cells convert sunlight into electricity. When old and broken panels are left in landfills, these chemicals can leak out, causing hazardous environments. In order to prevent this wastage, home-owners are encouraged to recycle old and unwanted solar panels.
What parts of a solar panel can be recycled?
There are certain components within a solar panel that can be recycled much easier than other parts. Up to 95 per cent of a solar panel can be recycled, with the most valuable parts being the glass, aluminium frames, polymers, silicon, copper and silver paste. The silver paste and aluminium frames are particularly valuable to obtain through this process.  About 80 per cent of crystalline silicon can also be recovered through a refined recycling process.
Where can you recycle old solar panels in Australia?
Solar panels are recycled within designated recycling plants across Australia. There are currently six main companies who recycle solar panels and products; Reclaim PV, PV Industries, SolaCycle, CMA Ecocycle and Ecoactiv. It's important to keep in mind however that these services can come at an additional cost to bill-payers as this process is yet to be streamlined. Some companies may also require customers to transport the old panels to them.
What about solar battery recycling?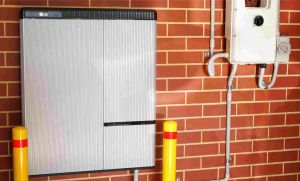 Solar batteries can also be recycled in Australia through the use of waste management centres and designated recycling plants. Solar batteries should be recycled as they contain lithium-ion, which can severely affect the carbon emissions in the atmosphere if left in landfills. The CSIRO  predicts that Australia will have 100,000 tonnes of lithium-ion battery waste by 2036 if the percentage of people who recycle their solar batteries – currently at two per cent – doesn't increase.
How to dispose of your solar panels
Occasionally, solar installers will dispose of the old solar panels on your behalf when they install a new one. Most of the time, however, disposing the old solar system will be the responsibility of the customer. While recycling is obviously a key way of disposing old solar panels, there are a few other ways to dispose of them that can avoid landfills.
Pay for e-waste disposal
One way to dispose of old solar panels is to pay for them to be taken via e-waste. Most areas of Australia have an e-waste program– except Victoria who banned e-waste disposal in 2019 – wherein which, the local waste disposal facility will dispose of the solar panel to the e-waste section of the tip for an additional cost. E-waste, however, is slowly being discouraged in Australia, as toxic chemicals such as lead, mercury and arsenic found in batteries and electrical plugs are responsible for 70 per cent of the toxic chemicals found in landfills, according to The Clean Energy Council.
Sell the used solar panels
If you're looking to make a quick return from your old solar panels, and they are still operating at some capacity, it may be worth selling them as a used product via Gumtree or selling them to friends. Not only will you be able to earn a small profit, but it will also prevent the system from seeing landfills for another few years and allows someone else the opportunity to access and generate a renewable power source.
Use the old solar panels for camping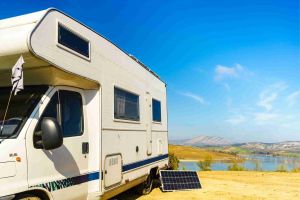 Instead of getting rid of the old panels completely, it may be worth adding them to a campervan or modifying them for camping, allowing for self-generated energy whilst away from the grid. Whether it is installed to the roof of your campervan or tweaked to be its own standing solar panel for a campsite, using an old solar panel for camping may just be a saving grace when on holidays. Alternatively, you also can purchase solar panels particularly made for camping if DIY isn't your thing.
Give solar panels to a scrap dealer
Selling parts to a scrap dealer is another way to dispose of old solar panels. While a dealer may not be able to buy and reuse all the parts of the panel, they can take them off your hands and dispose of the remaining parts properly after taking what is of use to them.
How long do solar panels last?
Solar panels generally last about 25-30 years. After 25 years however, the efficiency and quality of the panels will begin to reduce, known as solar degradation. While many of the solar systems installed from 2008-2012 will still have a few years of life leftover, recent research published in Science Direct stated that certain social and economic incentives for buying solar systems in Australia may be encouraging residents and business-owners to upgrade their system and dispose of the old one prematurely. Additionally, solar inverters typically last 10-12 years as opposed to the 25-30 years for panels, which some consumers are using as an opportunity to buy a new system instead of just replacing the inverter.
Should I recycle my solar panels?
While recycling old solar panels has its environmental benefits, there currently isn't a streamlined procedure for recycling old panels, which makes it a costly and inconvenient affair for bill-payers. Recycling is a great way to dispose of your old solar panels, but if the expenses are too costly, there are plenty of other great ways to dispose of them. You may even be able to make a deal with your solar installer when they upgrade your old system to have them take care of it for you, but keep in mind, they may not recycle it!
If you're in the market to upgrade your solar system, compare solar energy providers with Canstar Blue below.
Image credit: anatoliy_gleb/Shutterstock.com, Milleflore Images/Shutterstock.com, Anetlanda/Shutterstock.com